Belarusians Lined Up In Huge Chain Near CEC In Support Of Viktar Babaryka and Valer Tsepkala
30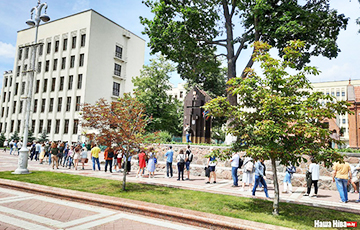 The people demand registration of alternative presidential candidates.
The headquarters of presidential candidate Viktar Babaryka says they've prepared a complaint about violation of the Belarusian legislation "On Elections." Today at 17:00, representatives of the headquarters are filing a complaint about non-registration with the Central Election Commission in Minsk.
Viktar Babaryka's headquarters urges all concerned citizens to download this complaint on the headquarters' website, print it out and also submit it to the CEC.
A large number of people wishing to support alternative presidential candidates have lined up near the CEC building in the Independence Square in Minsk, Euroradio reports.
The complaint demands:
- to cancel the CEC decision and register Viktar Babaryka and Valer Tsepkala
- to change the preventive measure for Viktar and Eduard Babaryka, Siarhei Tsikhanouski and other political prisoners.