Sviatlana Tsikhanouskaya: When This Power Leaves, There Will Be Holiday In Belarus!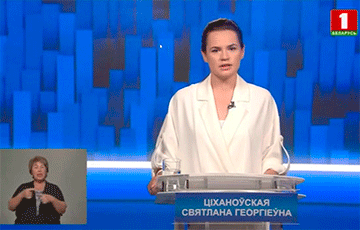 The presidential candidate of Belarus has appeared on state television for the second time.
The presidential candidate of Belarus Sviatlana Tsikhanouskaya has appeared on the state television for the second time.
Charter97.org provides the text of the presidential candidate's speech.
- Hello, dear Belarusians! Presidential candidate Sviatlana Tsikhanouskaya is addressing you. On TV, you see me only for the second time, the current government is too afraid that you will like me, therefore only one person is allowed on TV.
The election to be held on August 9 will be neither free nor fair. None of the strong leaders were registered as presidential candidates: Siarhei Tsikhanouski and Viktar Babaryka are behind bars, Valer Tsapkala was forced to leave the country to avoid arrest.
Therefore, the main point of my program is new, fair and free election with the participation of all alternative candidates, and a transparent vote count. By voting for me, you are voting for the new, fair and free, election.
I accepted the support of the teams of Viktar Babaryka and Valer Tsapkala, the best experts, public organizations and parties cooperate with us. We have created a strong team in order to lead Belarus to a free and happy life. I am sure that most of our citizens want this, and therefore I count on your support and your participation.
And in order for these elections to take place, we need to unite.
I urge you not to vote early. If you vote early, your vote will be given to the current government. Leaders who force early voting should be aware that it is illegal and punishable by a fine of 15 base fees. I ask you to come to the voting stations on August 9 (preferably in the afternoon) to vote for me, Sviatlana Tsikhanouskaya, and defend your vote.
I, Sviatlana Tsikhanouskaya, the presidential candidate of the Republic of Belarus, want to ask you, dear Belarusians, on the following.
First, I urge you not to stay at home on August 9 - otherwise you will vote for the current government. If we stay at home and do not come to the voting stations, it will be a victory for the current government. The authorities must understand that we are the absolute majority, and that we will never be silent. The higher the turnout, the harder it is to steal our vote. The larger the turnout, the more obvious the falsification will be. Commission members are criminally liable for vote-forging. I ask them not to forget about it.
After we receive the results of the election, that are obvious to the whole country, on August 9, 2020, everyone will have to respect the people's choice, otherwise we will have to defend our votes.
After taking office as president, I will take steps to maintain stability in the country, and to hold fair election. All the necessary actions will be completed within six months. During this transitional period, the country will have order, peace, and intensive work on new elections will be underway.
Second, look at this white ribbon. Remember it. Make a similar one from any material at hand. Make ribbons, distribute them to other people. Wear a white ribbon now, and be sure to wear it on the election day. The white wrist band is a symbol of people who disagree with the authorities. This is a way to see our own people, to understand how many of us there are, to unite.
Third. Don't be left out. Come to our sanctioned rallies, talk to relatives, hand out ribbons, bring friends to the voting stations, argue with the authorities, express your opinion.
Fourth. We have created the "Vote" platform on the Internet. It records our votes on the election day. Find it, register and follow the recommendations. This way we can calculate the real voting figures.
I will tell you which country we can live in. In this country, I walk along the street of my native small town, and it is beautiful. It is well-groomed and nice, the residents of this city choose their own managers, decide for themselves what needs to be built in their town, express an opinion that must be taken into account. People who go to work in a larger neighboring city do not seek to move to it. There is no need for this. It is pleasant and comfortable to live in your small homeland. Why go to a bustling city? It is quiet, fresh, there are smiling neighbors, whom you have known since childhood, clean hospitals, timely medical assistance, good shops, work with a decent salary. There is a factory and a plant in the city. Most of the townspeople work there. The factory and the plant are the pride of the city, and the industry of Belarus. Engineers and workers have good income, they come home from work in a good mood, they are pleased to communicate with their superiors, they are not afraid of the arrival of officials from the capital, they are not reprimanded as naughty teenagers.
Young people who have entered universities in Minsk and other cities are not afraid of distribution. They will not be distributed 200 km from home, because there is no compulsory distribution in this country. Graduates of the journalism faculty do not have to engage in propaganda and write false articles in the rural state newspaper, and the newly graduated doctors and teachers themselves choose where to practice. The unemployed in this country are not taxed, but receive a good monthly allowance on which you can live for a month, not a day, while looking for a new job.
There are many pensioners in our city, but there are also quite many young people. The youth does not seek with all their might to leave the country, because in this country they have everything - prospects, prosperity, respect. Young people visit their grandparents, they drink tea with pies and chat about different things. Young people do not need to beg their elderly relatives not to vote for the current government. This power is no longer here and young people can live happily, study and work in peace. In schools and universities, teachers work for high salaries. They do not paint the walls in the office, do not go to the apartments of the students, forcing them to go to the festival of the Belarusian Republican Youth Union. By the way, the Belarusian Republican Youth Union now has a different name and people no longer join it under pressure - everyone wants to be there anyway. There are many such different youth organizations now. It is an honor to join such organizations. There are many cool guys and like-minded people there who are not forced to harvest potatoes.
Television in this country is not just a name for lies and propaganda. It's interesting to watch it, but it's not a disgrace to work there. Budget money in this country is spent on its inhabitants, not on power. The President drives an ordinary car, flies an ordinary plane, his or her bathroom is not lined with gold. Therefore, pensions in this country are high, and grandparents indulge their grandchildren with toys, and do not have to turn on the lights later to save electricity. Their children are in business. It's safe to do business in this country. The state creates all conditions for businessmen, realizing that businessmen are jobs, taxes, and the country's welfare. They don't go to jail for economic crimes. This country does not need many prisons at all, because people are not imprisoned in them for far-fetched reasons - for free thinking, for opinion, for being on the street, for wanting to be president. Amnesty in this country happens often, and not when the authorities need to appease the people.
The police and the army are respected in this country. No wonder! These are our defenders. We are happy that our taxes go to the salaries of people who take care of us. Here, no one would see even in a nightmare that the authorities may force the power structures to have a go at their people. Armed with bludgeons and shields, to have a go at Belarusians. To attack one peaceful person, four on one, for the flag in their hands. Pulling a peaceful person out of line and dragging them into the paddy wagon, leaving bruises on their wrists. And even if the authorities had issued a criminal order, the army and the police in this country would never ... never fulfill it.
We come to villages where there is no devastation and desolation, and agriculture is our pride and a thriving export industry, which employs many farmers and households.
If a disaster, pandemic or crisis comes to this country, people know what is happening. The government does not lie or hide the real numbers of the dead and sick from them. They do not trade in people's health, do not exchange it for the opportunity to stay in the presidential chair longer, but together they do everything to save their loved ones.
Elections in this country are a holiday, not a fake. Presidents are replaced here, and do not rule all their lives, getting rich while the people live in poverty.
They frighten you that if you do not choose the current government, then there will be a Maidan.
In fact, it's not true. I am a teacher by education, my colleagues from the headquarters of Babaryka and Tsapkala are a musician and a manager. Their supporters, my supporters and supporters of my husband Siarhei Tsikhanouski are ordinary Belarusians of different professions. Among them there are doctors, retirees, workers, students, businessmen, teachers, salesmen, librarians, engineers. Against all these peaceful people - the commander-in-chief, who has strength and weapons. So who wants to arrange a Maidan here? Is it he or us? We call for elections, but the authorities are calling for the Maidan. We say that we want a new president, and the authorities answer us that then there will be a Maidan. We say that the majority of Belarusians want to live in a free rich country, and the authorities are threatening us with the Maidan.
Imagine that you want a stranger to leave your house. He is rude to you, walks in shoes, puts his feet on the table, he slaps your children on the head, tramples your garden, yells, scares you. You ask him to leave, and he tells you that if you drive him out, he will use force. "Do you want a Maidan here?" the authorities ask. No, we don't. And we won't let them do it. When this power leaves, there will be no Maidan. There will be a holiday.
We have never lived in this country. We can lose this country forever. Let's prevent it all together. We make the majority. Come to the election on August 9 and vote for me, Sviatlana Tsikhanouskaya. I am a simple person, a simple Belarusian, a woman, a mother who wants and can make our life such as we deserve. Let's build this country for life together!