Detention Of Alena Karahachova, Viktar Babaryka's Assistant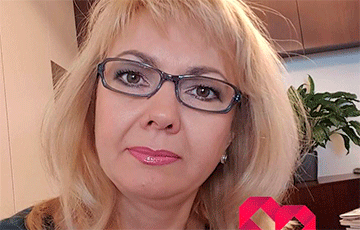 She worked at the bank for over 20 years.
Alena KARAHACHOVA was detained in Minsk on Wednesday evening, July 1. She worked at Belgazprombank for more than 20 years, and for the past two years she was an assistant to Viktar Babaryka. Now Alena is in the KGB pre-trial detention center, today a lawyer visited her, says her husband Ihar. According to him, about two weeks ago, Alena was summoned for questioning to the Financial Investigations Department, they made her sign a non-disclosure obligation, after that there have been no questions from the security forces. Until yesterday, when she was supposedly detained by people in civilian clothes at a grocery store. Ihar had told tut.by what Alena was suspected of, and what issues she dealt with at the bank.
Ihar says that he last talked with his wife on Wednesday, around 16.50. She said that she was going home, about to go to the grocery store on the way. At around 19.20 Ihar again dialed Alena, but no one picked up the phone. Around 20.00, the investigator called and said that she had been detained.
A reader sent us a recording from the DVR, which shows how, in a store in Kamennaya Horka, which is located near Alena's house, people in civilian clothes are holding the woman's arms, she has a plastic bag in her hands (apparently, with purchases). The reader reported that the woman was led to an Audi car without license plates. The recording is not of the best quality, and the radio was turned on in the cabin, nevertheless, you can hear the woman's screams from outside. Ihar watched the video, he says that he recognized his wife by the clothes.
"The investigator said she was detained on suspicion of tax evasion," Ihar says. "I found these words ridiculous, to be honest. She never transferred any money to anyone; nothing was issued to her. She did not deal with financial issues.
It follows from Ihar's words that their family - he, Elena, and his son - are not distinguished by special material affluence compared to the average family. They pay a loan for an apartment, drive a car by no means new.
- We pay a loan for a two-room apartment in an ordinary panel house, it will probably take four more years. We have one car that we bought in 2006. We could not afford to buy any expensive car.
Alena got a job at the bank in May 1999, and Ihar came to work there a few months later (he is employed in the security service in the administrative-control department).
- She first worked in the correspondence department, was engaged in processing documents, then she was invited to the secretariat of the chairman of the board two years later, first with Aliaksei Zadoyka, then he was replaced by Babaryka (Zadoyka became the first deputy, that is, they changed places. ) Alena and another specialist worked in the secretariat for the chairman of the board. And only two years ago she was made an assistant to the chairman of the board - the referent. She drew up a work plan for Viktar Babaryka for a day or two, organized business trips, booked air tickets, and housing. She knows English well, she graduated from Minsk State Linguistic University.
Alena quit the bank about 10 days ago. After leaving Belgazprombank, she went on vacation, then transferred the affairs within a week. Alena has not yet found a new job.
"She is not determined yet, weighing up various options," says Ihar. "If Viktar Babaryka still worked, she would have continued working, he really appreciated her as an employee. She is a very responsible and scrupulous person, went to conferences for continuing education.
About two weeks ago, Alena was summoned for questioning by the Financial Investigation Department of the State Control Committee, she was held there for several hours, signed a non-disclosure obligation, and they haven't called her anymore since then, Ihar says.
"She wasn't engaged in any financial activity at all," Ihar repeats once again. "I think that she is suspected of the fact that maybe she knew about some financial issues of Viktar Babaryka, if any. But, as far as I know, no one devoted these questions to them, even if there, maybe something was, and maybe not. Actually, she was incompetent in these matters.
Alena's sister Yulia also notes that she was not involved in financial matters, "she was not involved in any fraud. I believe that there was no reason, but they are trying to find something. Therefore, they simply grab people, who are somehow connected with Viktar Babaryka, right on the streets," said Yulia.
It was not possible to find out the details of Alena's detention in the KGB press-center at the time this text was released.