Tens of Thousands of People Came to the Rally-Concert of Sviatlana Tsikhanouskaya in Minsk (Video, online)
66
30.07.2020, 17:54

131,693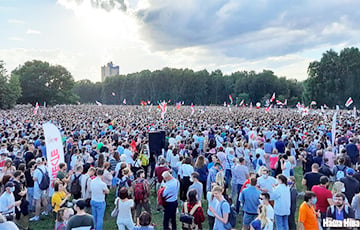 There were about 65,000 people at the rally!
Today, Minsk held a picket of presidential candidate Sviatlana Tsikhanouskaya. The rally-concert was held in the Peoples' Friendship Park on Bangalore Square. The action gathered over 65 thousand people and became a record-high event for the last 10 years in Belarus.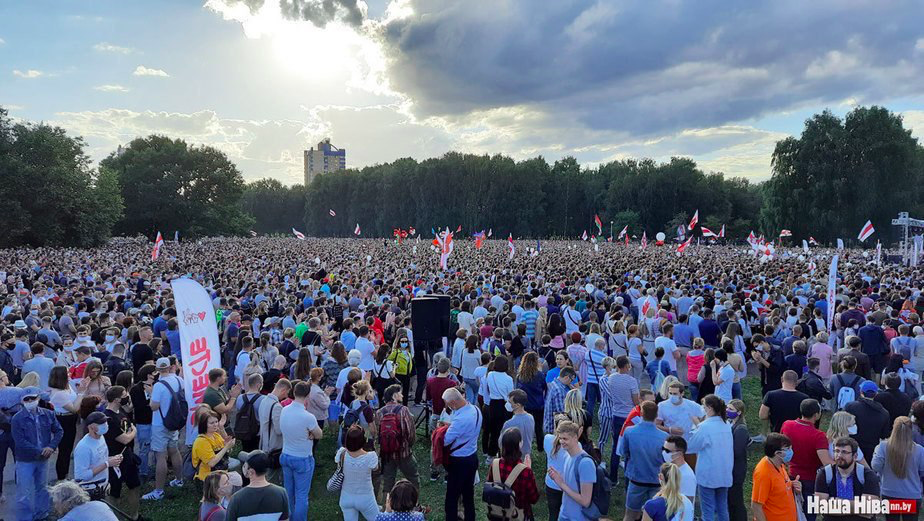 22:05 According to HRC Viasna, at least 63 thousand people came to the rally.
22:06 The historic rally is over. People are going home under the active support of motorists.
22:01 The rally-concert is coming to an end. Look at how people leave after the rally. It will be noisy in Minsk today; Sasha has little time left.
20:29 Tens of thousands are chanting Long Live Belarus! A new video from the rally in Minsk.
21:40 It's already dark. People turned on their flashlights on mobile phones. Thousands of lights illuminated the Park.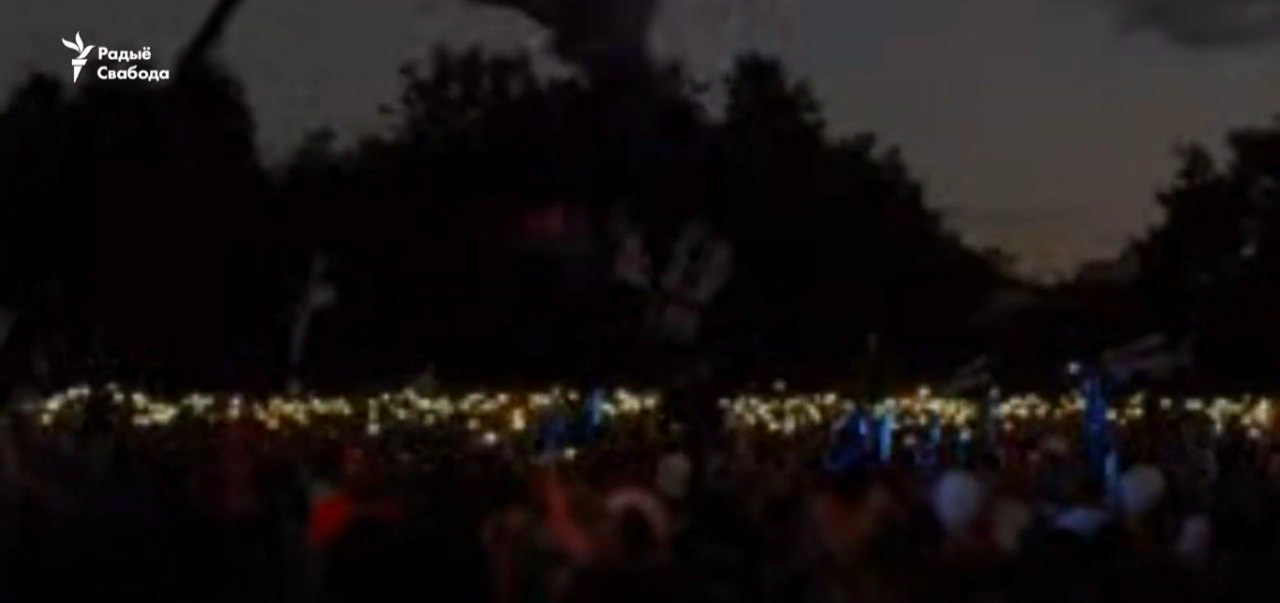 21:34 This is how the rally in Minsk looks today. Incredible people and amazing atmosphere!
21:24 Sunset in a free city.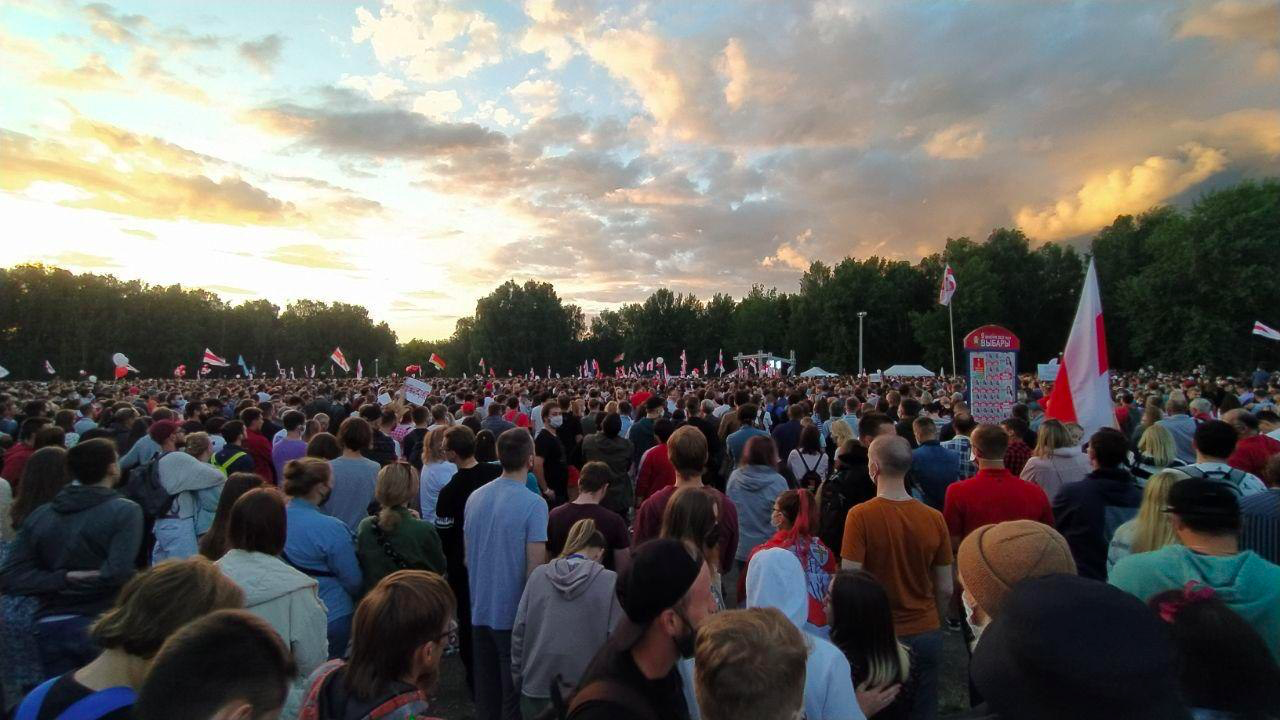 21:21 Veranika Tsepkala urges Lukashenka to answer urgent questions from ordinary people during the so-called appeal to the people on August 3.
21:16 "We want to raise children in Belarus. We do not want people to leave the country," says Veranika Tsepkala. Tens of thousands are chanting: "We love! We can! We win!"
21:15 "We are tired of all this and want changes," says Veranika Tsepkala.
21:14 "Veranika Tsepkala speaks of the pressure on her children, tens of thousands chanting "It's a shame!"
21:12 People have an acute reaction to the personal stories of Veranika Tsepkala and chant "Lukashenka, go away!".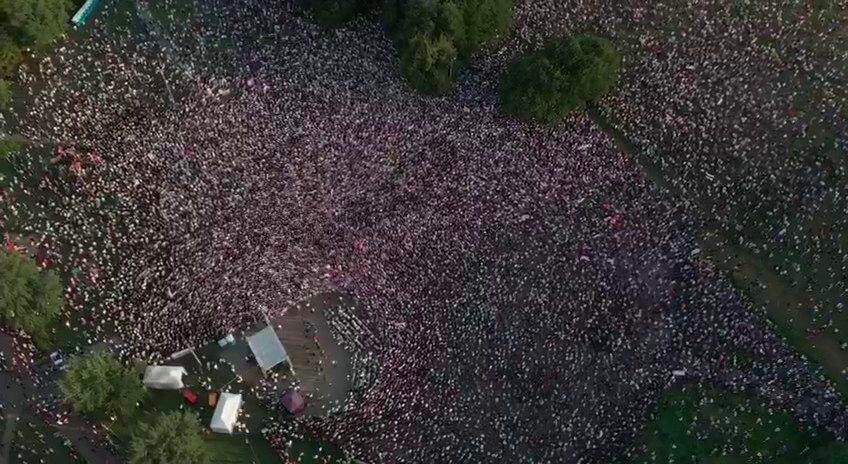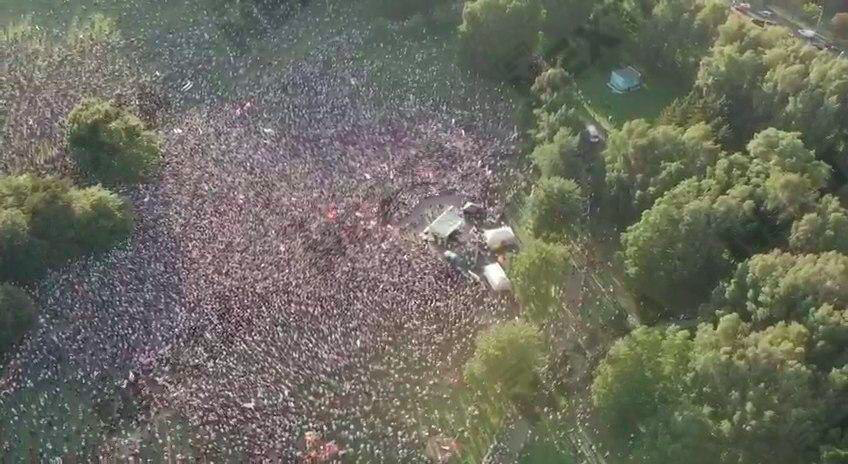 21:09 The overcrowded Park in Minsk. There are many of us!
21:04 Veranika Tsepkala tells the story of her family. Today, representatives of the united headquarters share their personal stories.
21:01 "Protect your voice and we will win", Marya Kalesnikava finishes her speech.
21:00 This is the atmosphere at the rally right now. Marya Kalesnikava talks about new elections to be held after the victory of Sviatlana Tsikhanouskaya. "In these elections, our votes will be counted and not thrown in the trash," she said.
20:55 40-thousand crowd chanting "Long Live Belarus! It's just an amazing atmosphere!
20:53 People react strongly to the words of Viktar Babaryka's representative: "Come, write, stand, speak, vote, watch, and suppress this power!"
20:50 Marya Kalesnikava: "The actions of the authorities lead not to the collapse of freedom but the collapse of the regime".
20:41 Marya Kalesnikava says she was very impressed when people stood for Viktar Babaryka and built up a chain of solidarity. "We will win, we can do it!" she says.
20:40 Telegram channels already joke that Tsikhanouskaya gathers more people than rock stars.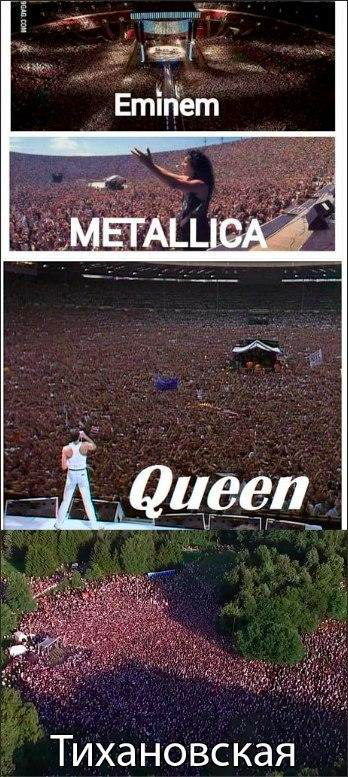 20:37 "Only together we can build a country for life", Sviatlana Tsikhanouskaya finished her speech. Now Viktar Babaryka's staff representative Marya Kalesnikava will address people.
20:36 New photo from the drone. Tens of thousands of people at the rally of Sviatlana Tsikhanouskaya in Minsk. Let's recall that the rally will last until 10 pm and you can still come and support the presidential candidate.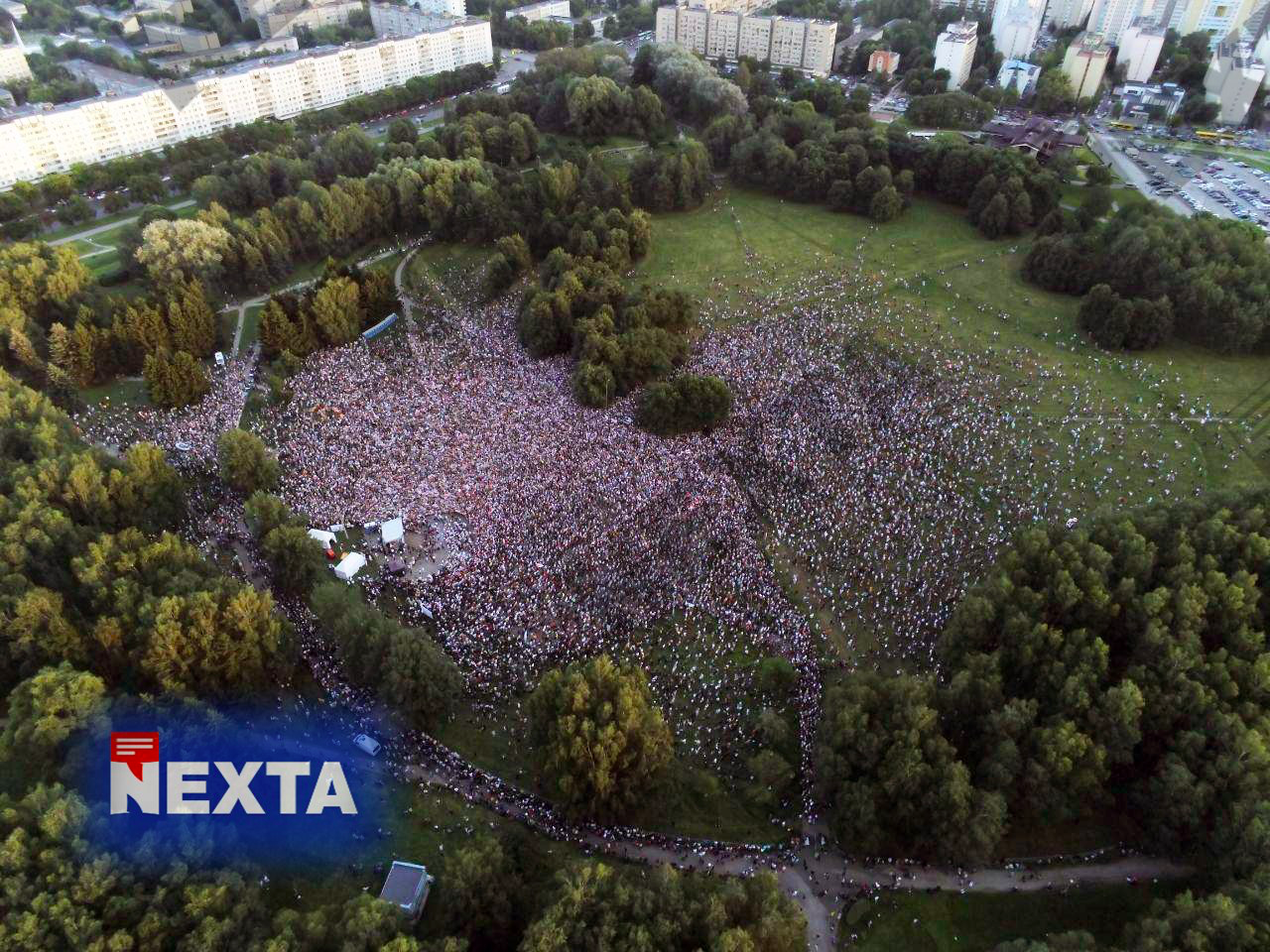 20:34 "I want my children to grow up in a fair and free country. Is this much?" Sviatlana Tsikhanouskaya continues her speech.
20:31 Svialana Tsikhanouskaya urges not to vote early. Tens of thousands of people chant "We believe! We can! We win!"
20:30 Crowds of people captured on video from NEXTA blogger. It hasn't been like this in Minsk for at least ten years!
20:29 Tens of thousands of people chant "Long Live Belarus!" A new video from the rally in Minsk.
20:19 The presidential candidate congratulates the press secretary of "Country for Life", Brest blogger Aliaksandr Kabanau on his birthday. Today he is under arrest on trumped-up charges. "This is about to end!" said Sviatlana.
20:17 Meanwhile, Sviatlana Tsikhanouskaya opens her speech. The presidential candidate speaks Belarusian. She says she's running for the presidency for her husband. She shares her first meeting with Siarhei. She was a fourth-year student then.
20:16 Journalists tut.by made a video of the line for the rally. One can see how many people are on the way to the Peoples' Friendship Park.
20:13 White-red-white flags are waving at the rally in Minsk. The number of people exceeds the one at the previous rally in Minsk.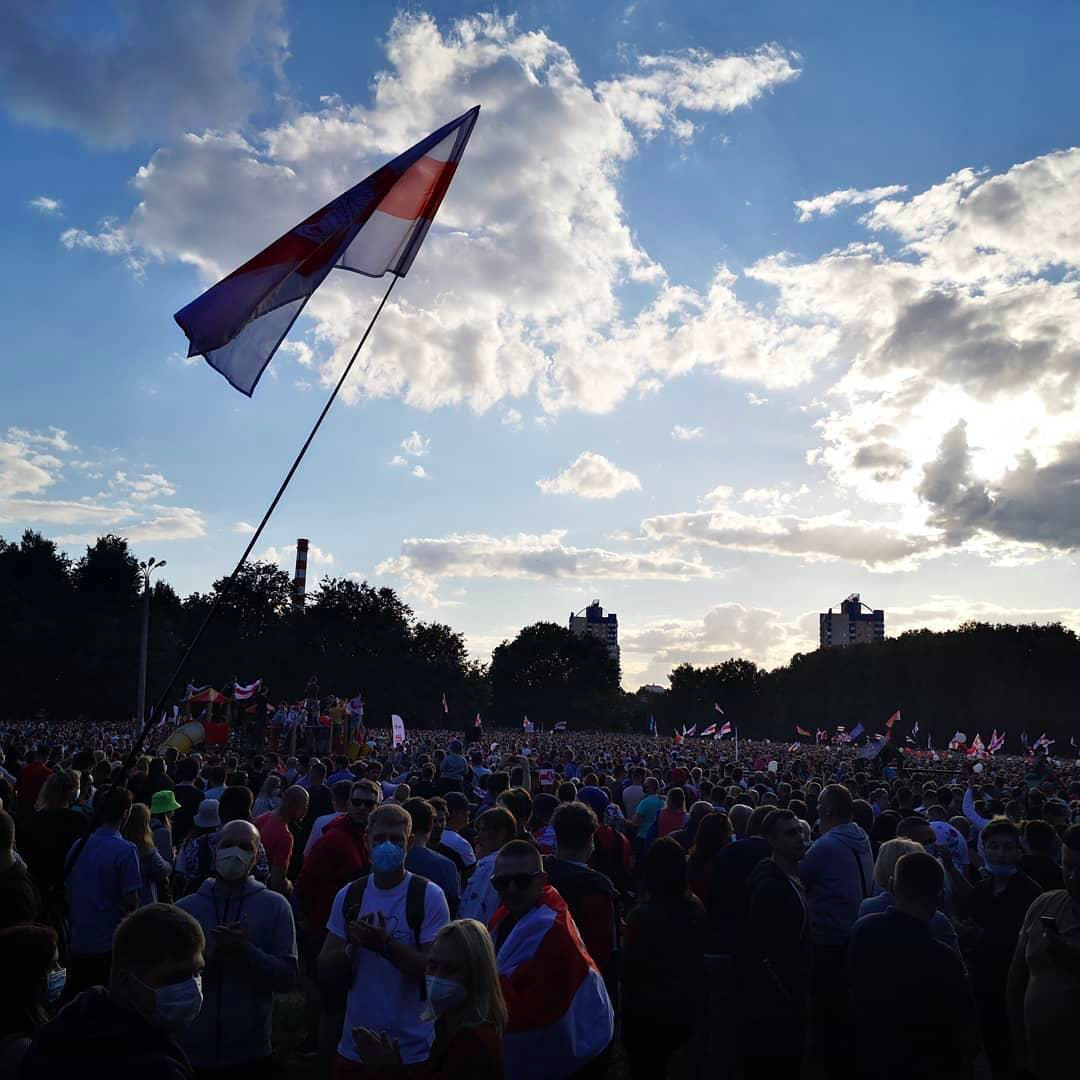 20:09 Video was made a few minutes before the speech of Sviatlana Tsikhanouskaya. The Park is crowded.
20:05 Minsk, are we going to break the record-high?!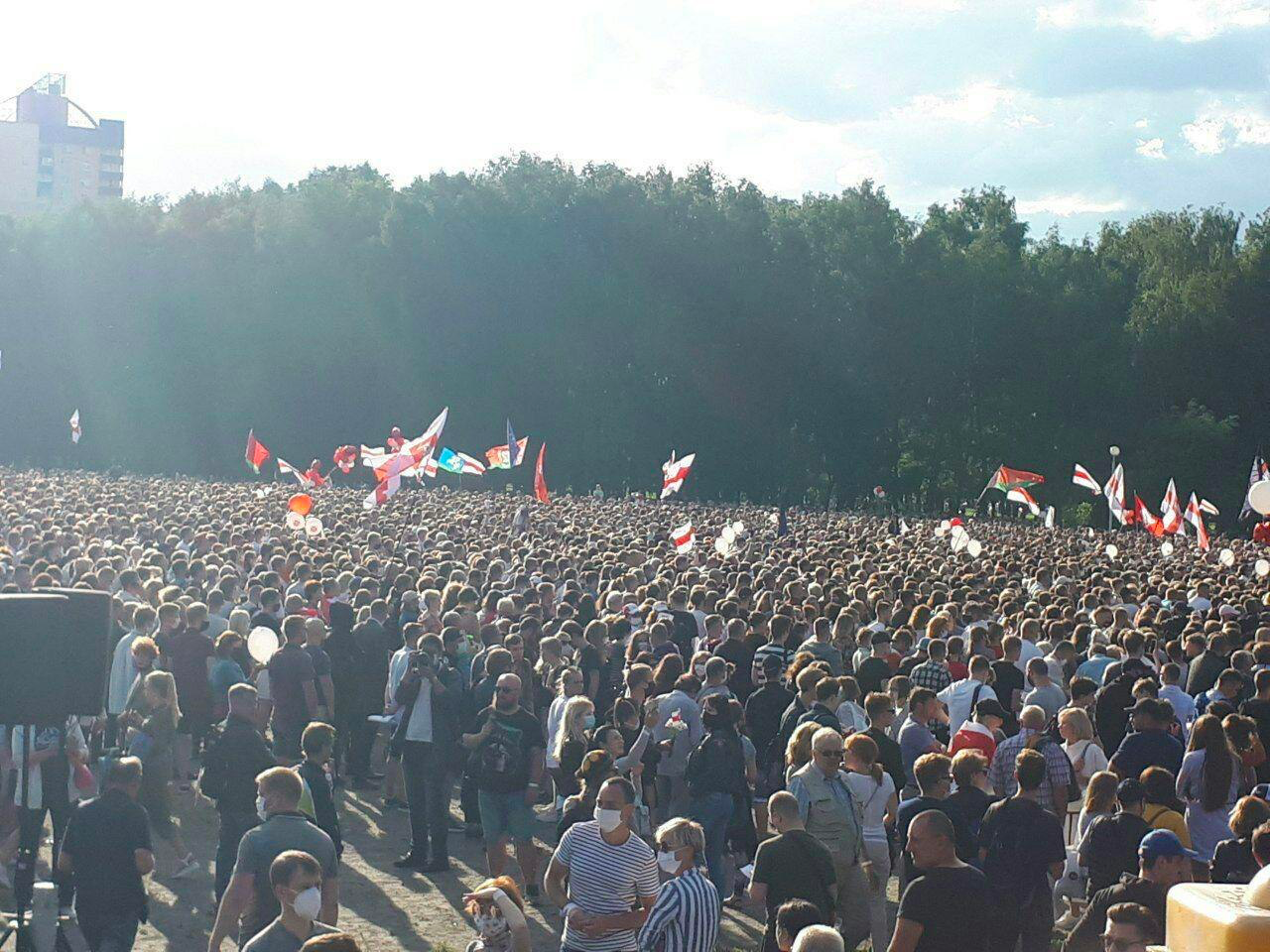 20:03 The father of political prisoner Dzmitry Furmanau appealed to the young people: "Please help your parents and old people to see the truth. I have been like this until recently and only now I can see clearly".
20:01 There are so many people that there is no place to park the car within two kilometers from the rally site.
19:59 The presidential candidate Sviatlana Tsikhanouskaya is about to arrive at the rally in the Peoples' Friendship Park.
19:56 Tens of thousands of people at a rally of Sviatlana Tsikhanouskaya. Many people can't even see the stage. Crowds of people keep heading to Bangalore Square.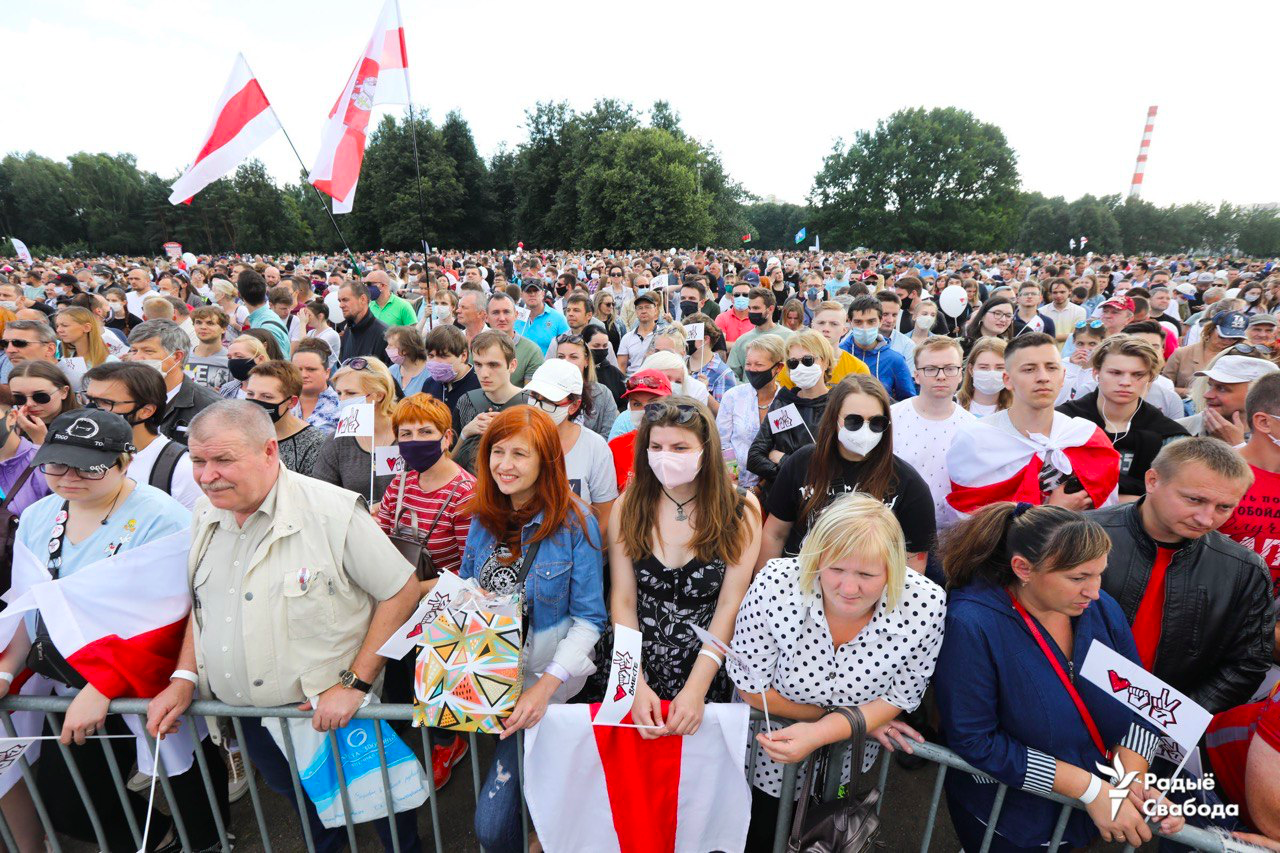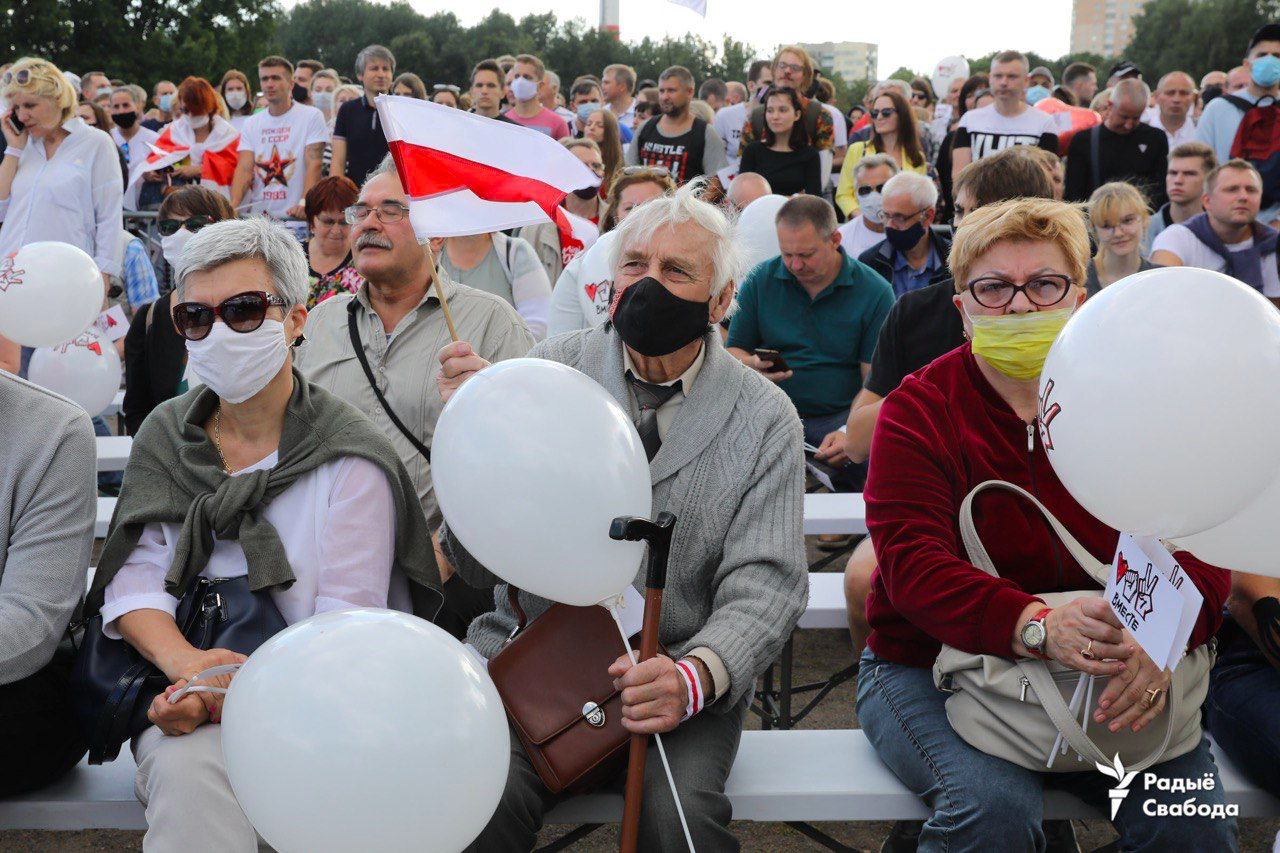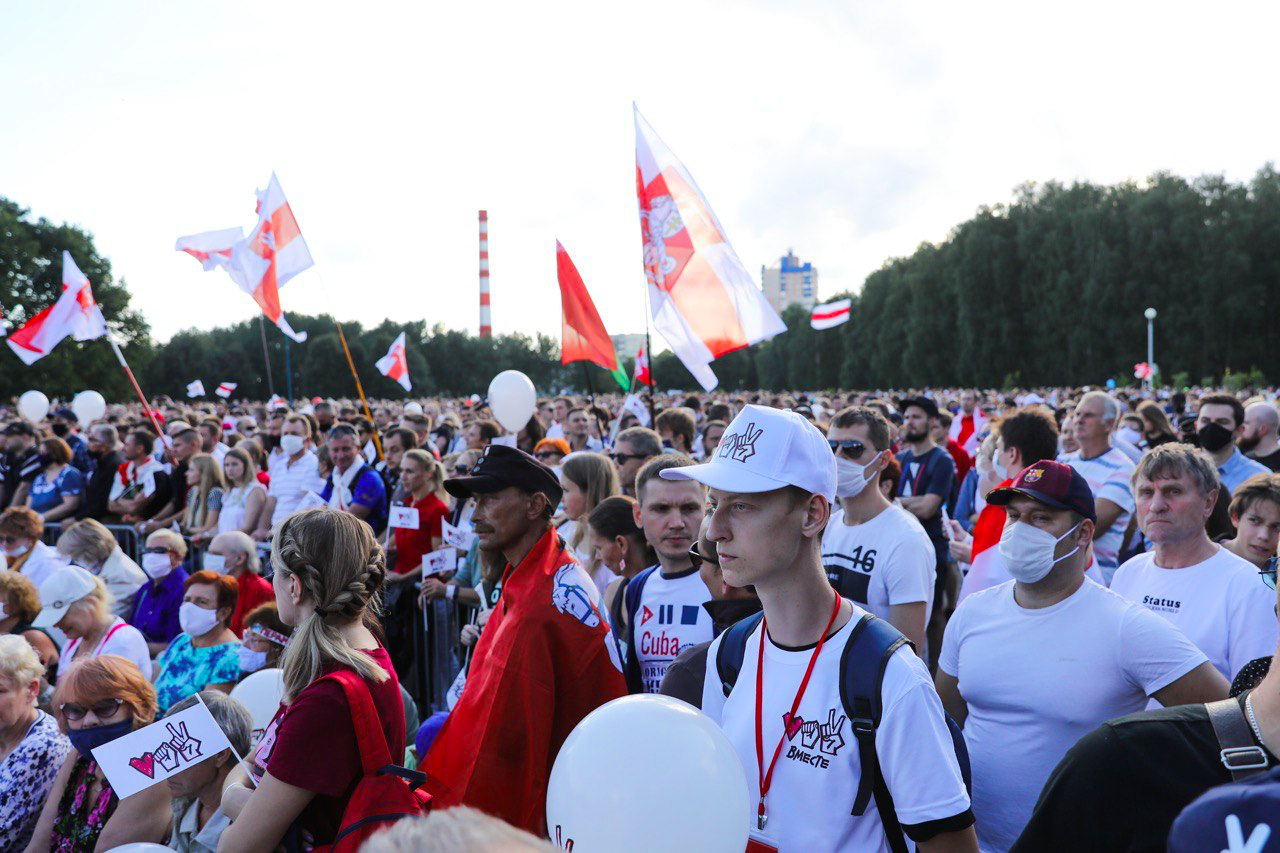 19:49 MTP employee: "99% are against this power. We've had enough".
19.47 How long do you think this line is?
19:35 The number of people is only growing!
19:32 Kyiv is expressing its support with Belarusians. Hail to Ukraine! Long Live Belarus!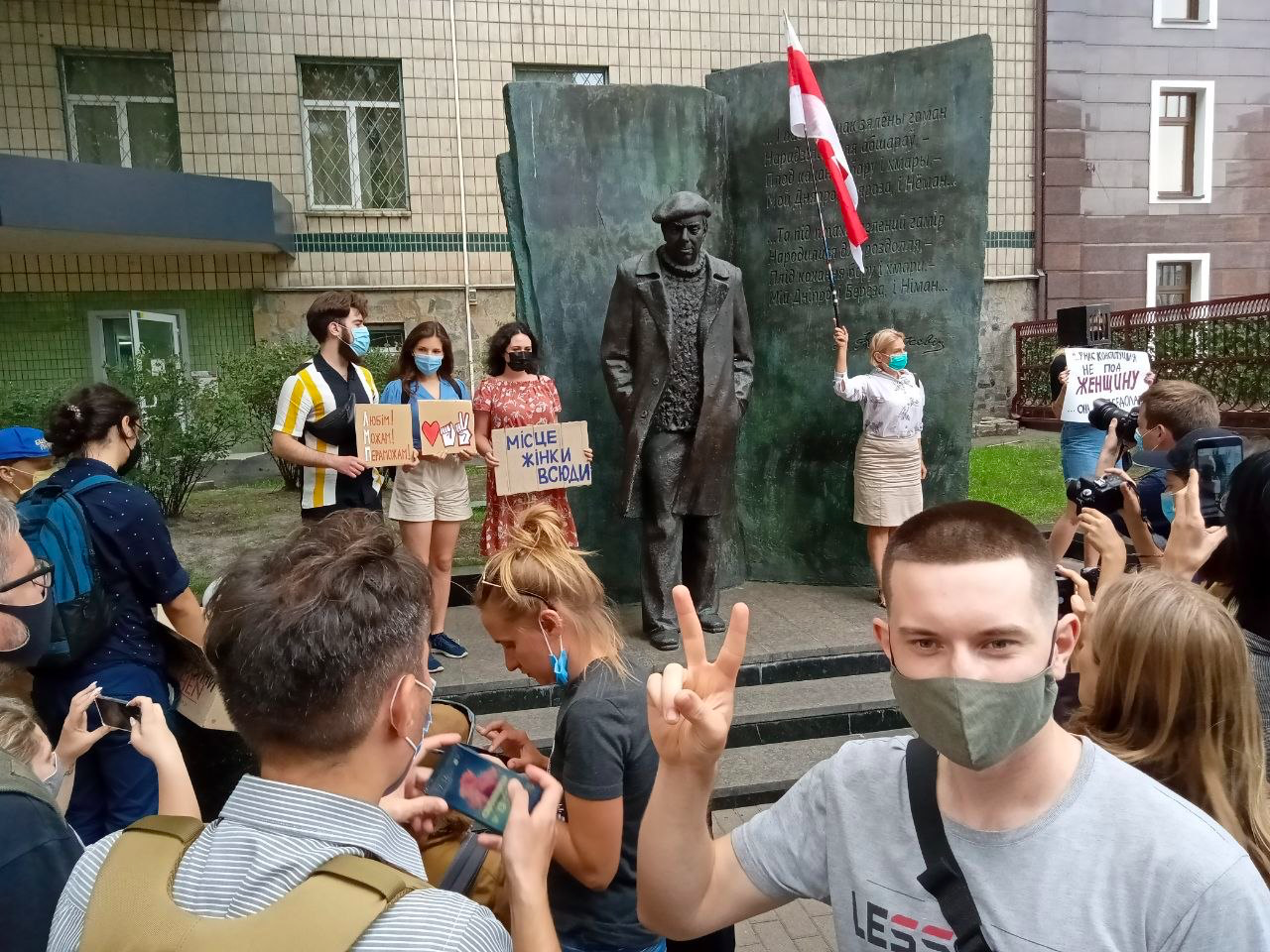 19:28 This is how the rally participants applaud the relatives of the Belarusian heroes!
19:26 There is the sea of free people in Minsk.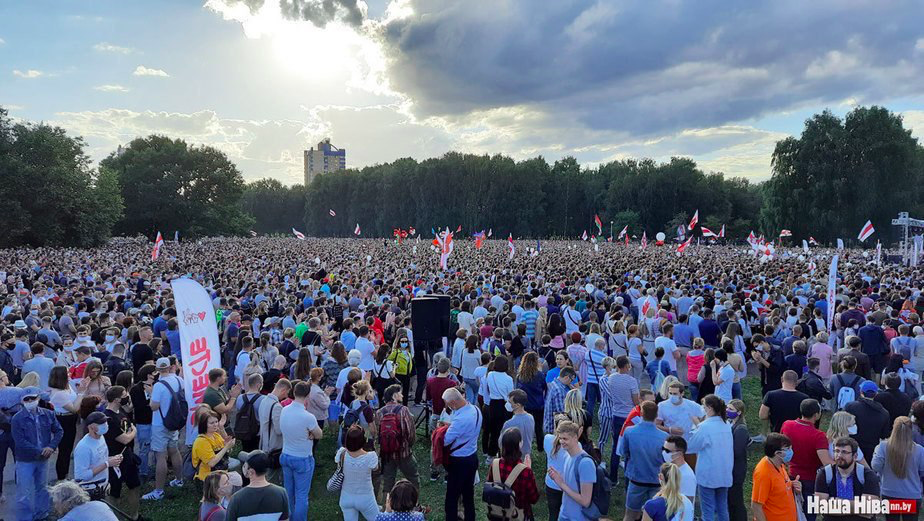 19:24 People do not forget their heroes. Freedom to political prisoners!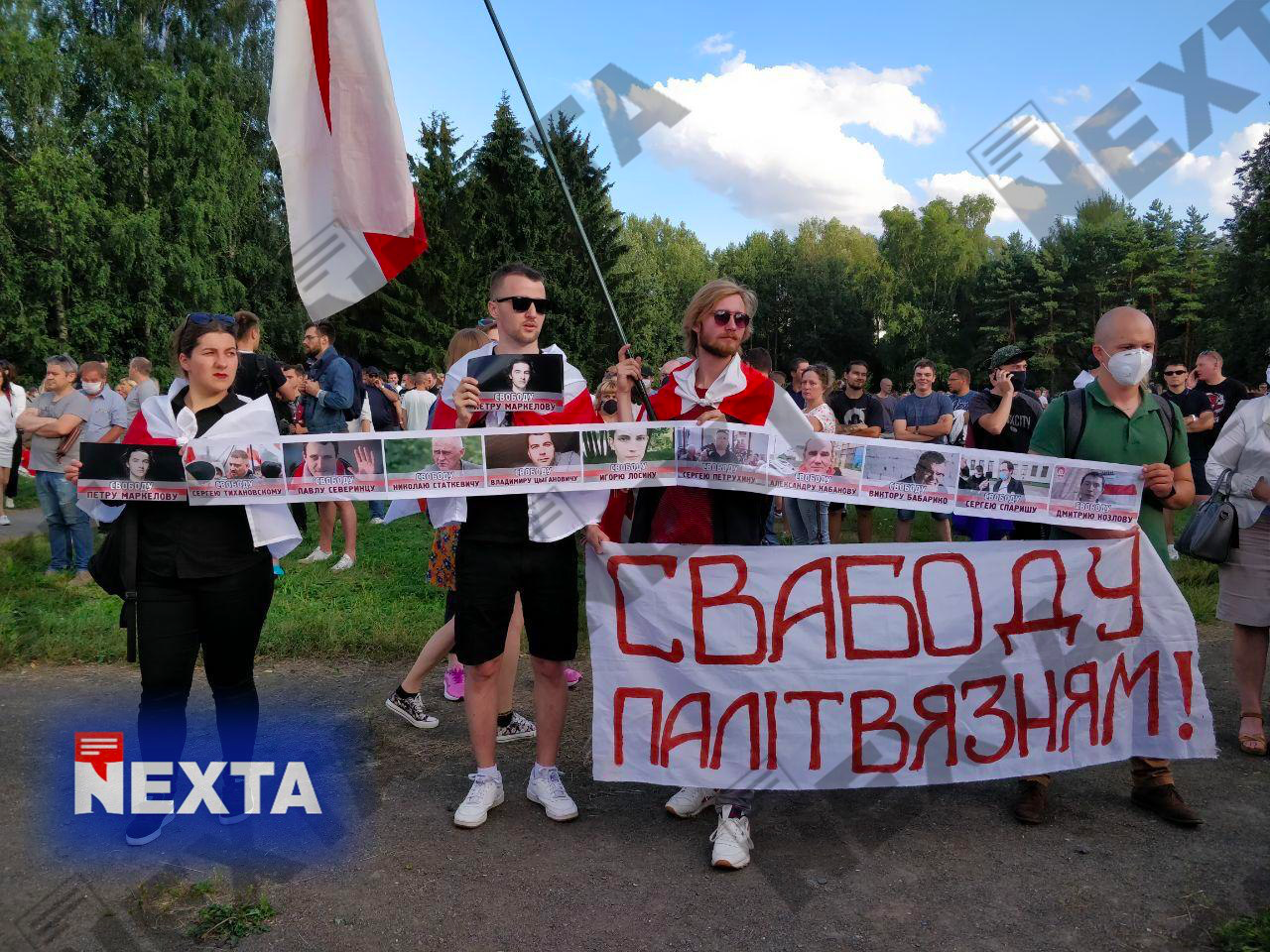 19:22 Close relatives and relatives of political prisoners: Volha Seviarynets (wife of Pavel Seviarynets), Maryna Adamovich (wife of Mikalai Statkevich), father of Dzmitry Furmanau are on stage.
19:20 Here is the video from the drone. Thousands of people at the rally of Sviatlana Tsikhanouskaya. That's not the end!
19:15 Human rights activists counted 25 thousand people at the rally in Minsk. People keep coming.
19:14 Just look at the bright and sincere faces of these people!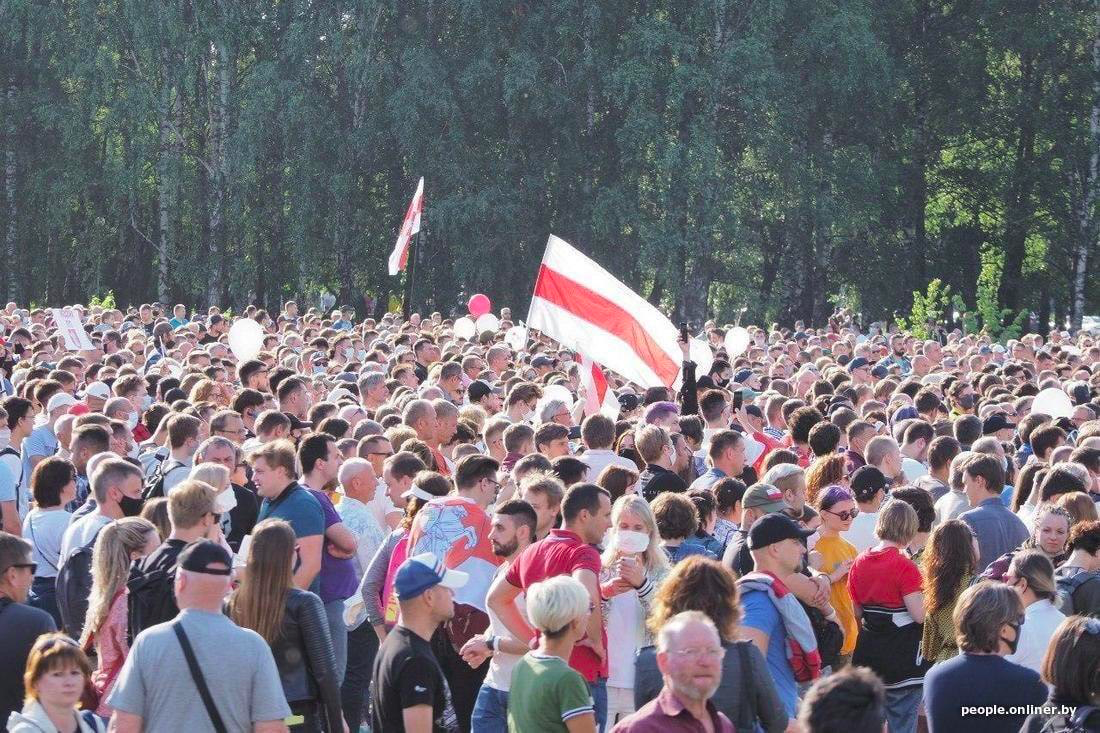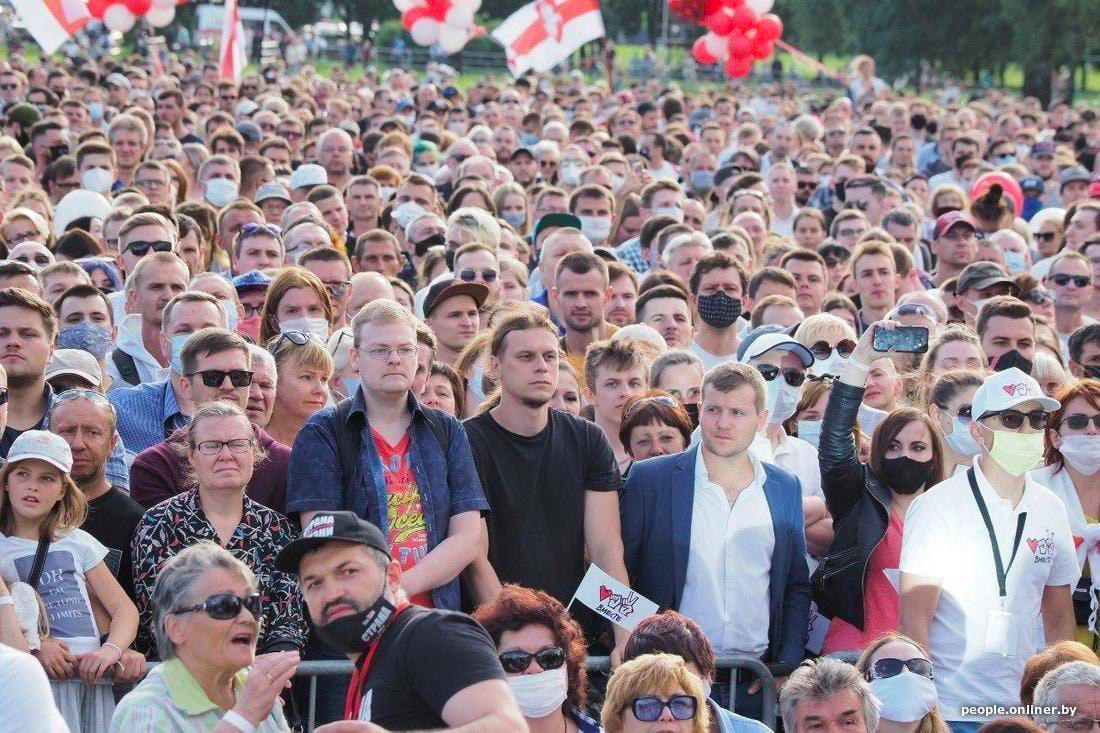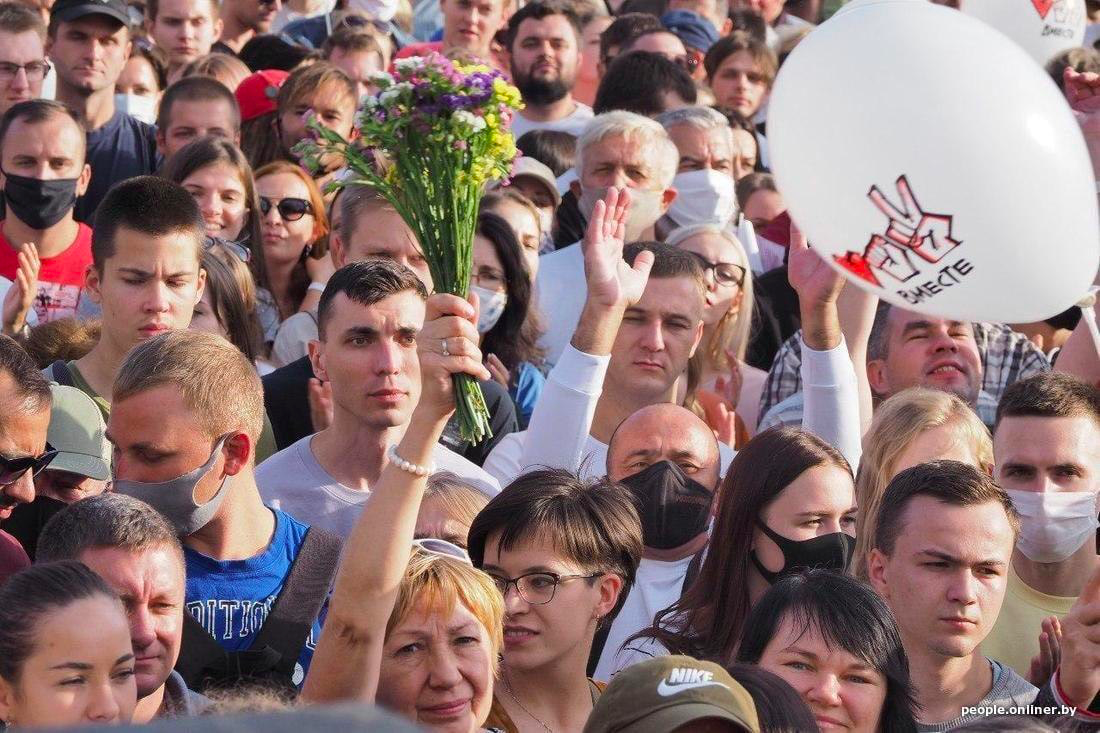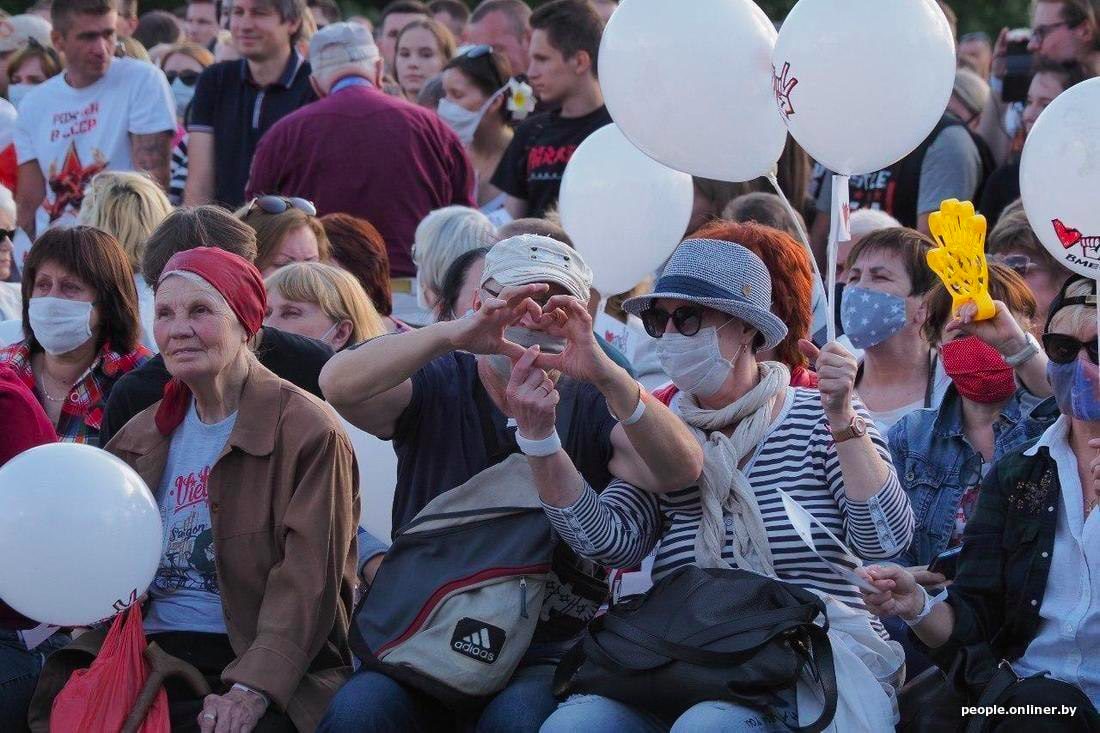 19:10 There is something incredible at the rally in the Peoples' Friendship Park! Photo from the drone.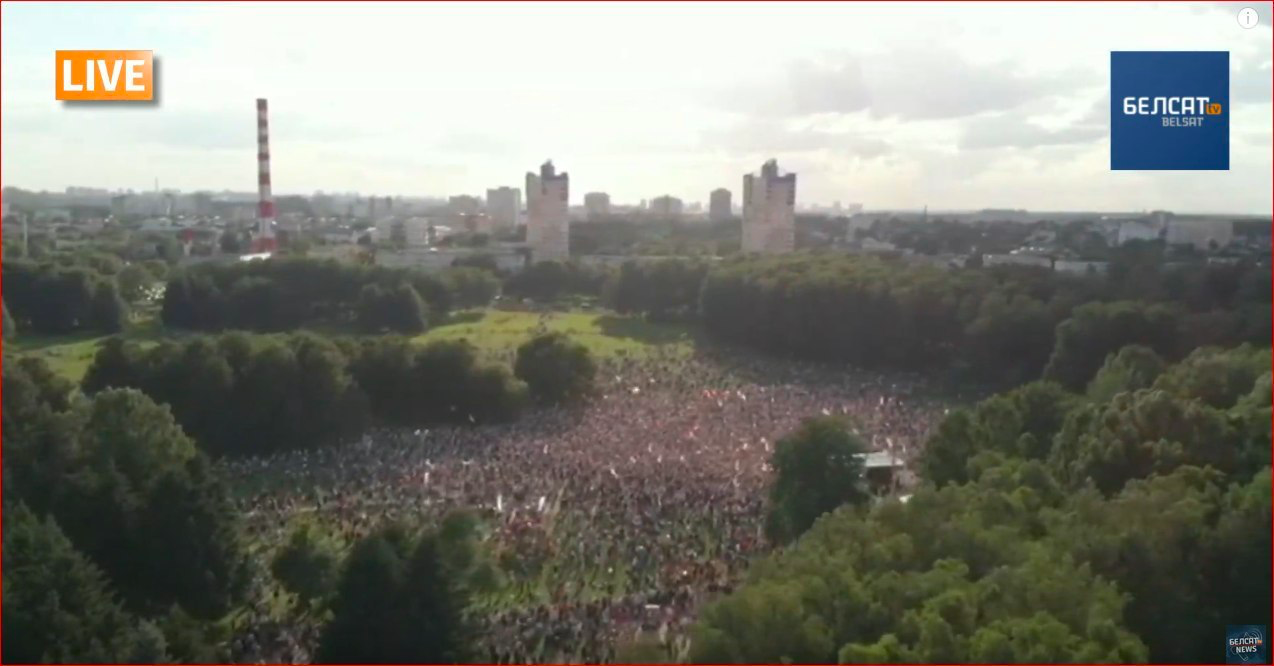 19:07 Country for Life is broadcasting from Sviatlana Tsihanouskaya's car. The presidential candidate is in a very combative mood. She heads to a rally-concert and sings Let's destroy this prison.
19:04 There are already about 15 thousand people at the rally. Sviatlana Tsikhanouskaya and representatives of the united headquarters will perform.
19:02 "They will be scared and retreat" people are optimistic about the future of the country.
18:57 This is what the rally looks like right now. As we can see, people keep coming and are still standing in line.
18:54 "We want to express support and show that there are many of us, we do not want to be silent anymore" people are not afraid to express their position.
18:53 The video is captured on approaches to the Peoples' Friendship Park. It seems that Minsk is going to hit a record high today.
18:51 Playwrighter and screenwriter Andrei Kureichyk addressed the audience. He compared Tsikhanouski with Lancelot. Tsikhanouskaya is the second knight, who challenged the dragon.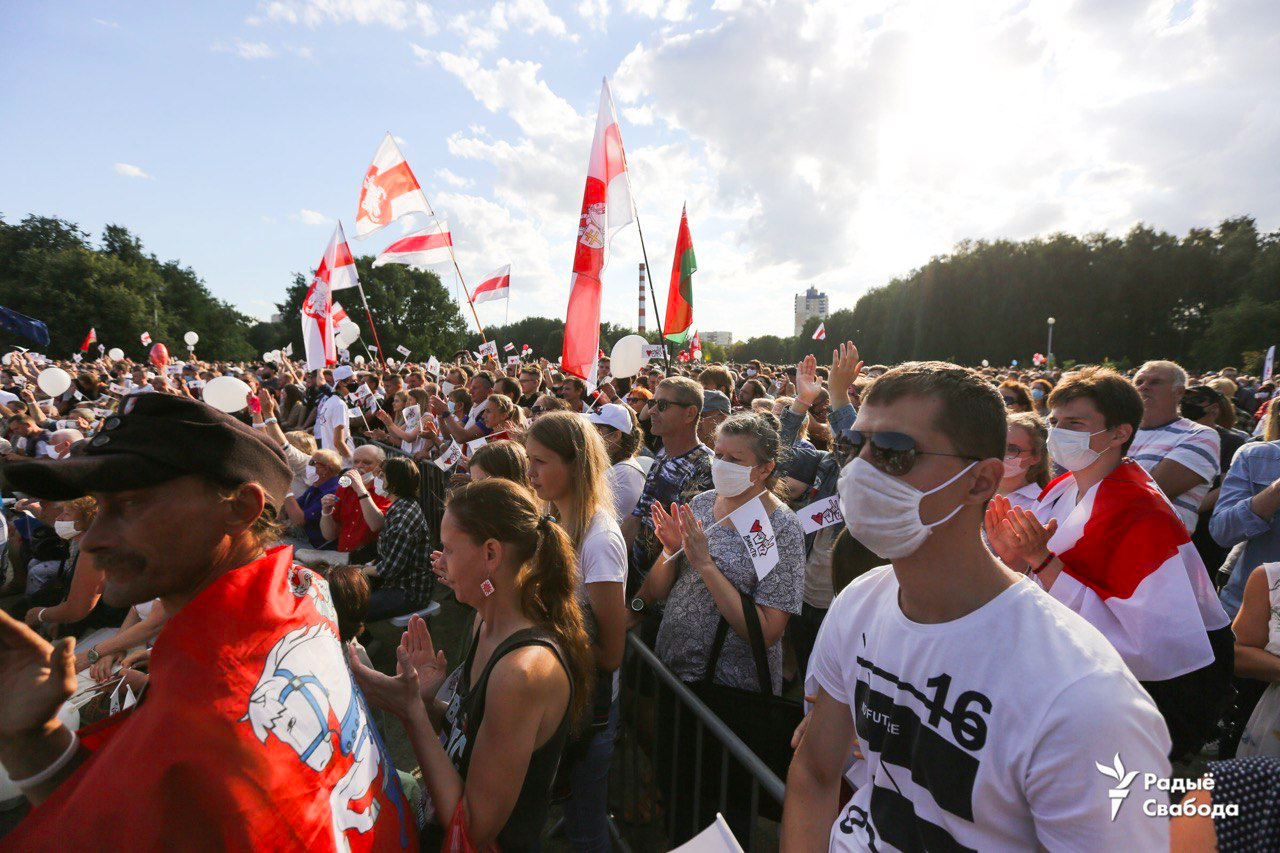 18:48 There are already over 10,000 people. The longest line comes on the side of Bangalore Square, the organizers ask to pass through other entrances.
18:44 "I do not want this power to exist in my country. I've come to express my opinion, I have the right to say that I'm not satisfied with this power," the citizens of Minsk share their opinion.
18:41 Journalists report that the police counts 7000 people. This is just the beginning of the rally, people continue to arrive actively.
18:40 The journalist asks those going to the rally about their position in the upcoming elections. "Against the cockroach," people respond briefly.
18:36 "It feels like the whole Minsk is coming here. I have not seen so many people in one place for a long time. This is even though I had to walk three stops, as well as many others because the transport to Bogtanovicha is stuck.
18:35 People are still coming. This is a pedestrian crossing near Bangalore Square.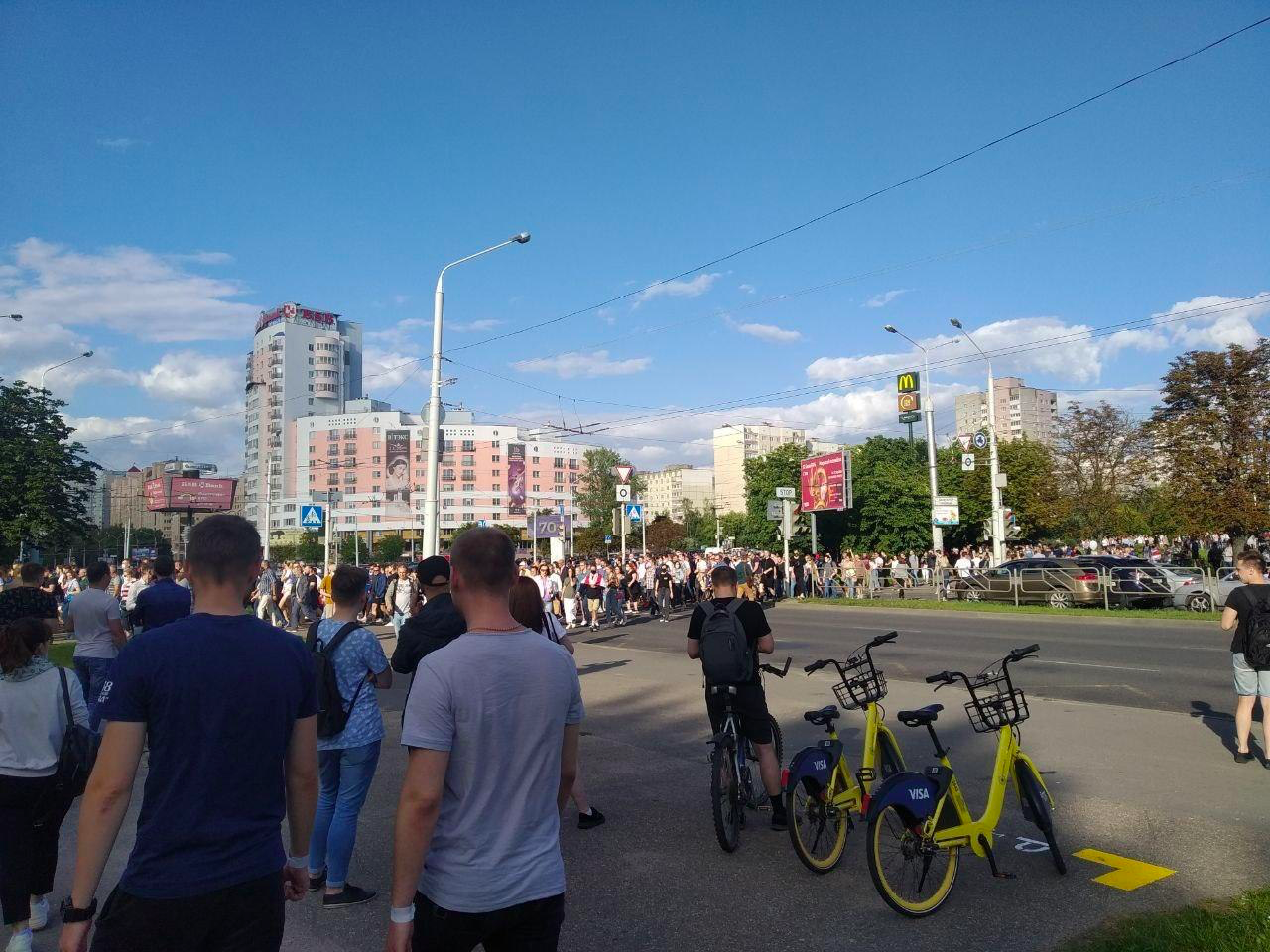 18:32 Vivid photos from the meeting of presidential candidate Sviatlana Tsihanouskaya.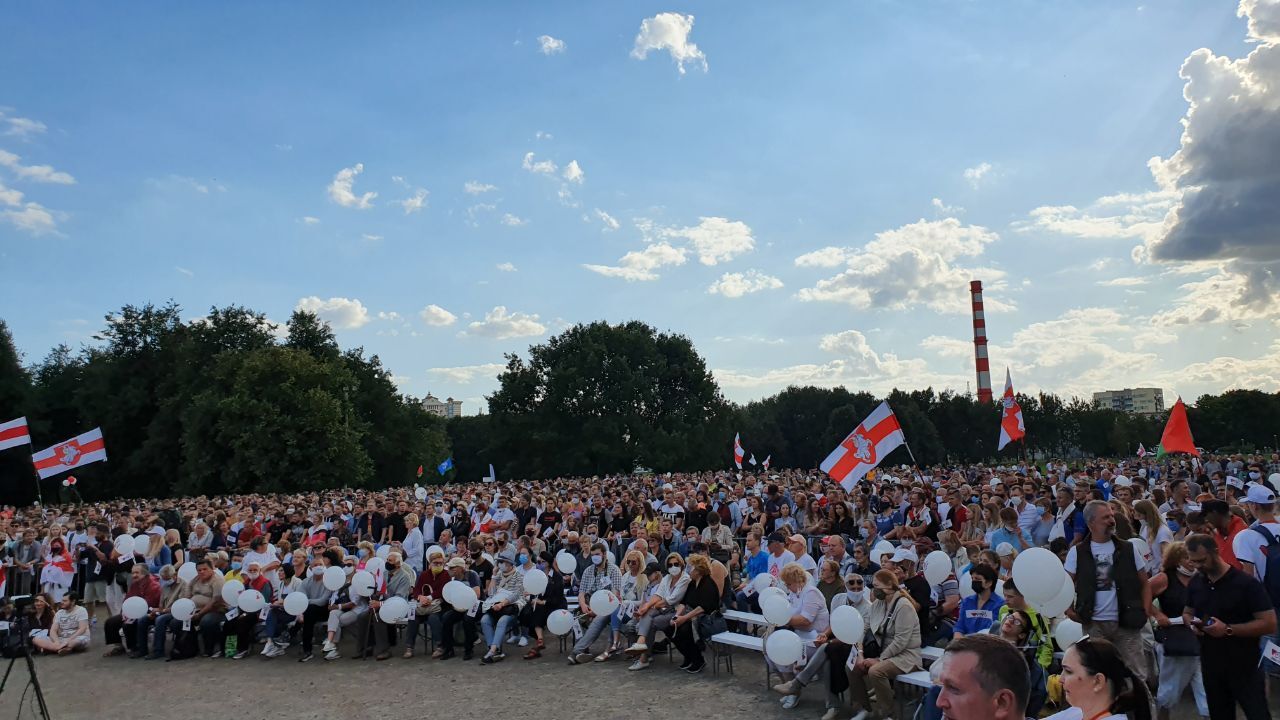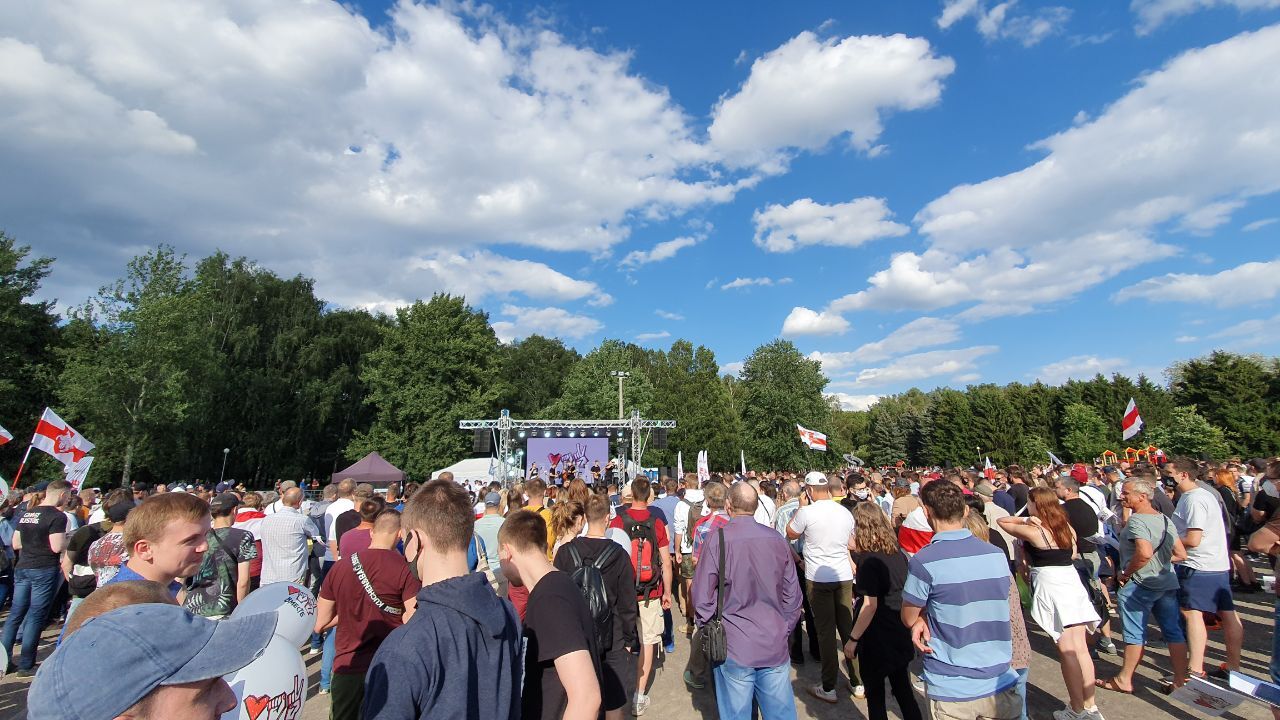 18:29 "I have a son, two grandsons, but what future awaits us? I hate Lukashenka," many people are quite radical.
18:25 People come to the rally-concert of Sviatlana Tsikhanouskaya. Timelaps from NEXTA Telegram Channel.
18:24 Video from another angle. The flow of people is growing and getting tighter.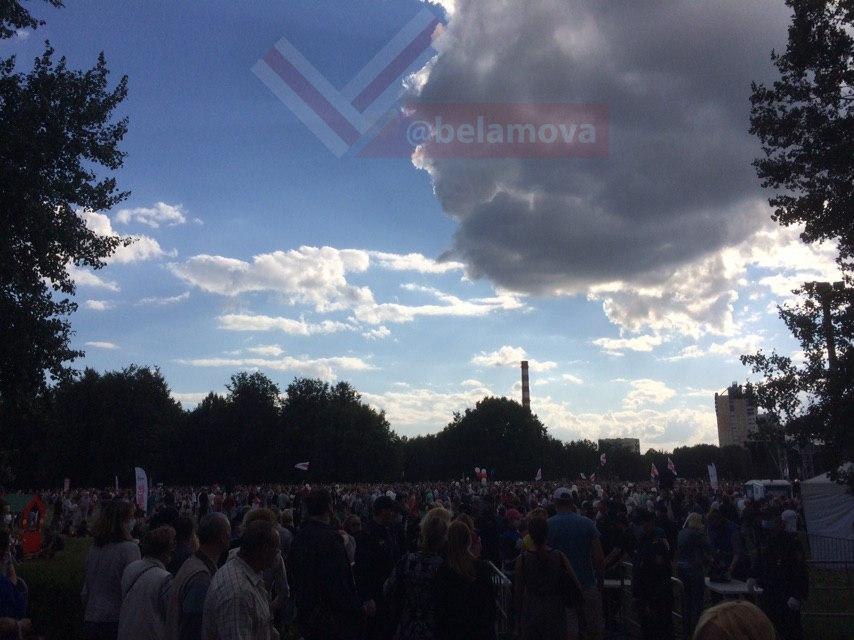 18:23 Rivers of people!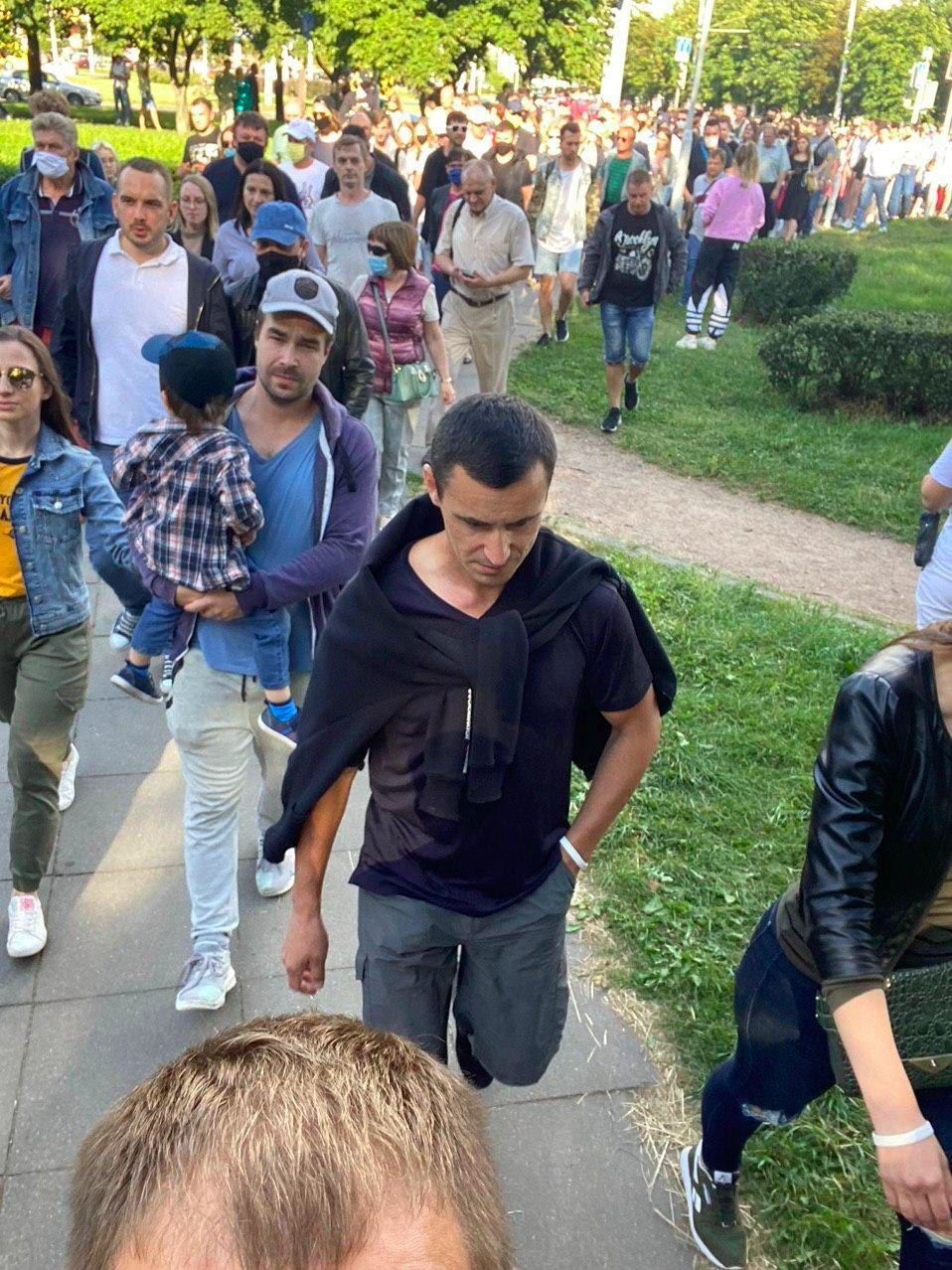 18:22 New photos from People's Friendship Park. As we can see, people from other cities also came to the concert in Minsk.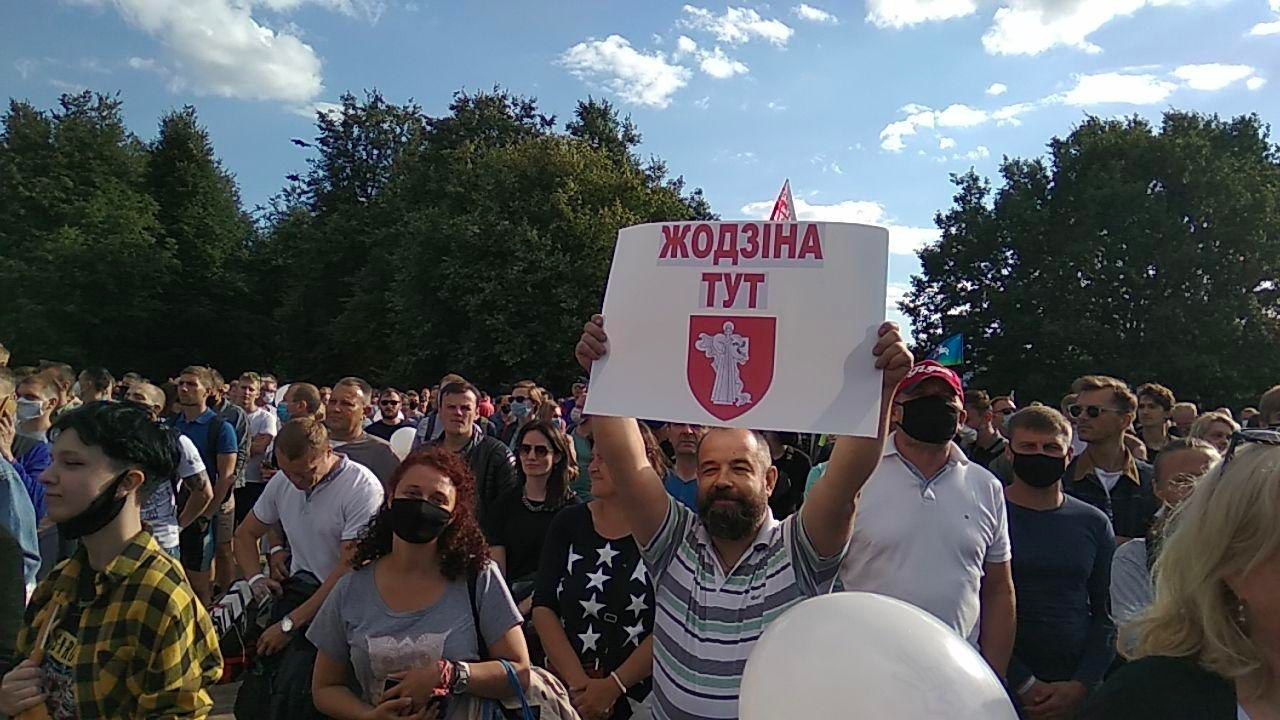 18:19 "I'm sure that there will be a series about the events of 2020 in Belarus on Netflix," Minskers share their impressions.
18:14 "The hosts called to turn on the air mode on phones in order not to overload the network, but to publish photos and videos from the event on the Internet after the rally.
18:12 Many people note that today is the first time they come to the rally of Sviatlana Tsikhanouskaya. Let's recall that this is the second rally of the presidential candidate in Minsk.
18:11 This is how the entrance line looks. The column stretches across the park.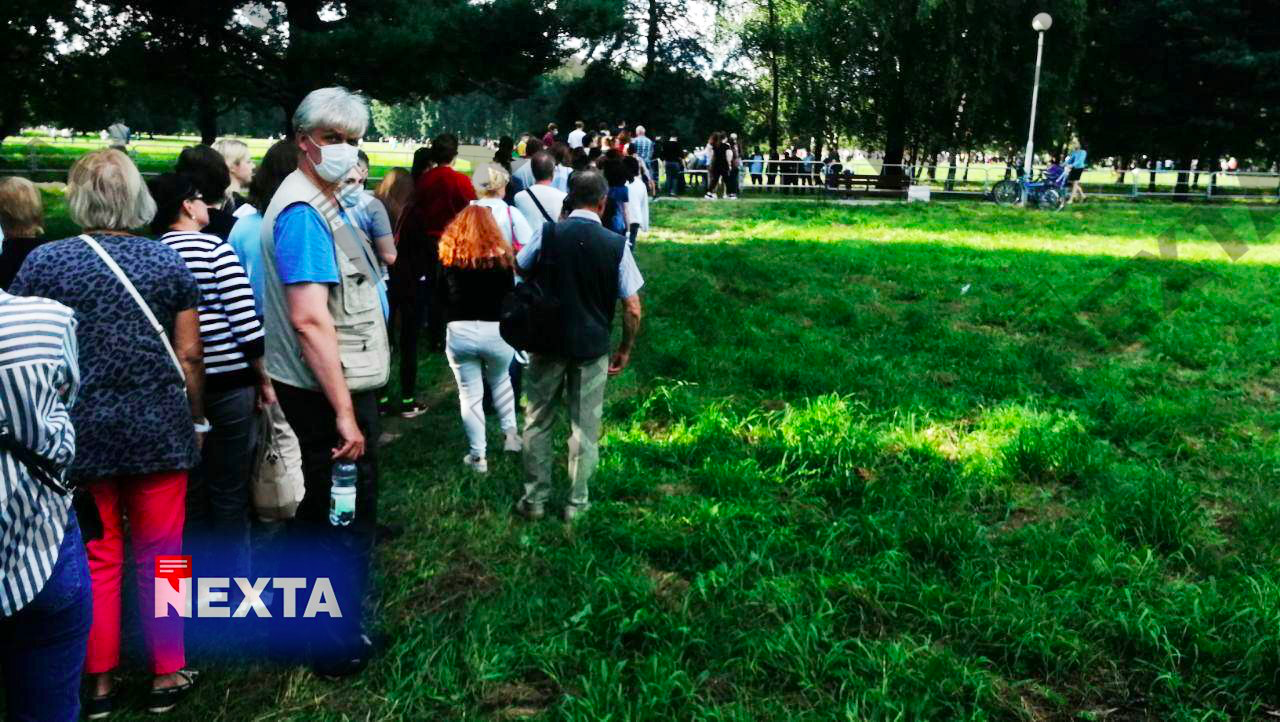 18:08 "I came because I want my children to live in another country," said Elena.
18:07 The area in front of the stage is already full and this is just the beginning.
18:06 Big columns are heading for the rally. There are already several thousand people at the rally.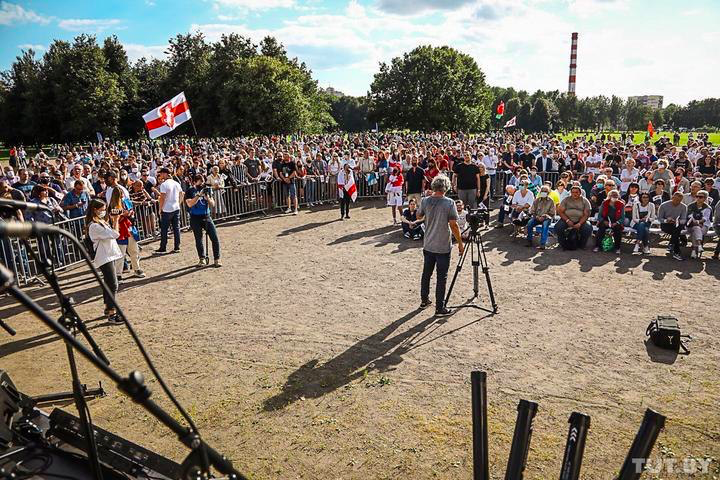 18:00 There are many young people, people with white-red-white flags. "We are going to celebrate," people say.
17:58 Independent journalists note that there are a lot of people on the outskirts of the park. One can say with certainty that there will be a lot of people at the rally today.
17:51 People started gathering half an hour before the rally-concert. There are already several thousand people at the rally.