Sasha, This Is The End, Do You Understand?
32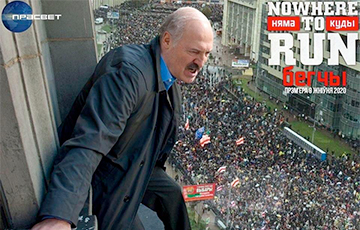 The era of the yokelish, loutish roughneck is over.
What happened yesterday at Banhalor Square in Minsk - it can be characterized as an irresistible thirst for freedom, the MBK telegram channel writes.
Ah, how many cockroach efforts have been made to prevent this from happening... In vain! Everything turned out exactly the opposite: at least 63 thousand in the Park of Friendship of Nations. 63 thousand without fear, with determination in his eyes, with smiles on their faces because the era of the yokelish, loutish roughneck is inevitably coming to an end.
Whatever the outgoing man is doing, everything is against him. He talked about health and 100 grams - already with a catheter in public, imprisoned the strongest candidates - got a joint headquarters, which united millions of Belarusians, wanted to frighten people with policemen, whom he placed along the perimeter of Banhalor Square - and the people in epaulets saw how many beautiful, kind and brave citizens want changes, for which they are ready to fight. Sasha, this is the end, do you understand?
Friends, those who came out today in their cities and towns, those who still have doubts, those who chose for themselves a personal strategy of struggle - well done! And the day of July 30 clearly showed that freedom is very close.
Long live Belarus!