Sasha, You Don't Have A Chance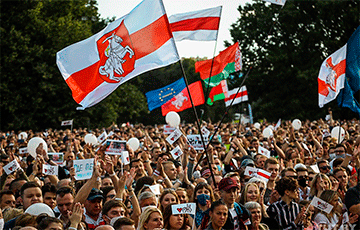 More than 40 thousand have come to Sviatlana Tsikhanouskaya's meeting.
In Minsk, a campaign picket of presidential candidate Sviatlana Tsikhanouskaya is taking place in the Park of Peoples' Friendship. People started to gather at 16.00, an hour before the beginning. Today, the rally is held as a large concert.
A lot of people have gathered: they are standing not only near the stage, but also on the grass, there is no free space left on the area fenced for the rally. Many people are also standing behind the fence. According to preliminary estimates, more than 40 thousand people have already come to the rally. The rally will continue until 22:00.
The photos were published by tut.by.