Russian Ambassador To Belarus: Russians Detained Near Minsk Were Going To Third Country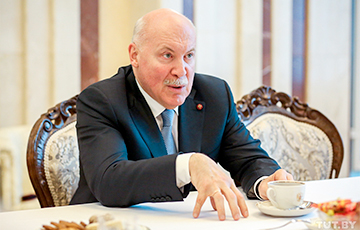 Dmitri Mezentsev says they intended to fly out of Minsk on July 25.
Russian Ambassador to Belarus Dmitry Mezentsev said that the detained Russians were going in transit to a third country. However, they stayed and settled in the Belarusachka sanatorium near Minsk because they were late for the flight. The diplomat's statement was published on the website of the Embassy of the Russian Federation.
He also called the claims about the attempt of the detained Russians to interfere in the internal affairs of Belarus groundless. In his opinion, this "only helps the Union State enemies to bring discord into the brotherhood relations of our countries."
- The Russians, who arrived at the Belarusachka sanatorium near Minsk, were forced to do this because they missed the flight from the National Airport of the capital of Belarus, on their way to a third country (to Turkey - the Russian Ambassador specified later - note). They intended to leave Minsk on July 25 and did not expect to stay in Belarus for any long time, but later planned to return to the Russian capital from another country by plane, bypassing the territory of Belarus. The reason for their arrival in the country was the signed contract with one of the commercial firms, registered here in Belarus, and each of the visiting Russians had an employment contract with this company," - Mezentsev said.
He also noted that according to the information that has to be clarified, the Russians may be employees of a private security company, which provides protection of energy infrastructure and resources abroad - not in Belarus.
- We expect from the competent authorities of the Republic of Belarus evidence to confirm the validity of the Russian citizens' detention and charges against them under a number of articles of the Criminal Code of Belarus, and the initiation of criminal proceedings, as announced on July 30," - the Ambassador stressed.
Mezentsev also said that during the meeting with the head of the Belarusian Foreign Ministry Uladzimir Makei on July 30th he demanded to ensure the access of the consular officers to the Russians, about which the relevant note was sent.
Answering one of the correspondents' questions, the diplomat noted that "wearing camouflage uniform, as well as unwillingness to support hospitable Slavonic traditions, "unwillingness" to drink a "good rouse" for friends - during their stay in any sanatorium in Belarus - are not seen as a reason for such close media attention, as well as the reason for the actions of law enforcement bodies without convincing and strong grounds."