Sviatlana Tsikhanouskaya To Security Officers: Turn To The Light
11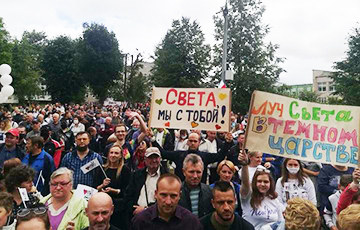 Security officers often come across rudeness and tyranny on the part of their superiors.
Presidential candidate Sviatlana Tsikhanouskaya on Friday, July 31, went to the west of Belarus. Her first meeting is taking place today in Smarhon. On the same day, mass events are planned in Maladechna and Lida, tut.by reports.
In Smarhon, despite the cloudy weather and the rain that started together with the meeting, more than a thousand people gathered for the event. The people were warmed up by the tracks by Yuri Shevchuk and the traditional for such actions "Hraj" and "Not to Be Cattle" by Lyapis Trubetskoy, and "Three Turtles" by the N.R.M. band.
At the beginning of the meeting, volunteers handed out leaflets to those who came, and the presenter warned that if provocateurs appeared, people should not enter into conflicts with them, as this could be followed by a warning to candidate Sviatlana Tsikhanouskaya, and receiving two warnings would lead to her being removed from the election. The presenter from the stage said that, according to his calculations, at least one and a half thousand people from the 36,000 population of Smarhon came to the meeting.
At 13.30, Sviatlana Tsikhanouskaya, Veranika Tsapkala and Maryja Kalesnikava appeared on the stage to the song "Bring Down Prison Walls".
- What about your lunch break? Thank you all for coming! - the presidential candidate addressed the audience.
Sviatlana Tsikhanouskaya traditionally talked about her husband Siarhei, that he instilled hope for changes in the hearts of Belarusians, and after his arrest she decided to continue his work, although she was forced to send her children abroad because of threats.
- I sacrificed a quiet family life not only for myself, but also for all of you.
People started shouting "Well done!"
Tsikhanouskaya turned to elderly people: thanking those who came to the meeting, she urged them not to be afraid for their pensions, and to talk about the changes to their peers - neighbors, friends, and relatives.
She called representatives of the law-enforcement agencies and security agencies good people, who are hostages of the system, who often face the rudeness and tyranny of the leadership.
"I think you're fed up with disrespect too. Your structures are dark and dirty, so fall to the side of the light."
In response, the audience chanted "Light!", "Sveta!"
Tsikhanouskaya also called on members of election commissions to overcome their fear, and do everything they can to make the current election as fair and transparent as possible.