Putin Discusses Detention Of Russians In Belarus With Russian Security Council
56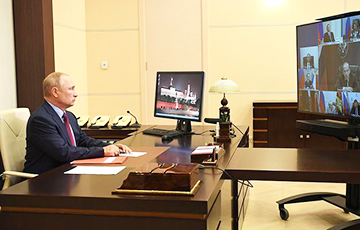 The Russian President hopes that the Russian citizens will be released soon.
Russian President Vladimir Putin and permanent members of the Russian Security Council discussed the groundless detention of Russians in Belarus, expressing the hope for their release, tut.by reports.
"A detailed conversation took place about the incident with the detention of Russian citizens in Belarus. The hope was expressed that in the near future this situation will be clarified, and the unreasonably detained Russian citizens will be released," the message says.
The meeting was attended by Prime Minister Mikhail Mishustin, speakers of both chambers of parliament Valentina Matvienko and Viacheslav Volodin, Deputy Chairman of the Security Council Dmitry Medvedev, Head of the Kremlin Administration Anton Vaino, Secretary of the Security Council Nikolai Patrushev, Ministers of Internal Affairs Vladimir Kolokoltsev and Defense Sergei Shoigu, Director of the FSB Alexander Bortnikov, head of the Foreign Intelligence Service Sergei Naryshkin, as well as special presidential envoy for environmental protection, ecology and transport Sergei Ivanov.