Sviatlana Tsikhanouskaya: Siarhei Opened People's Eyes And Gave Hope For Changes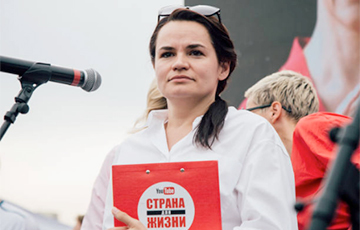 Stop being afraid - it's time to resist!
"I'm going to the presidency not for my own sake, but for my husband's sake, for my and your children's s sake, for your own sake," - presidential candidate Sviatlana Tsikhanouskaya stated at the pre-election rally, held in the capital park of Peoples' Friendship on July 30, BelaPAN informs.
Tsikhanouskaya began her speech in the Belarusian language and noted that her husband, blogger Siarhei Tsikhanouski, "opened people's eyes and gave them hope for changes, awakened courage and faith in themselves." "People have seen Siarhei Tsikhanouski as the future president, but the authorities - as a serious opponent," - the presidential candidate noted.
She once again said that she is not a politician and does not need power. "I had to hide my children for their safety, I sacrificed my quiet life for us all. I was tired of patience, tired of keeping quiet, tired of being afraid. Are you tired of being patient? Are you tired of being silent? Are you tired of being afraid?" - she asked. After that, the people started chanting: "Stop being afraid - it's time to resist!"
Tsikhanouskaya criticized the current state system, because now the government, according to her, finds money only for its own needs, not to help children and old people.
The candidate mentioned that on July 14, when Viktar Babaryka and Valer Tsepkala were not registered as presidential candidates, people took to the streets to protest.
At the end of the speech, the candidate urged people not to vote early, but to come to the polling stations on August 9 and vote for her. Tsikhanouskaya stressed that she and her supporters want only peaceful changes. She again promised to release political and economic prisoners in case of coming to power, to hold a referendum on the return of the 1994 Constitution and new, fair and just elections.
"Only together can we build a country for life," - the presidential candidate concluded.