Aliaksandr Furmanau: Don't Stop, Keep Fighting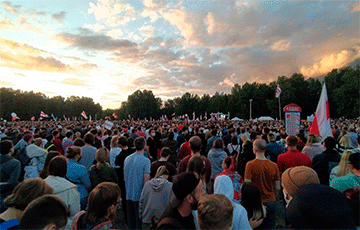 We have a wonderful country, we just have to make it a country to live in, it's in your hands.
Aliaksandr Furmanau - father of political prisoner Dzmitry Furmanau, a suspect in "Tsikhanousk's case," spoke at the election rally of presidential candidate Sviatlana Tsikhanouskaya, held on July 30 in the capital's park of People's Friendship (according to human rights activists, at least 25 thousand people were present), naviny.by reports.
Aliaksandr Furmanau called everything that happened "lawlessness and injustice." "In this regard, our family took the utmost measure - we went on a hunger strike, hoping to draw greater attention to this situation," - he said.
The family has notified a number of government agencies about the hunger strike, but no one has contacted the relatives of the detainee so far. At the same time Furmanau Senior notes that during the hunger strike common people come up to them near the pre-trial detention center, expressing sympathy, speaking words of support and offering help. "We are very grateful for this," - Furmanau said.
He urged young people not to stop, to continue fighting and not to leave the country.
"We have a wonderful country, we just need to make it a country for life, it's in your hands," - Furmanau said. Aliaksandr Furmanau also urged pensioners to listen to their children.
In addition, he appealed to law enforcement officials: "Remember, men, you are also someone's children. Fighting against this mass of honest people, how will you then look into the eyes of your families, children, neighbors? Think about it."