Tatsiana Seviarynets: Civilian Riot Started In Belarus
37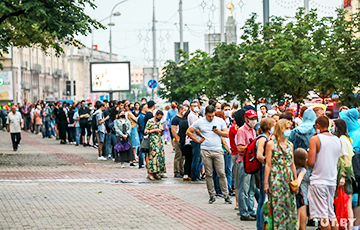 Belarusians refuse to participate in official events.
Tastiana SeviarynetsPavel Seviarynets, stated this in an interview with Сharter97.org:
- Amnesty International has recognized Pavel as a prisoner of conscience. How important is our and international support for him now?
- Solidarity is important not only for Pavel, who has been recognized a prisoner of conscience. Secondly, all those who have embarked on the path of struggle against this regime are already prisoners of conscience. We help each other, support each other, go to the courts, pay the fines. However, I must say that's not enough either.
I know that there are cases of the willingness to make sacrifices and readiness among the people who work in the law enforcement agencies. Many people resign from the security services. There are voices of their wives and families who say it is better to drink water and eat black bread, but to be at peace with themselves. It is wonderful when such thoughts appear in our people, it gives hope and strength.
I would like to address the people who arrested my son and say that I do not know who gave birth to them, who raised and taught them. They are uneducated, unscrupulous, monstrous people. If they were people with pride and honor, they would remember that there is a "boomerang effect" in life: everything will definitely come back to you.
It is always very hard for me when Pavel is on a dayin jail. This time it is just beyond the pale.
Only solidarity can support people who find themselves in such conditions as Pavel, Mikalai Statkevich, Dzmitry Kazlou. Now there is a proposal from Babruisk residents to create a women's movement.
First, the declared gender rights work only on words. We constantly hear in Lukashenka's speeches "who the woman is" and "where her place is". Secondly, Belarusian women suffer terribly: wives, mothers, sisters, brides of those men whom the authorities throw in jail. Look at what Maryna Adamovich feels, what Dzima Kazlou's bride feels, what my Volha feels. So we decided to unite in order to oppose and demand from the authorities the release of our loved ones and relatives. Any unification is good, but the whole Belarusian nation must rise.
- The Belarusian diaspora in Lithuania has submitted an appeal to President Gitanas Nauseda regarding the imposition of sanctions against Lukashenka's regime. Members of the European Parliament and European politicians have already openly stated about the possibility of such measures. How tough should be the sanctions against the regime, torturing its citizens?
- The sanctions should have been introduced yesterday, naturally. Secondly, we declare that we have "defeated COVID-19," but this is another lie that simply turns us inside out. The West should pay attention to that as well.
I read in my friends' posts about how many people got sick, how many died, there are not enough tears for that. It is again the regime that is to blame for these troubles, it did not to stir a finger to help in this situation.
Even I was a volunteer in Vitsebsk for two and a half months. I hadn't been using the sewing machine for forty years, but they brought it to me and I was sewing, day and night, everything that doctors needed. Besides that there are lies everywhere, doctors were forbidden to take our protective equipment, although it is of high quality and in great demand. The drivers of ambulances were forbidden to wear protective overalls in order not to "scare people".
As a result, people have relaxed. Few people today even wear a mask in a shop. There is no advertising that would urge you to beware and watch yourself, but the virus eats people up and keeps them from breathing. Only our power is scarier than the coronavirus. Therefore, international pressure is very important, if the authorities do not hear the voice of their own people, let them hear the statements of European politicians.
- What can cause such inadequate actions of the Belarusian authorities?
- The authorities are simply hysterical because of fear. Recently, I posted in the Network the Military Oath, which is given by soldiers and policemen entering the service. It does not say a word about serving Lukashenka. It says "to serve the Belarusian people and defend the Constitution of Belarus". The President is a manager hired by the society, and Lukashenka has decided that he was given this post for life, saying that we had chosen him ourselves. People believed you, and you deceived everyone, big and small!
- What of the events in the country and the world gives you hope for rapid change?
- What's happening can't even be compared to the situation in the past years. Even in December 2019, when people came out in defense of independence, and there were fewer of us. Now a lot of people have opened their eyes, woken up, seen what is happening.
Some have simply become supporters of change, others have pinned their hopes on Babaryka and Tsikhanouski. Belarusians have believed that it is possible to change the situation. The main thing is that people are getting rid of fear.
Recently, they tried a girl who found herself at a rally by accident. She had never protested before, but found herself in the wrong place at the wrong time, got a fine. Now she goes to all the trials and protests because she cares. She just saw how it happens to others, she doesn't want to be held liable for going out without reason, to pay money to this regime.
A civilian riot has begun: non-participation in public holidays, in events organized by the authorities.
Now we need a national strike. The boss does not pay salaries at the enterprise? There's no need to work either! Let's reconsider what trade unions are and why they were once created.