Tsepkala Threatened Election Falsifiers With Sanctions
51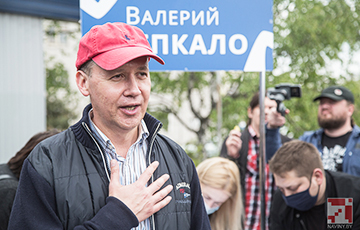 Members of election commissions are engaged in a crime against the people, the politician said.
"All those involved in illegal activities will be identified, their names will be known, they are unlikely to be allowed to enter the EU countries, the United States, maybe a number of other countries. This warning was made by presidential candidate Valer Tsepkala to those guilty of illegal rejecting signatures for his nomination as a presidential candidate, naviny.by reports.
The headquarters of the former High-Tech Park leader submitted about 160 thousand signatures, but local election commissions recognized about 75 thousand valid at the barrier of 100 thousand.
"We demand from them to provide us with acts of rejecting, - Tsepkala said during the dialogue with the voters on youtube in the evening of July 5. - Because here there's actually a criminal act of either our activist, who forged all these signatures, and then we ourselves would like to identify such activists, whom we consider to be planted provocateurs, or we see that members of the local election commission are engaged in this very activity. And if members of the territorial election commission are engaged in this, then they are engaged in a crime against the people".
"We are trying to protect the votes of voters, first of all those who have signed up for a presidential candidate and whose opinion the authorities simply do not care about. They have spat upon it quite frankly (...) and accused us of forging signatures," - the candidate for the highest state post said.
"The authorities simply spit in the face of people who were standing in queues, who spent a lot of time, showed their civic engagement and initiative, - Tsepkala said. - These signatures have actually been stolen and handed over to other candidates, whose pickets we didn't see there. In particular, one of the candidates who has "collected" about 2 million signatures: we haven't seen a single picket in Frunzenski district and haven't heard anything about someone from his initiative group actively visiting houses and collecting signatures".
Tsepkala considered the attempt to remove him from the presidential race as "fear of an open and honest struggle". In his opinion, the authorities want to remove three "main, most rating competitors" - him, Viktar Babaryka and Siarhei Tsikhanouski (the wife is running instead of the latter).