Volha Nikalaichyk Kept In Center For Isolation Of Offenders In Akrestsin Street For 28 Days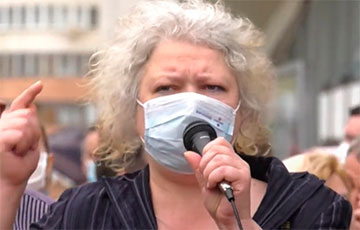 This is a blatant violation of the law.
Well-known activist and film director, Volha Nikalaichyk, has been kept in the Center for the isolation of offenders in Akrestsin street in Minsk for 28 days. According to the law, a person can't stay in the center for more than 25 days, the My Country Belarus telegram channel writes.
Today, the activist's another day of arrest comes to an end. The duty officer at the Center for the isolation of offenders says she won't be released.
Write letters and telegrams: Volha Nikalaichyk, 1st. Akrestsin Lane 36, Center for the isolation of offenders, Minsk, 220089.
We remind that Nikalaichyk was detained on June 7th after her participation in a legal picket to collect signatures at the Kamarouski market in Minsk.
On June 29, it became known that the activist was thrown into the punishment cell for 17 days.