Belarusians Addressed President Of Czech Republic With Open Letter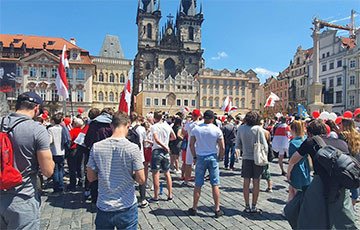 They urge to use leverage on Lukashenka.
Copies of the letter were sent to the presidents of the Czech government and both chambers of the Czech Parliament - Senate and Chamber of Deputies, Radio Svaboda reports.
The letter, read out in front of several hundred participants of the Belarusian chain of solidarity and protest rally in Old Town Square in Prague on June 27, describes the circumstances of the current election campaign in Belarus.
The authors of the appeal mention the historically lowest trust rating of Lukashenka. The letter also mentions the arrests of participants in the collection of signatures, administrative and criminal cases against the activists and the imprisonment of Siarhei Tsikhanouski and Viktar Babaryka.
The initiative to write the letter and hand it over to the authorities of the Czech Republic belonged to the Belarusian writer Maks Shchur, who lives in Prague. The initiative was implemented with the participation of the BLRČR FB community.
The letter was signed by about 150 people (about half of the rally participants).
The authors of the letter urge Czech President Milos Zeman to use his political influence to make Lukashenka realize the international and economic consequences of "his illegal retention of power at any cost". According to the authors, Lukashenka should not think that he will escape punishment after breaking the law and repressions against his own people, and that his authoritarian methods of governance do not correspond to the XXI century and Europe.