Leanid Sudalenka: The Authorities Indirectly Admit Their Defeat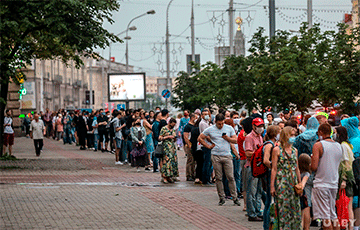 Why should we wait until August 9th?
Every day there is evidence that the Belarusians have changed, while Lukashenka has finally lost even the minuscule "support" of 3%, which became his calling card. The other day, Minsk drivers literally "booed" a cortege of the "cockroach". Daily flash mobs of solidarity prove how sick and tired people are of this power. Live lines appear in dozens of cities around the world, as well as rallies of solidarity with the Belarusians, fighting for freedom.
In an interview with Charter97.org, legal inspector for Homel region of the REP trade union, a well-known human rights activist, Leanid Sudalenka, gave his assessment of the situation in the country and the protest sentiments of citizens:
- The political campaign, which takes place during the "elections" in 2020, has revealed the unprecedented protest potential of Belarusians. At first, people built up huge lines to sign for alternative candidates.
Seeing this, the authorities undertook a kind of "cleansing" when two of Lukashenka's main opponents were put behind bars, while the third was accused of "bribery". Once there was Frau A., now there is a Turkish B. who tries to accuse Valery Tsepkala of alleged "bribe-taking" 10 years ago. This is a diagnosis of what is happening in the upper echelons of power.
As for our people, it's good to know that the protest has never been as strong as it is now. We observe Belarusians in human chains and pickets held all over the world. It's great when the Belarusian emigration gathers on the square or near the embassies of Belarus. It indicates that the Belarusians have changed.
In addition to ordinary citizens and Belarusians abroad, the European Union, MEPs, UN and international human rights organizations express their support.
International solidarity is extremely important for us. Just the other day, Special Rapporteurs of the UN made a very important statement. They gave an accurate description of the situation in our country and demanded to stop the persecution of peaceful demonstrators.
Now such international support is crucial: the whole world should see what is going on in Belarus.
- How do you assess the actions of Belarusian human rights defenders in this situation?
- First of all, I also consider myself a human rights defender. I am very happy for my colleagues that we were able to promptly recognize those people who were put behind bars on trumped-up charges as political prisoners.
No one doubts today that these political cases are fake, especially after Lukashenka's statement that he was the one who ordered to detain Siarhei Tsikhanouski. Is there a law in our country? Is there any presumption of innocence after such statements? What is Lukashenka making such statements for? It's hard for me to see his logic. But he must finally realize that this country is ours.
Lukashenka's regime has already been passed the point of no return. For the first time, he might have a feeling that he could lose everything, including his power.
Therefore, it is very important that Amnesty International also recognized political prisoners in the country. This is the first step towards their release. Will the European Bank give credit to a country with dozens of political prisoners? No. After all, Lukashenka has problems with Russia. He is in a really difficult situation now, so the struggle for political prisoners must continue.
- What could you, as a lawyer, say about the last trial of Siarhei Tsikhanouski?
- As for the procedure itself, we cannot judge a person in absentia. This is an absolute abolition of the ruling - even in the Belarusian practice, even in the administrative case. That is why Tsikhanouski had a videoconference from the detention centre to avoid the trial in absentia.
As for the verdict of 15-day arrest, I don't understand why there was a hearing if he is detained on suspicion of "committing a criminal offence". I do not see any logic in the actions of the authorities. The very suspicion of "committing a criminal offence" allows keeping a person in custody. The situation is ridiculous.
- At the trial, Siarhei Tsikhanouski said a wonderful phrase: "Belarusians, where are your slippers?"
- Yes, it was impressive. I think Siarhei wondered why there were no protests. Of course, he was the people's leader at the very beginning, but there are many supporters of changes in the country.
Where is Viktar Babaryka's team? What are they doing now? Their candidate, their leader, who raised half a million Belarusians was also jailed. Why doesn't his team come out "with slippers"? These guys behind bars need daily support. Why should we wait for August 9th?
It would be great to hold mass solidarity actions all the time. The main backbone of the 2020 protest mood is jailed. What do other Belarusians do? Sit and wait? One shouldn't be tied to August 9th. Nothing may happen on August 9th, if we do not act now.
Why should we wait for August 9th, if the authorities are already acting rude? Actions will not occur spontaneously, they need organization. I'm not even talking about Minsk: in Homel, there were about 3000 people in line for pickets to sign for Sviatlana Tsikhanouskaya. Can't these people organize themselves after the arrest of the leaders?
- Apart from mass actions in the streets, how else can one fight for changes today?
- To achieve this goal, any method is permitted. Someone will wear a T-shirt with the inscription "3%" or "Country for Life", someone will spread information on the networks, someone will take part in street activity again.
- In this election, the reaction of the authorities to the actions of political opponents was unprecedented. Why did it happen? How right are analysts, like a member of the German Bundestag, who say that Lukashenka's era is over?
- It is true. These elections are the first when the authorities indirectly admit that they have already lost. Lukashenka has realised that the majority is against him.
Lukashenka has recently made many mistakes. Belarusians have increasingly been outraged by unpopular steps he made. Look at the economic situation: many people had to go abroad to earn money. This is the first alarm when people's income falls sharply.
Early this year, Lukashenka had already started throwing such words as "small people". Then comes the situation with coronavirus when authorities refused to recognize the problem and people went to church. It caused a wave of epidemics. Today Lukashenka says that "we've defeated the coronavirus". However, it's the height of the infection.
This deceptive behaviour of the authorities and secrecy has been the last nail. Society is boiling now.
- Regarding the state lies, how would you comment on the latest manipulations with the number of signatures that Yermoshyna conducted?
- As a specialist in law, I consider it a criminal offence by prior agreement and committed by a group of officials. The authorities overstepped the border and slid down to complete lawlessness. The Prosecutor's Office and the Investigative Committee should deal with this issue, not journalists.
The mass media should not be looking for answers to the question of why Kanapatskaia collected 8000 signatures at BelAZ if 10-12 thousand people are working there. After all, even the Yermoshyna CEC refuted it; in Zhodzina she has only 83 signatures.
We can say that the country is sliding into the darkness where laws do not work at all. These are bad news...
- What about good ones?
- The protest mood of Belarusians is at a high level. It's encouraging. It's a different matter of how people can defend their choice. I do not belong to the teams of alternative candidates and I do not know what they plan.
It would be good if many people took to the streets at the right time. Then no force could work.
In my opinion, we should not wait for August 9th, as it is already obvious what is happening in the country.