Minsker About Flash Mob Of Solidarity: I Came Up To My Window And Heard Chime Of Bells From The Yard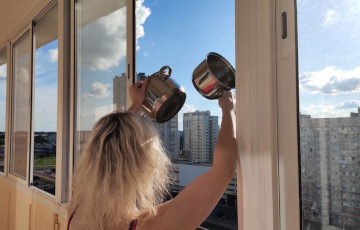 I guess the people have had enough of the cockroach.
A Minsker told the European Belarus telegram channel that the neighbors in the yard were united by the flash mob of solidarity:
- Yesterday, the following thing happened in my Siadykh street in Minsk. I bang against an old pot every day at 7 p.m., and today I came to the window, waiting, as they say, for the chime of the bells, and I heard them.
There was a grayish man standing outside and he was banging with something all over the yard. He was joined by my "colleagues" from the house with whom we do it daily.
In short, now there are more of us, and judging by how fiercely the man was banging, the cockroach really got to him.
We're getting ready for today. Take out the saucepans, the bailers, the speakers. Fill the streets with the sound of dissent!