Serious Developments Happening In Belarus
3
Andrius Kubilius
7.07.2020, 16:19

60,884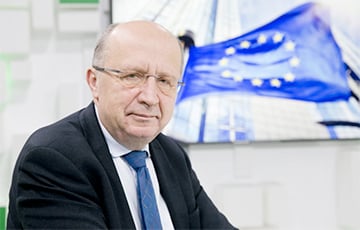 Belarusians want to achieve changes and return their country to democracy.
There are sandbox games taking place in Lithuania, while in neighbouring Belarus, there is a battle over the future of the country. It would seem that out of all places, this should get attention in Lithuania, however, the fact that A. Lukashenka's biggest challenges are becoming political prisoners bothers neither politicians nor the wider public in Lithuania. Young people protesting at the US embassy as part of the "Black Lives Matter" movement don't have any energy left to make it to the Belarusian embassy as well.
All the while, serious developments are taking place in Belarus. For the first time in 26 years, it is clear that the majority of Belarusians are tired of A. Lukashenka's regime, With surveys showing that 50 per cent of people want to see serious changes in the country, while only 30 per cent of people support 'stability' under A. Lukashenka. EPP logo The mood is reminiscent of the Reform Movement period in Lithuania. Famous Belarusian rock bands are announcing songs 'for change', and people are standing for hours in queues just to write their signature in favour of Lukashenka's challengers. Websites are publishing interviews about what ordinary Belarusians are thinking (and they openly state that they are tired of Lukashenka), followed by website owners and their interviewees being dragged around by the Belarusian KGB, and so on.
Most importantly, people challenging A. Lukashenka are already in jail. So are the bloggers and common Belarusians, all of whom are being mercilessly dragged in the streets and jailed. A. Lukashenka seeks to instil fear in the wider public, but he is failing at this, which gives away his own fears. He seeks to avoid allowing any potential protest leader to remain free with the aim of ensuring that people are unable to organise a more serious protest, however, this tactic fails because it only results in more protests. In A. Lukashenka's close quarters, things are also less than calm. Even the heads of power structures face uncertain times: should they remain loyal to Belarus' president, face the sanctions and likely end up alongside him, or go along with the developing changes?
A. Lukashenka, while trying to demonstrate he is fighting Kremlin's influence, has started meeting V. Putin on a weekly basis. On one hand, the latter is happy to see Lukashenka weakened and scared, on the other hand, it is worrying to see the Belarusian public not hiding its wish to see changes. Because these changes may ruin not only the regime of A. Lukashenka and the ties that both Putin and Lukashenka have fostered with Russia (which Lukashenka demonstratively fights from time to time), but also become a dangerous example to the Russian public. After all, if the calm Belarusians are asking for serious changes, would ordinary Russian's not ask for the same? Some say that Lukashenka's biggest challengers have been planted by Russia. 'Gazprom' has prepared a number of them, while others are some strange bloggers or obscure advisors serving Lukashenka. It is obvious that we should not expect the lines separating it from Russia to be as clear and vivid as they are in Lithuania or Ukraine.
However, the wish of the people to seek change and a return to democratic ruling norms is a natural and honest effort. A person elected by such people would not be able to avoid his obligations imposed by the mandate. Such will of the people would form a new Belarussian President, and not who one they have lived under so far. We cannot expect the new Belarussian president to radically change the country's geopolitical orientation quickly. There is a reason by Babaryko states that in the next decade he would expect to see Belarus becoming a neutral state. However, such changes would create an opportunity for the European Union to engage in much more intensive cooperation with Belarus. In that respect, Belarus could become similar to Armenia, which has a partnership agreement with the European Union, and later on, could decide in favour of more intensive cooperation.
It is possible that the prospect of Belarus escaping Kremlin's "friendship" monopoly scares V. Putin the most. A few days ago, he made a grave statement saying that with the fall of Soviet Union, some of the previous Republics have left the Union with larger territories than they had when the Soviet Union was being established. Well-known Russian political experts say that this is an open warning to Belarus and Kazakhstan, to whom the Kremlin will put forward territorial claims in the near future. Until now, Putin has made and realised such threats in 2008 in Saakashvili's Sakartvela (Georgia), and in 2014 in post-Janukovych Ukraine, when he felt that these states were slipping from his sphere of influence. The fact that the Kremlin has put forward such territorial claims to Belarus only means that it understands that efforts by citizens of Belarus to enact changes will result in Belarus no longer being influenced exclusively by the Kremlin.
How the events in Belarus will develop further is not clear. The critical date is around the corners. On July 14, it will become clear which of the candidates will be permitted by A. Lukashenka's administration to participate in elections. Now it has been said that only Cepkalo did not collect the necessary number of signatures to stand, and as such, one of the potential alternative candidates has been discarded. The other two – Babaryko and Tsikhanouski – are already in jail, although signatures collected by Babaryko and Sviatlana Tsikhanouskaya were deemed valid.
Changes in Belarus are important not only for Belarus. They are important to Europe as well, and they are especially important to Lithuania, and it is strange that in Lithuania this does not get much attention. Perhaps there is a lack of belief that these changes can actually take place. But the success of this also depends on us, all Europeans, and the European Parliament. Belarusian society will never have too much of our attention and support, especially when Belarusian society itself crowd-funded the fight against the pandemic, and now in the same fashion is raising funds to support the families of the new political prisoners, and to pay fines for public arrests.
"For your and our freedom" – in XIX century this slogan united the entire region of what used to be Grand Duchy of Lithuania. We were lucky because we implemented the necessary changes in the 1990s and now have our freedom, which we have further entrenched through European Union and NATO. History has given Belarus a different trajectory. However, they have also matured, and these changes will happen! Żyvie Belaruś! ('Long live Belarus!')
Andrius Kubilius: Member of the European Parliament, Former Prime Minister of Lithuania, 15min.lt