Dzmitry Kaldun: Could Infect Someone At Concert
20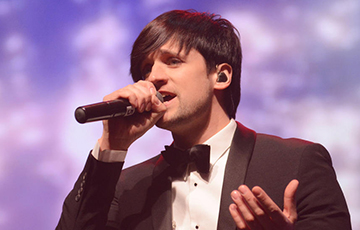 The singer sang at the opening of the fountain, where Lukashenka and Gref were present.
Singer Dzmitry Kaldun was hospitalized with Covid-19. He sang at the opening of the fountain, where Lukashenka was also present, Salidarnasts and Komsomolskaya Pravda report.
The singer's wife also has got coronavirus.
Dzmitry Kaldun shared the video in the social network, where he is wearing a hospital gown and a mask. He is walking along the hospital.
The singer says that first his temperature went up. He didn't attach importance to the symptoms. Short-term home treatments didn't work. With his wife Viktoryja, the artist was tested for coronavirus, just in case. Already in the hospital, the couple were diagnosed with Covid-19.
Kaldun was offered immediate hospitalization against the background of coughing and fever to avoid the spread of infection into the lungs, and as a consequence, to avoid complications in the form of pneumonia. The star's wife, however, has been left home in quarantine under medical supervision, the disease has no symptoms in her case.
Dzmitry does not know where he could get coronavirus, but the performance at the opening of the multimedia fountain in the Yanka Kupala Park on July 3 was the biggest event for the artist recently. The opening ceremony of the multimedia fountain was attended by Lukashenka, head of Sberbank of Russia German Gref, singer Yuzary, VAL group, Dzianis Matsuyeu, Anastasia Moskvina.
- I do not know whether I was already sick, when performing at the opening, or whether I caught coronavirus there. So now I'm worried that I could have infected someone there. All this time of the pandemic I tried to wear a mask in public places, but how will it help if almost everyone does not wear them? - the singer noted.