"My Entire Police Department Will Be With People If Anything Crops Up!"
29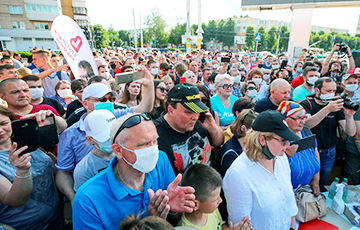 Pensioners and common policemen openly speak out against Lukashenka.
A reader of the "Basta!" telegram channel reported on what Belarusians of different professions think about the current government.
"A school director I know yesterday told me how he and his colleagues have been falsifying elections since 2001, - the reader of the telegram-channel writes. - He says that this time he will not do it. How to write him 80%, if there is zero percent for this bald neurasthenic? "I'd rather have my hand withered!" - he says. And he added the following: "I don't know anybody who's for this parasite! And all my colleagues, all the headmasters of our city think so! Even the chairman of the regional department is against him."
Last week I was in the polyclinic, my daughter had a temperature. It's the same situation there! All the talk of doctors, nurses and patients are about the elections, about Tsikhanouski and Babaryka and that it is necessary to overthrow the cockroach. Everyone is talking about it everywhere! In kindergartens, pharmacies, queues in shops, at the market. Pensioners on the benches, and even the local policemen openly speak out against Lukashenka.
My cousin is a lieutenant colonel of the police. "My entire police department, if anything crops up, will be with the people!" - he says. I hope it will be so.
I decided to write it, because I want to show that we are not alone - the whole country is against this non-human. My dear ones! Please believe, fight, don't stand idly by and very soon we will win!"
Download and install the Telegram messenger on your smartphone or computer, subscribe ("Join" button) to the Basta channel and create the history of free Belarus.