EU High Representative: Belarusian Authorities Should Release All Detainees
13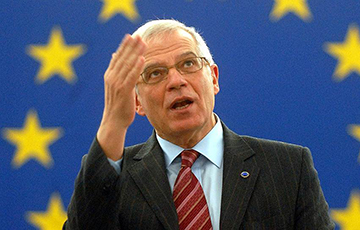 Josep Borrel has said that Brussels is monitoring the situation in Belarus.
The European Union is very concerned about the obstacles to the work of journalists, and the persecution of a number of opposition members in Belarus, especially in the view of the upcoming so-called presidential election.
"We call to respect human rights. We insist in our contacts with the Belarusian side that the recent development should be stopped," said EU High Representative for Foreign Affairs Josep Borrell, speaking at the plenary session of the European Parliament in Brussels on Thursday, Interfax reports.
He said that the EU was in contact with the Belarusian authorities in order to release people detained in the country. "We will closely monitor the election," the Head of European diplomacy promised.
Borrel recalled that Belarus is a member of the Eastern Partnership program, which is beneficial to both parties. Therefore, it is in the interests of all Europeans that certain standards that apply there be improved in Belarus.
The EU's relations with Belarus, the Head of EU diplomacy noted, are built on a number of important priorities, which include respect for human rights. He pointed out the need for greater EU openness towards Belarus, and continued support for the sovereignty and independence of this country. But this, he said, should be connected with positive results in Belarus in the field of human rights, fundamental values and freedoms.
According to Borrell, the development of relations "can only be based on positive steps towards democratization, the rule of law, human rights and fundamental freedoms."
"The presidential election will be very important in terms of planning further actions and determining our relations," the EU High Representative concluded.