Petras Auštrevičius: Lifting Sanctions Off Lukashenka Regime Was Premature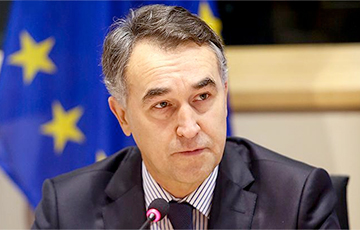 The EU must apply a long-term strategy for Belarus to become European.
On July 6, a meeting of the European Parliament Committee on Foreign Affairs was held in Brussels, where Belarus was discussed.
European Parliament permanent rapporteur on Belarus, European MP from Lithuania Petras Auštrevičius, gave his assessment of the situation in the country and the EU relations with Belarus, the correspondent of the Charter97.org website in Brussels reports.
We are giving the text of his speech.
"We are witnessing the process of creating a union state of Russia and Belarus with the formation of supranational bodies and the suppression of the sovereignty of Belarus.
It [the union state] poses the greatest threat to the existence of Belarus as an independent sovereign state, no more and no less.
Secondly, the presidential campaign revealed an unprecedented surge in violations of the remaining basic rights and freedom of expression.
The country experienced something similar in 2010, such a level of intimidation and harassment of bloggers, journalists, oppositionists and activists: more than 400 people were arrested, many remain in detention with very poor conditions and treatment. Among them are very well-known politicians such as Pavel Seviarynets or Mikalai Statkevich.
This was followed by massive invalidation of signatures for the nomination of candidates: Viktar Babaryka had 365 thousand signatures collected, but 175 744 were recognized as reliable; Valer Tsapkala submitted 160 thousand signatures, only 75,249 were recognized valid.
We are concerned about the increased level of violation of human rights, and demand that the violence be stopped.
Thirdly, Belarus and Russia are close to completing a nuclear power plant in Astravets, on the very border with the European Union and only 45 kilometers away from Vilnius, the capital of Lithuania.
Unreasonable choice of location, unsafe construction method, numerous incidents, non-compliance with recommendations on stress tests pose a huge risk from the point of view of nuclear safety for the whole of Europe.
Today Belarus faces the problems of the uncontrolled and officially denied spread of the coronavirus, political persecution, and the growing nuclear threat to Europe.
To be honest, the lifting of sanctions in 2016 was a premature and hardly justified decision, not supported by the improving situation in Belarus.
More positively, we assess the agreement between the EU and Belarus on visa facilitation - the best way to encourage people-to-people contacts. I look forward to its implementation.
The EU's policy towards Belarus should not be based on a combination of carrot and stick, as one or the other may be excessive or insufficient, but on the fundamental application of a long-term strategy for Belarus to become European. "