Pompeo: US Calls On Belarusian Authorities To Respect Citizens' Right To Peaceful Assemblies
2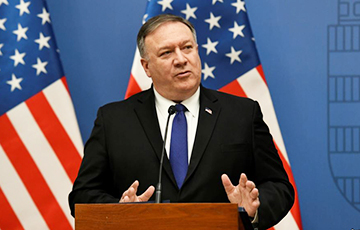 The US Secretary of State called the election in Belarus unfree and unfair.
The US considers the presidential election held in Belarus to be unfree and unfair. This is expressed in a statement by US Secretary of State Michael Pompeo released on Monday, TASS reports.
"The United States is deeply concerned about the holding of the presidential election in Belarus, which was neither free nor fair," the text says. "Severe restrictions on the admission of candidates, the ban on the admission of local independent observers to polling stations, the methods of intimidating opposition candidates, the detention of peaceful protesters and journalists have darkened the process." ...
The United States also calls on the Belarusian authorities to respect the rights of citizens to participate in peaceful assemblies, and refrain from the use of force.
"We call on the Belarusian authorities to respect the rights of all Belarusian citizens to peaceful assembly, to refrain from the use of force and to release all unlawfully detained," the text says. "We strongly condemn the continued violence against protesters and the detention of opposition supporters, as well as blocking the Internet to prevent the spread of information about elections and demonstrations by Belarusian citizens."