Belarusians Take to Protest (Online)
162
11.08.2020, 18:08

313,521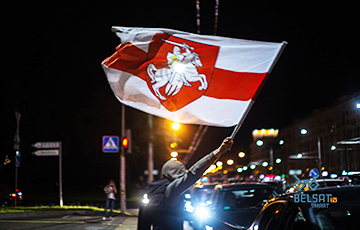 The world is shocked to watch the events in Belarus.
The presidential elections in Belarus have ended. Yermoshyna CEC falsified the results, but independent exit polls fixed the victory of presidential candidate Sviatlana Tsikhanouskaya. She won with the result of 72.1%, while Lukashenka had only 13.7%.
On August 9th mass protest actions took place in 33 cities of Belarus. On August 10th the Belarusians continued their protest. August 11, the All-Belarusian strike started all over the country, and at 7 pm, Belarusians took to the streets of their cities responding to the call of several Telegram channels.
It should be noted that the actions are held with the full blackout of the Internet in the country. Lukashenka is afraid of mass actions and tries to hide information about the situation in the country.
We get fragments of information about the protests and will try to inform you about the course of events.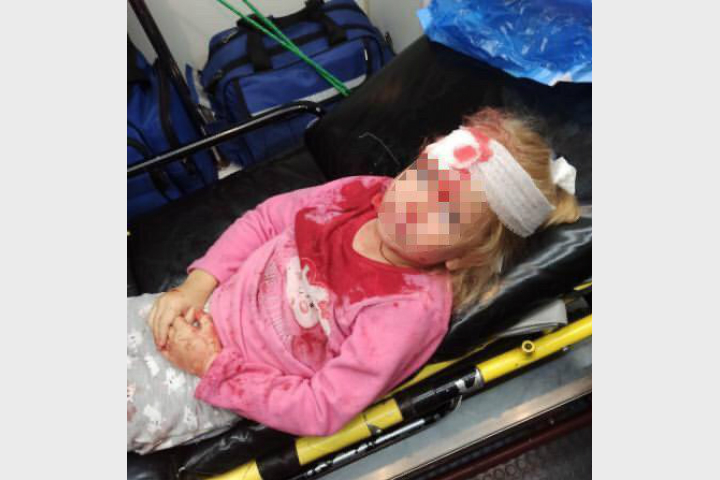 00:40 Serebryanka is the epicentre of the protest today. People fight back against Lukashenka's fascists.
00:17 Here and there people are already celebrating the victory over fascists and launching fireworks! Minsk and the whole Belarus are still far from complete liberation from the invaders. However, Belarusians never give up. They will certainly win.
00:10 There are 300-400 people near the SC Riga and police vans have blocked the intersection.
00:08 Many people gathered on Pushkinskaya Street again. People also take to the streets in Masyukovshchina neighbourhood.
23:59 Brave and freedom-loving people live on Dzerzhinskogo Avenue!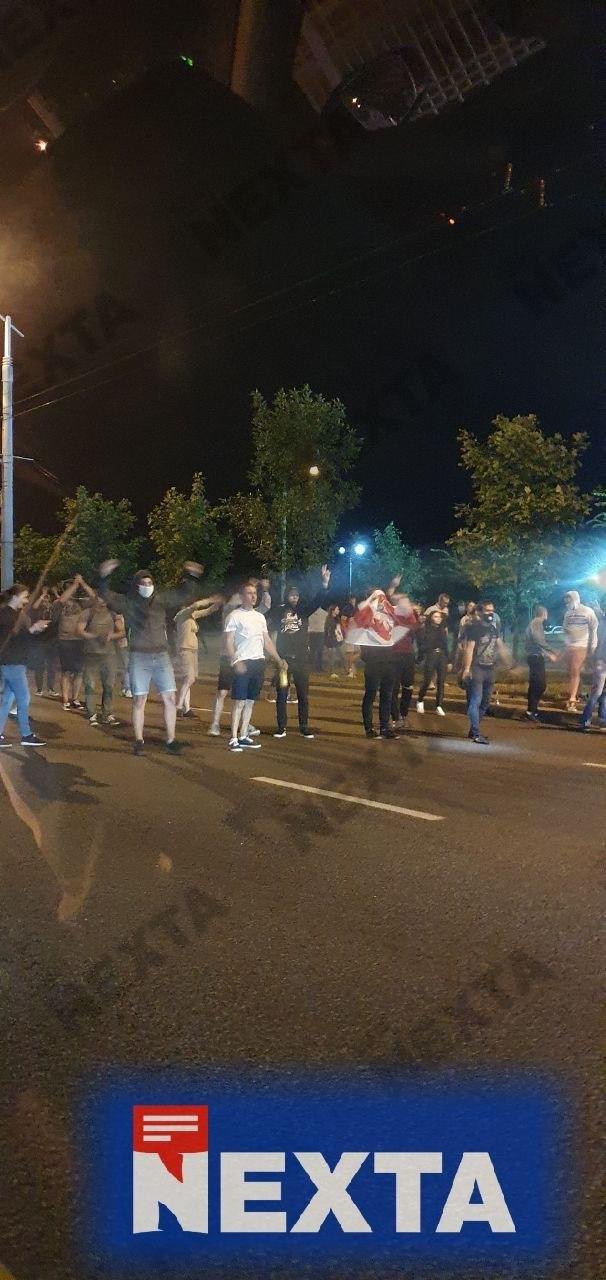 23:55 Lukashenka's hit squads use sound and flash grenades near Plekhanava Street, fireworks fly back. The riot police held selective detentions. Some protesters tried to tack back the detainees and threw wooden sticks, stones and torches. The cars slowly moved towards Valeeva Square, while others moved towards Plekhanava Street. Explosions are heard from the side of Plekhanava, flashes of grenades appear. Some of the protesters launched fireworks in the direction of special equipment and a chain of the riot policemen, who cut the avenue into several parts.
23:44 Looks like the Minskers got excited!
23:37 The residents of Homel can freely walk in the city.
23.23 On Rokossovskogo Avenue people blocked and encircled about 50 riot policemen!
23.21 The protesters built a barricade near the Serebryanka market.
23.16 Today people in Mozyr who take to the streets are thrice the number of yesterday's.
23.10 People are building barricades on Rokossovskogo. The riot police can't stop them.
23.08 Great Jedis with lasers are fighting against gunmen in Uruchye!
23.07 In Lida, protesters threw stones at police cars.
23.06 Tel Aviv is with us!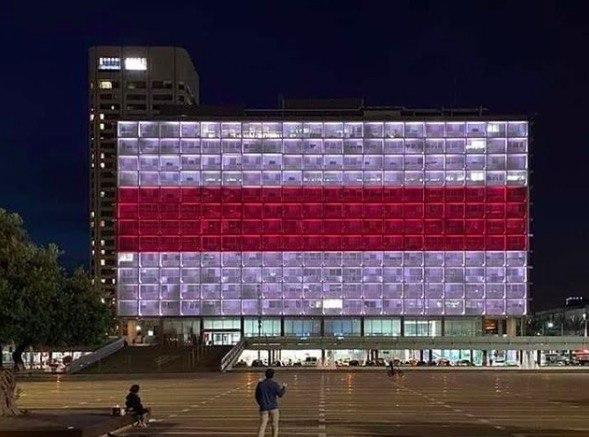 23.05 In the Uruchye, protesters launched lasers.
23.03 On Rokossovskogo Avenue, people encircled the riot police and prevent them from leaving. There are much more protesters!
22.56 In Ivanava people rise. Stay strong! Well done!
22.54 There are many protesters on Malinovka-Petrovshchina-Mikhalovo, cars are standing and signalling.
22.53 It's hot on Kamennaya Gorka.
22.51 Hundreds of people protest on Myastrovskaya Street in Minsk.
22.44 This is how the road on Kamennaya Horka looks like. A new barricade is under construction.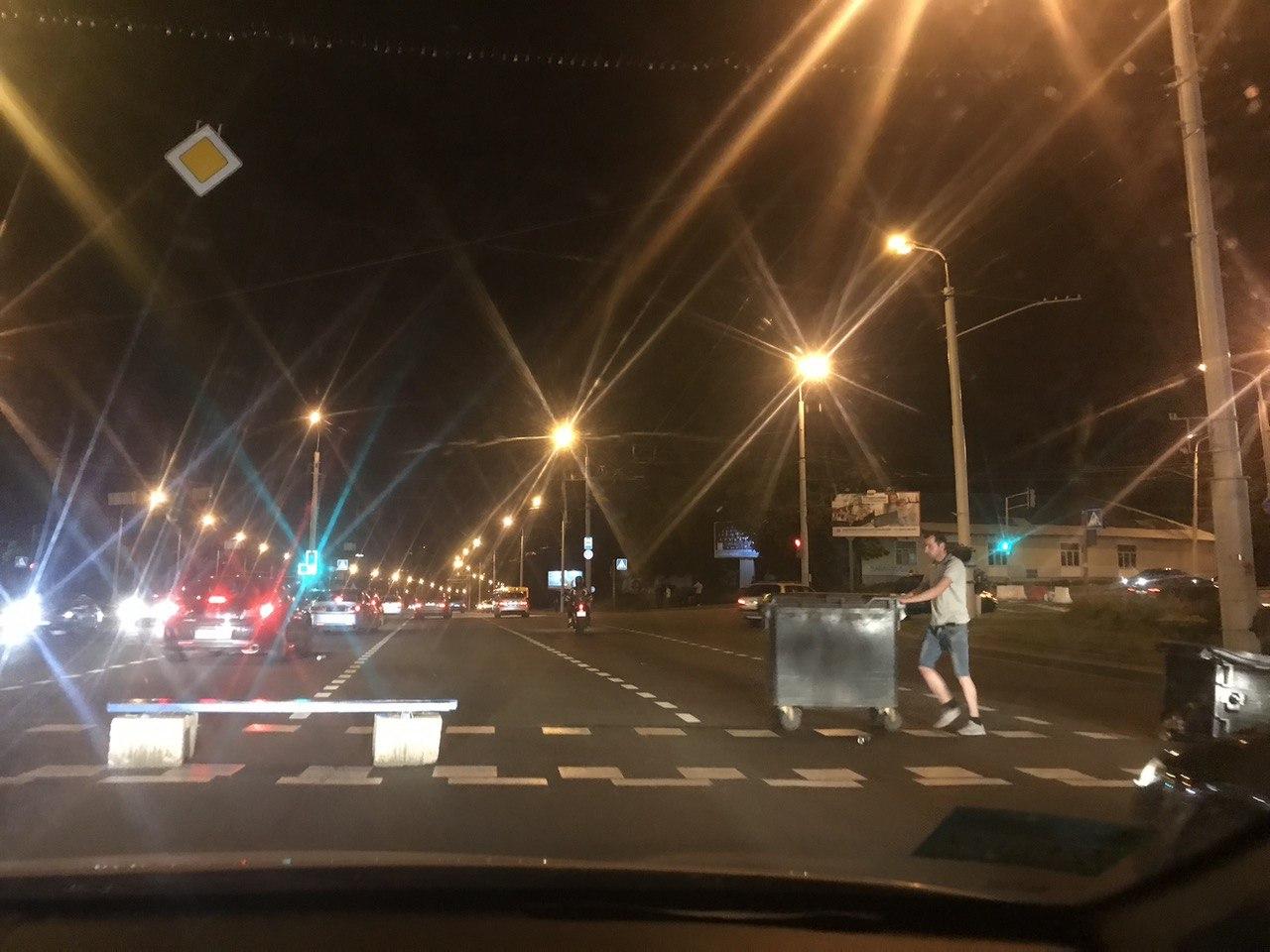 22.43 In Uruchye, Belarusian partisans occupied a nearby forest area.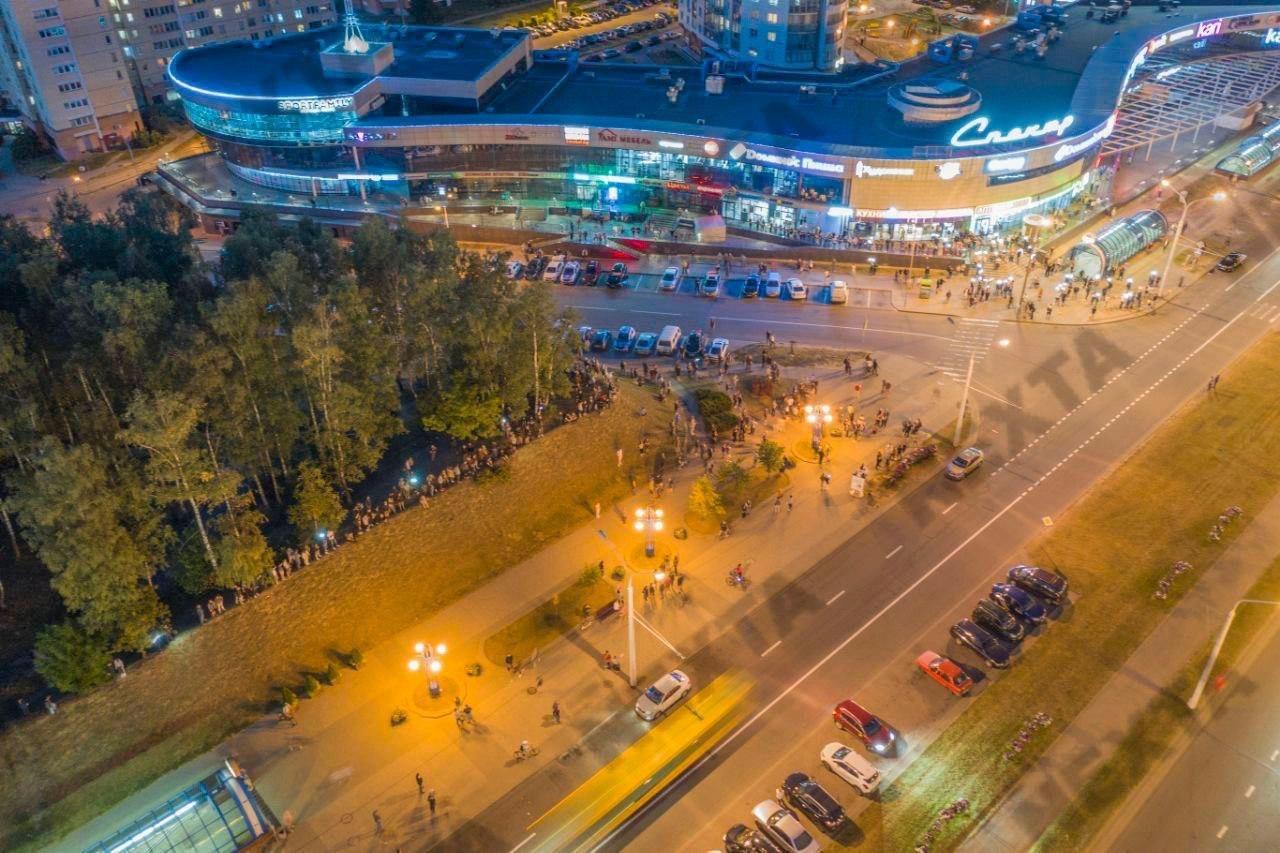 22.41 In Serebryanka, people with firecrackers got the riot police on the run. People are chasing them.
22.39 Lebyazhy took to the streets. People are celebrating the victory.
22.38 At the Pushkinskaya junction, people pulled out a bench and garbage cans to the middle of the road, trying to erect barricades and stop the traffic.
22.36 The protesters walk along Homel and chant "Homel join in".
22.35 Demonstrators are heading to Kamennaya Gorka.
22.34 Prytytskogo Street right now. People chant Go away!
22.33 In Homel, people are throwing eggs at riot police.
22.32 Minsk is invincible!
22.31 On Kamennaya Gorka, demonstrators dismantle sidewalks and build new barricades.
22.28 Minsk is fighting. People cannot be dispersed. They come back again and again.
22.27 Near the Marconi cafe, Victory Square, two women won back the protesters from the soldiers of the internal troops.
22.26 Hundreds of people went out to Lebyazhy.
22.55 People erected a barricade near Kamennaya Gorka metro station in Minsk.
22.24 Serebryanka, you are great!
22.24 A lot of people took to the streets near the SC Spectrum in Uruchye. Join in!
22.21 A huge number of people gather near the Riga shopping centre.
22.20 People on Kamennaya Gorka regroup and are back again!
22.18 Hundreds of people took to the streets in Smarhon. People build a chain.
22.17 Mass protest at Pushkinskaya in Minsk. People are unstoppable!
22.16 A lot of people gathered near SC Riga. Part of them marches towards Bangalore Square.
22.15 People take to the streets in Lebyazhy. They shout: "Come out!"
22.14 Hundreds of demonstrators blocked Prytytskogo Street and are heading to Kamennaya Gorka metro station.
22.13 There are many fearless people among Belarusians. We will surely win with such people!
22.04 About 2 thousand protesters have already gathered near the Polesie store in Serebryanka.
22.03 In Mozyr cars are beeping; one can hear applause. It has never been so noisy on the boulevard. The riot police arrived, but people fought back.
21.58 There are fireworks on Kamennaya Gorka.
21.57 Video fact: people block the road on Rokossovskogo in Minsk.
21.55 People gather near Riga on Surganova Street. Now there are dozens of people with flags, passing cars are beeping. Yesterday, there were barricades here.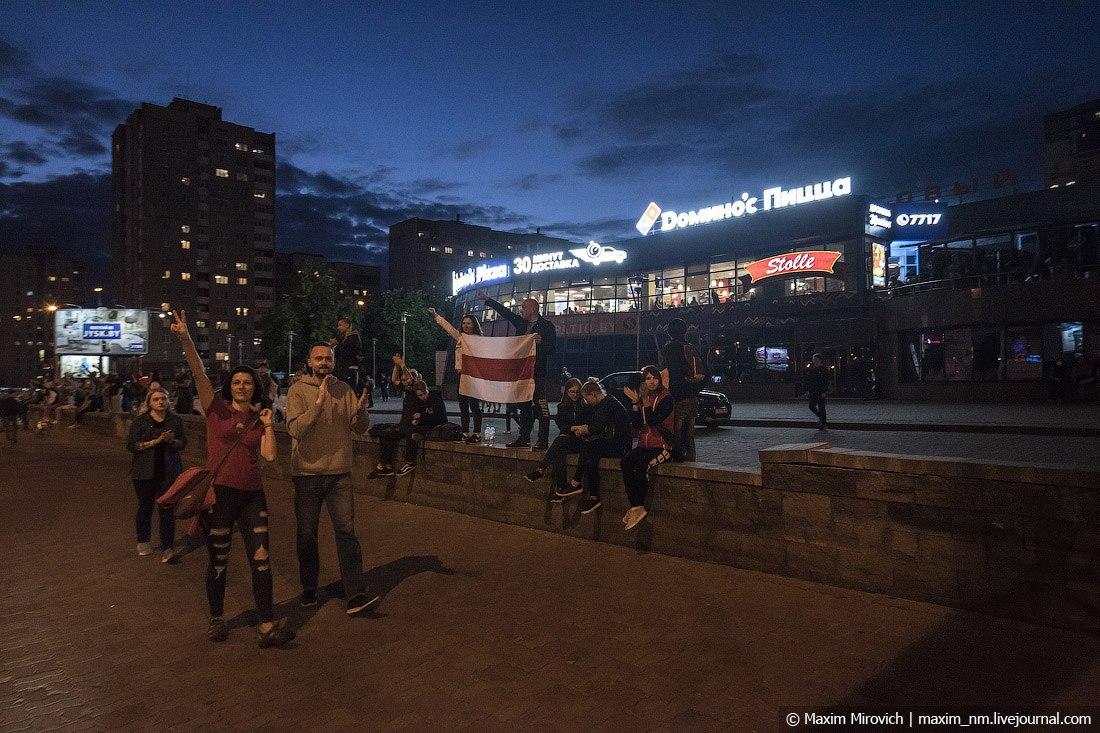 21.52 Drivers stop cars and clap on Rokossovskogo, Minsk.
21.50 Zeleny Lug neighbourhood is going to protest at the intersection of Logoiski tract and Koltsova Street in Minsk.
21.49 People blocked Rokossovskogo Avenue, Minsk. Cars are beeping in support.
21.48 Fireworks on Kamennaya Gorka. People are determined to win.
21.47 It's very cool in Uruchye now!
21.44 Minsk is not going to sleep. Right decision! What for? Tomorrow the All-Belarusian strike continues.
21.43 Hundreds of people took to Dzerzhinskogo Avenue in Minsk. Cars are beeping.
21.42 More than thousand people have already gathered in Uruchye to protest.
21.40 On Kamennaya Gorka, there were fusees and people stand right on the roadway!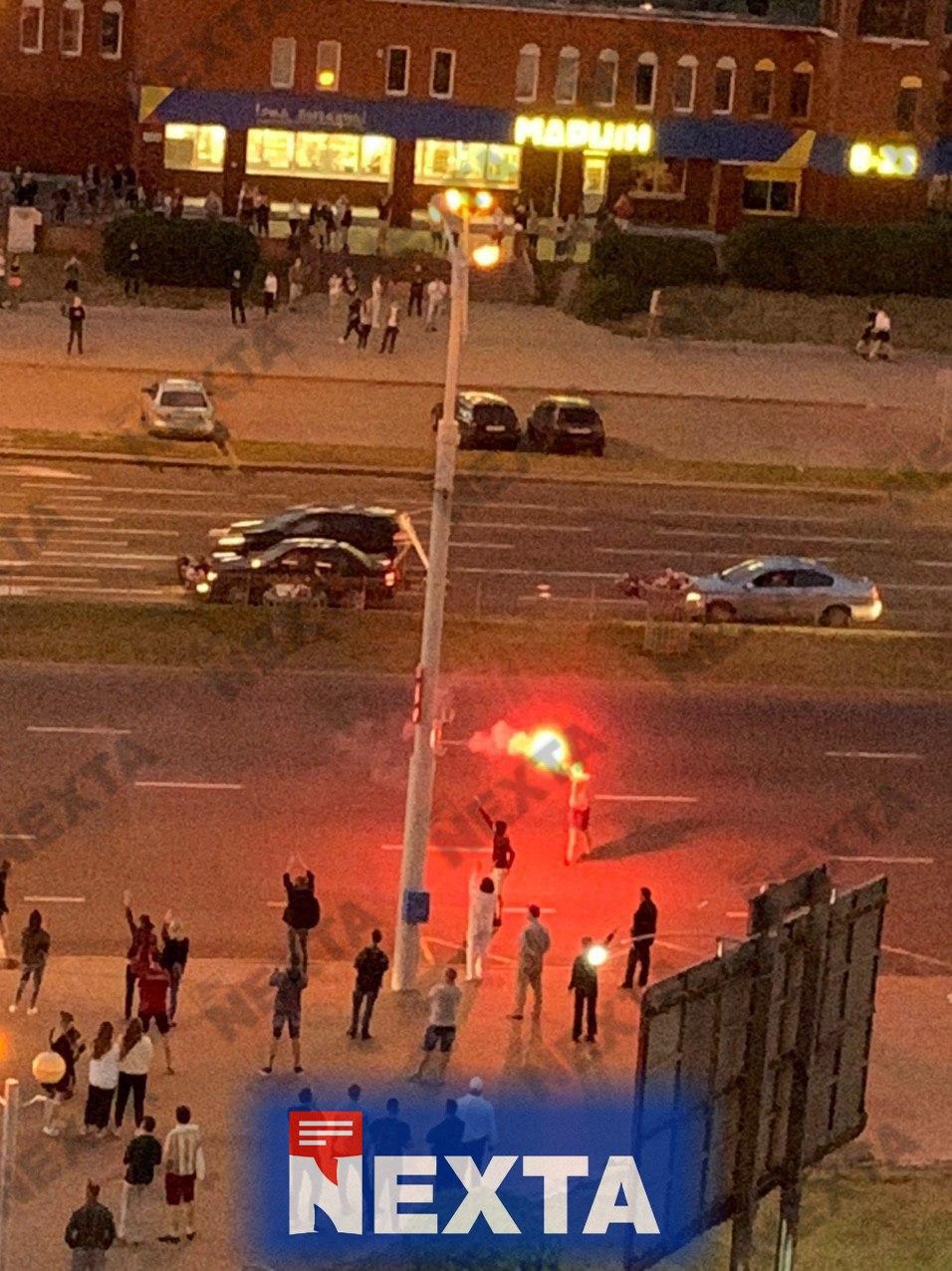 21.39 Hundreds of people started marching through the city in Homel.
21.38 Malinovka now. Hundreds of people took to the streets.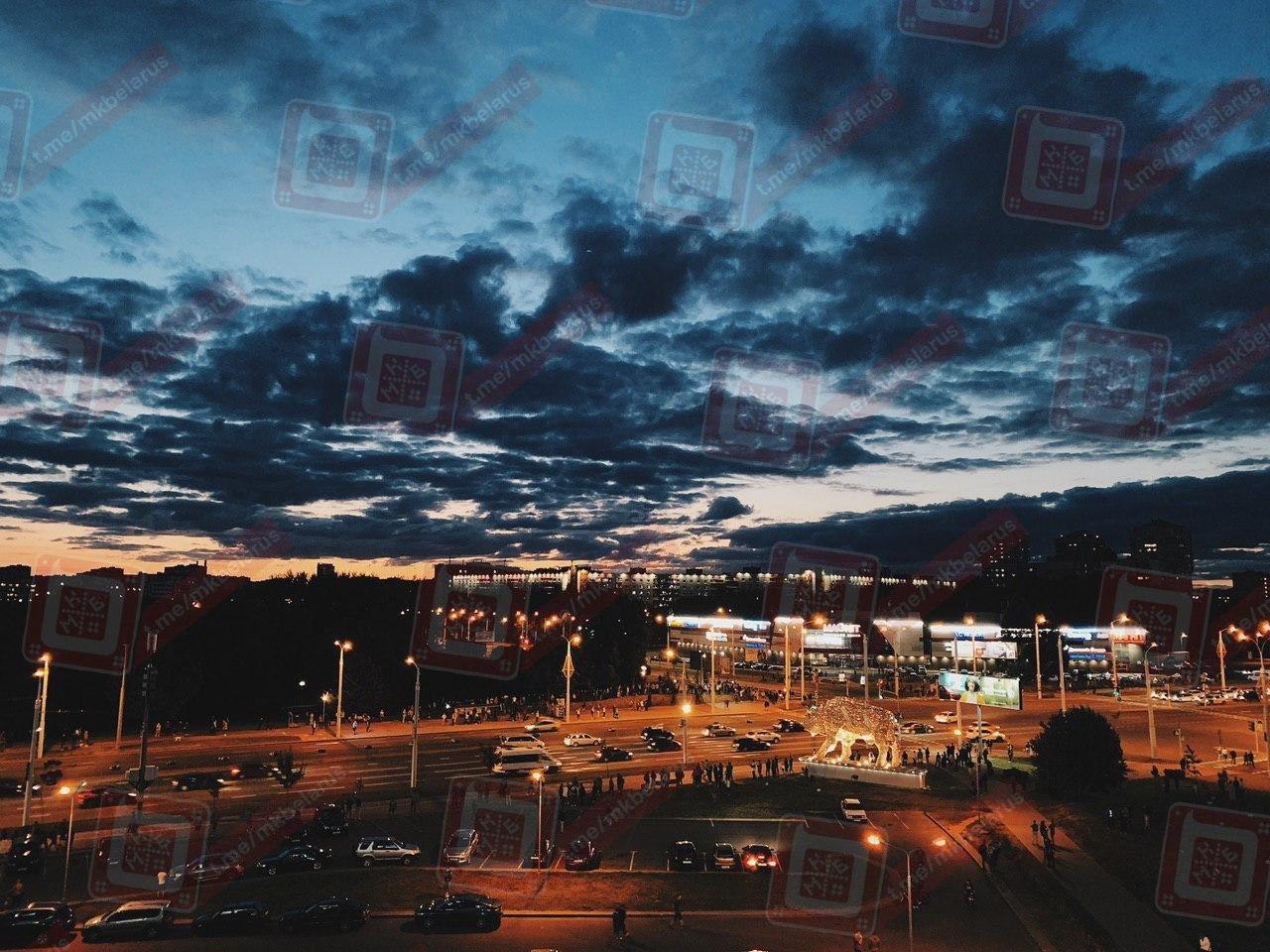 21.37 There is a rally in Serebryanka: drivers support protesters.
21.36 In Zhodzina, priests took to the square to support people.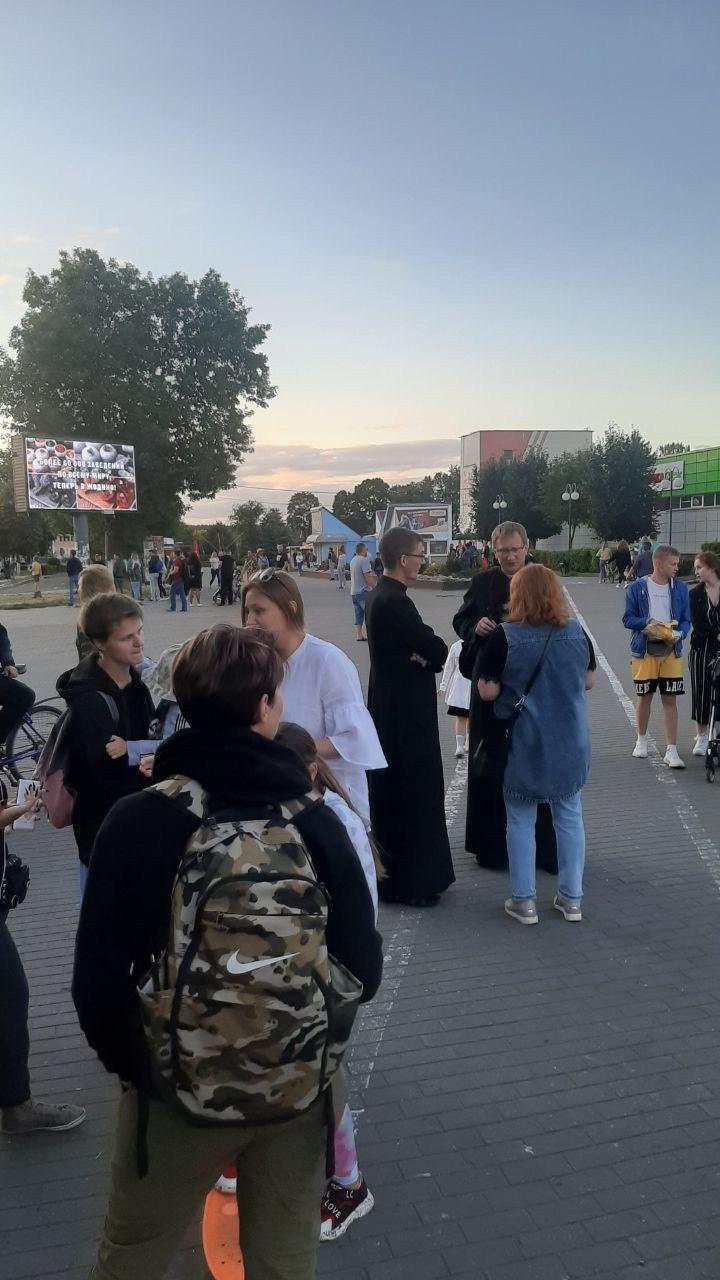 21.31 Minskers take to the protest in Uruchye.
21.30 People blocked Rokossovskogo Avenue in Minsk.
21.27 People started building up a barricade near Sportivnaya metro station in Minsk. Prytytskogo Street was blocked with garbage cans.
21.26 In the small town of Rakov, Volozhin district, over a hundred demonstrators gathered in the central square.
21.25 In Homel, hundreds of protesters gathered near the drama theatre, Lenina Square. Cars are signalling in support.
21.19 Fireworks in Serebryanka. Minskers celebrate the victory over a cockroach.
21.15 About 500 people have already gathered in Uruchye.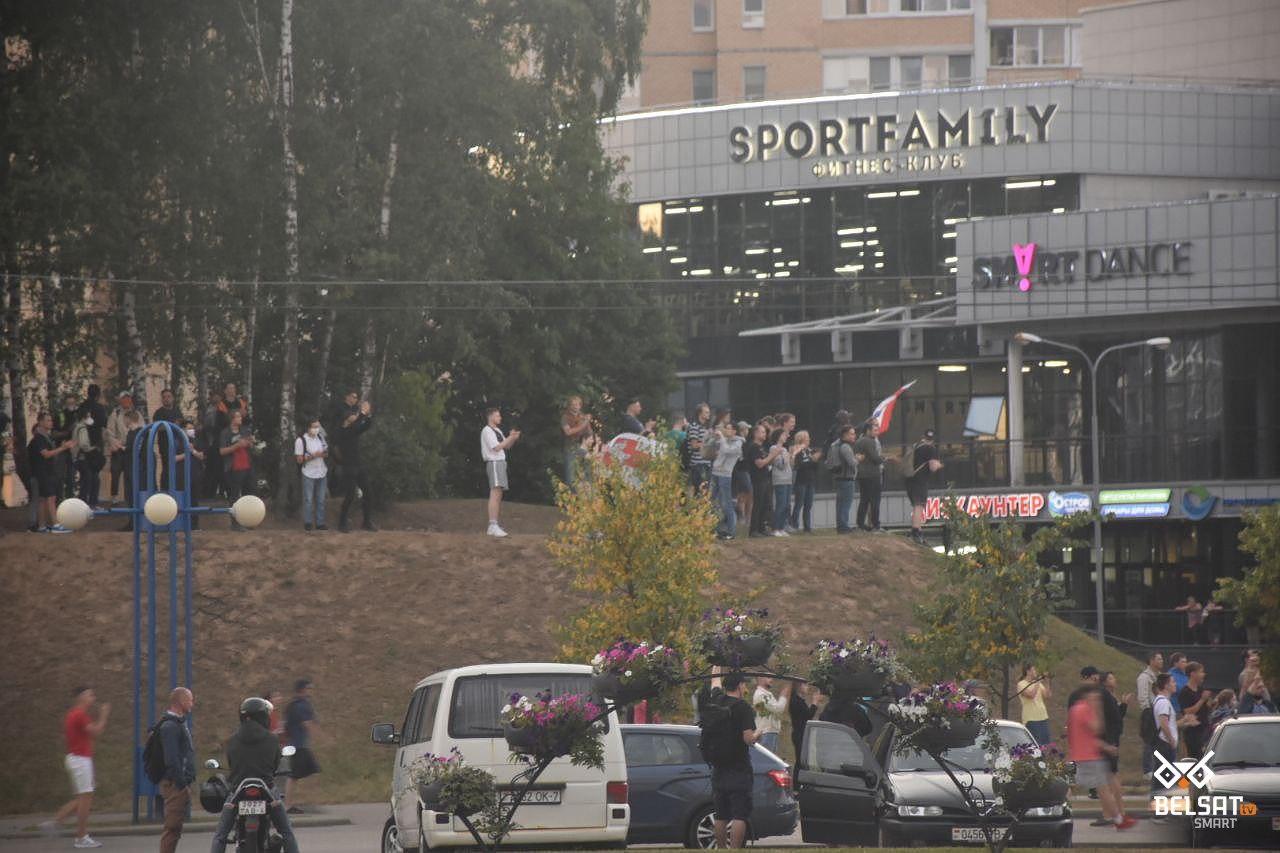 21.13 People are also gathering in Drahichyn. In Maryina Gorka, people went to the square near the House of Culture.
21.11 Four people took out a huge white-red-white flag on Prytytskogo Street and blocked the roadway with it. The cars are beeping in support.
21.10 People gathered again and chant "Go away", cars signalling in support.
21.09 People take to the streets near Sportivnaya metro station in Minsk.
21.08. All the time cars are signalling on Independence Avenue.
21.07 People take to the streets near Kamennaya Gorka in Minsk.
21.05. People with flags blocked Rokossovskogo in Serebryanka near Polessie shop.
21.05 Minsk Hrushevka rocks again. People gather in a large group.
21.04 Video: the riot policemen are exhausted in Serebryanka. We outnumber!
21.01 People are going back to Rokossovskogo Avenue. Many are standing with their fists raised and white-red-white flags.
20.59 People kicked blue vans away from Prytytskogo Street in Minsk and shouted: "Shame on you".
20.54 Cars stopped on Rokossovskogo Avenue and blocked the traffic.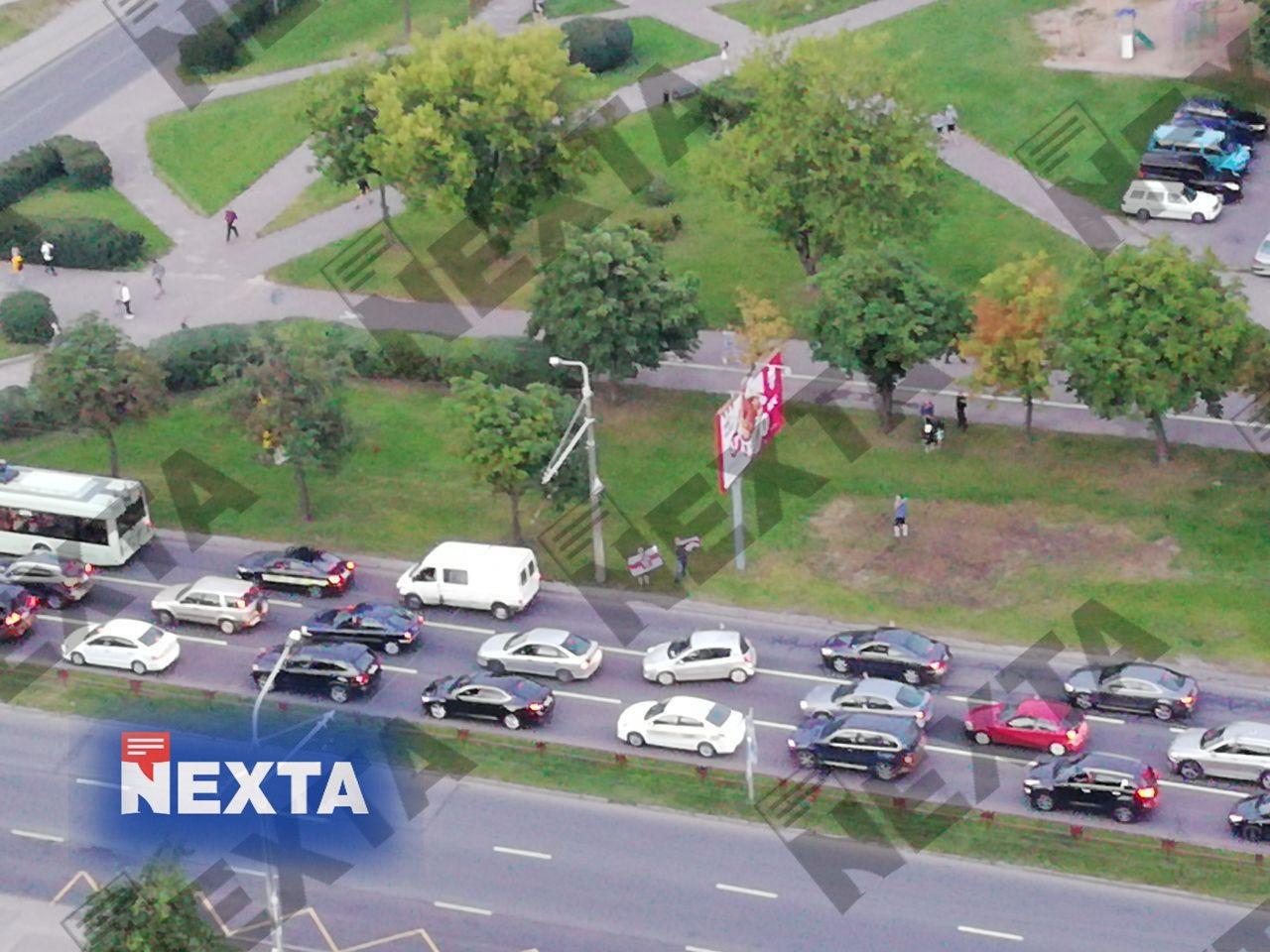 20.53 A guy with a flag is walking along Prytytskogo Street in Minsk, all cars support him.
20.51 People are gathering on Kamennaya Gorka in Minsk.
20.49 Next to Pushkinskaya metro station, cars are beeping non-stop.
20:44 "Lukashenka to the paddy wagon!": a protest action took place in Tel Aviv near the Belarusian embassy.
20:43 The Ukrainian Rada has registered a draft decree on non-recognition of the legitimacy of elections in Belarus. No one believes in Lukashenka's victory.
20:30 Minsk citizens head to the centre on Rokossovskogo Avenue. Drivers support pedestrians with signals.
20:28 The day of the all-Belarusian strike started, two propagandists of CTB and BT quit. Siarhei Kazlovich, the news anchor on BT TV channel, filed a notice of resignation. Journalist Tatstsiana Borodkina also resigned from the state television.
Here is the text of Telegram-channels' appeal:
THE BELARUSIANS ARE TAKING TO THE STREETS AGAIN!
Yesterday, Minsk showed the whole world that it is possible to defeat numerous and armed forces of hit squads! The protest tactics to disperse all over the city and complicate the work of the riot policemen by searching for groups of PEACEFUL demonstrators proved to be the most successful. From now on, protest tactics are as simple as possible.
DECENTRALISATION! BE LIKE WATER!
✅ Leave your houses, meet your neighbours and gather in small groups of up to 20 people.
✅ Don't stand on one point! Move towards the city centre in small groups, but do not go out onto the central squares - the security forces are ready for this.
✅ If you are few and the security forces are on the attack - run, regroup and appear elsewhere. There's no shame in retreat! BE LIKE WATER!
✅ OUR PROTEST IS PEACEFUL! Do not attack the bandits in black first! Be ready to defend yourself and remember your protective equipment: helmets, shields, tight goggles, gloves and gas masks/respirators. Don't forget to protect your body - thick glossy magazines or books can be wrapped up for this purpose! They save you from rubber bullets. Try to disable equipment, not fascists!
Be ready to defend yourself against the provocations and violence of the Lukashists.
✅ OUR SLOGANS ARE SIMPLE!
ELECTIONS WITHOUT LUKASHENKA!
FREEDOM FOR POLITICAL PRISONERS!
We stand for freedom! For the end of a 26-year dictatorship!
20:27 The Belarusians have stepped up in Homel, there is information that people are gathering near Sovetskaya Street.
20:18 Vilnius also expresses solidarity with the Belarusians today. The rally is held near the Belarusian embassy.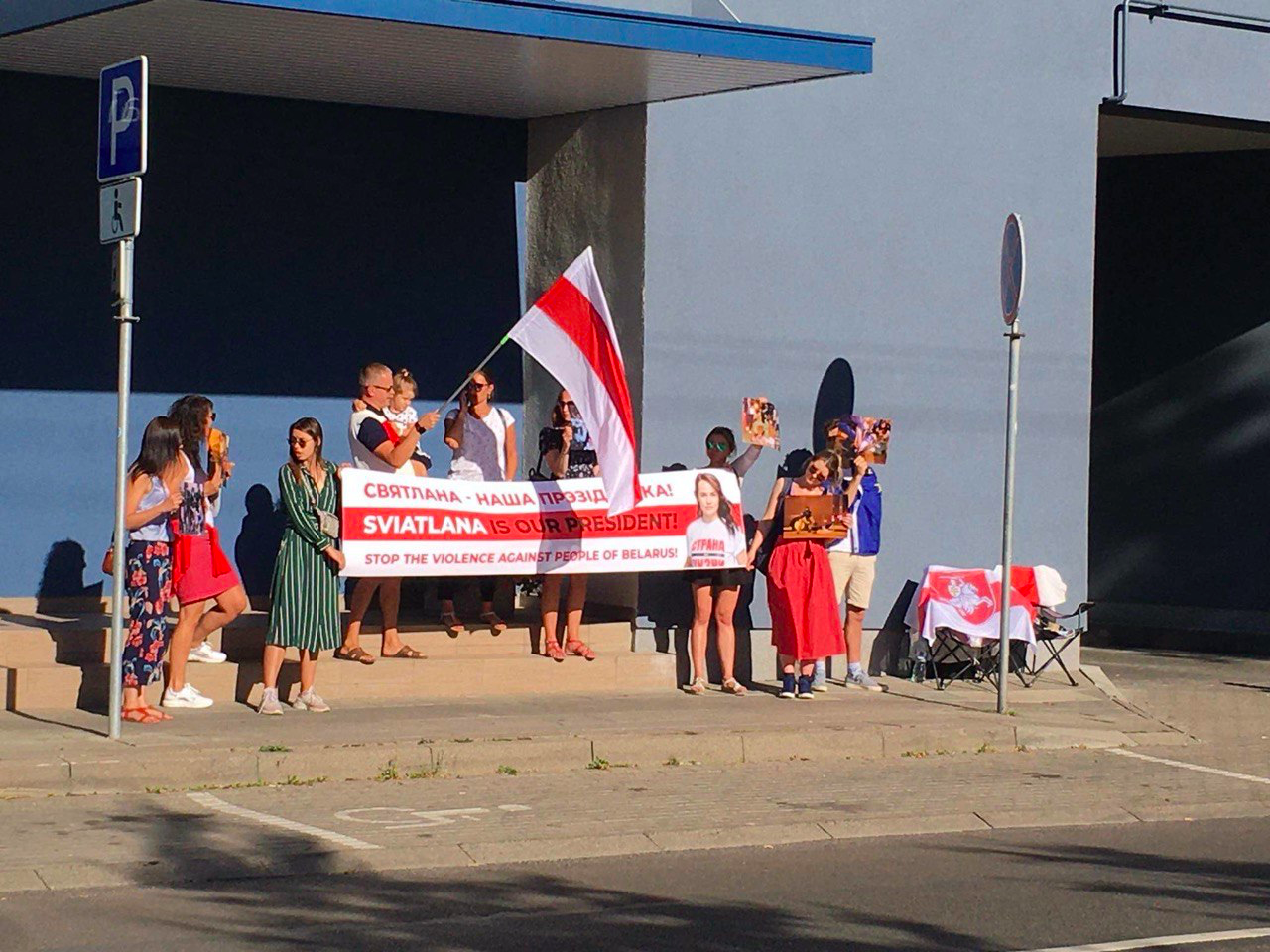 20:16 Video convoy from Serebryanka. They gathered near the shopping center (SC) Polesie, motorists actively support the protesters.
20:12 People in Moscow came to support Belarusians. A lot of white-red-white flags and posters.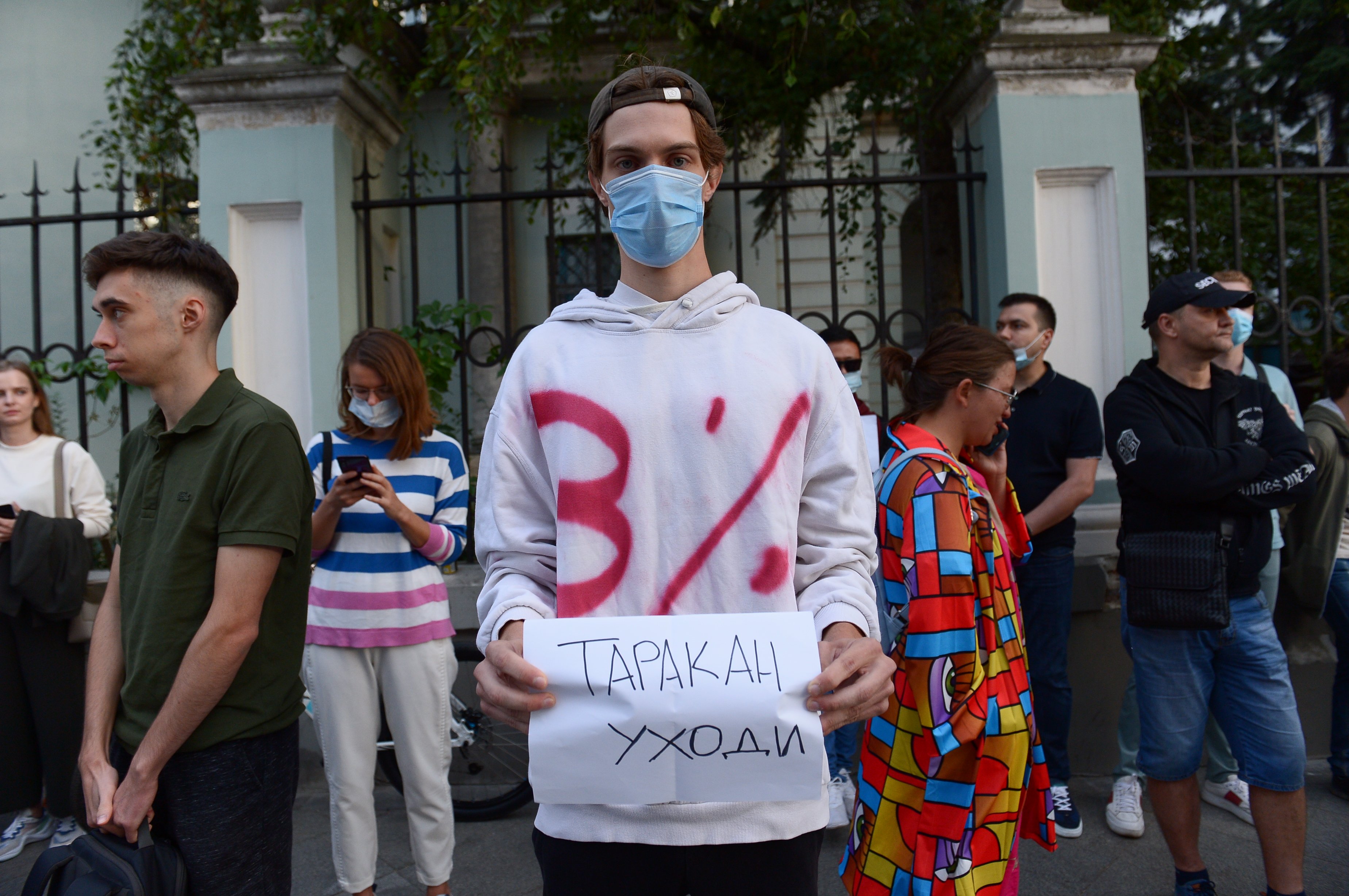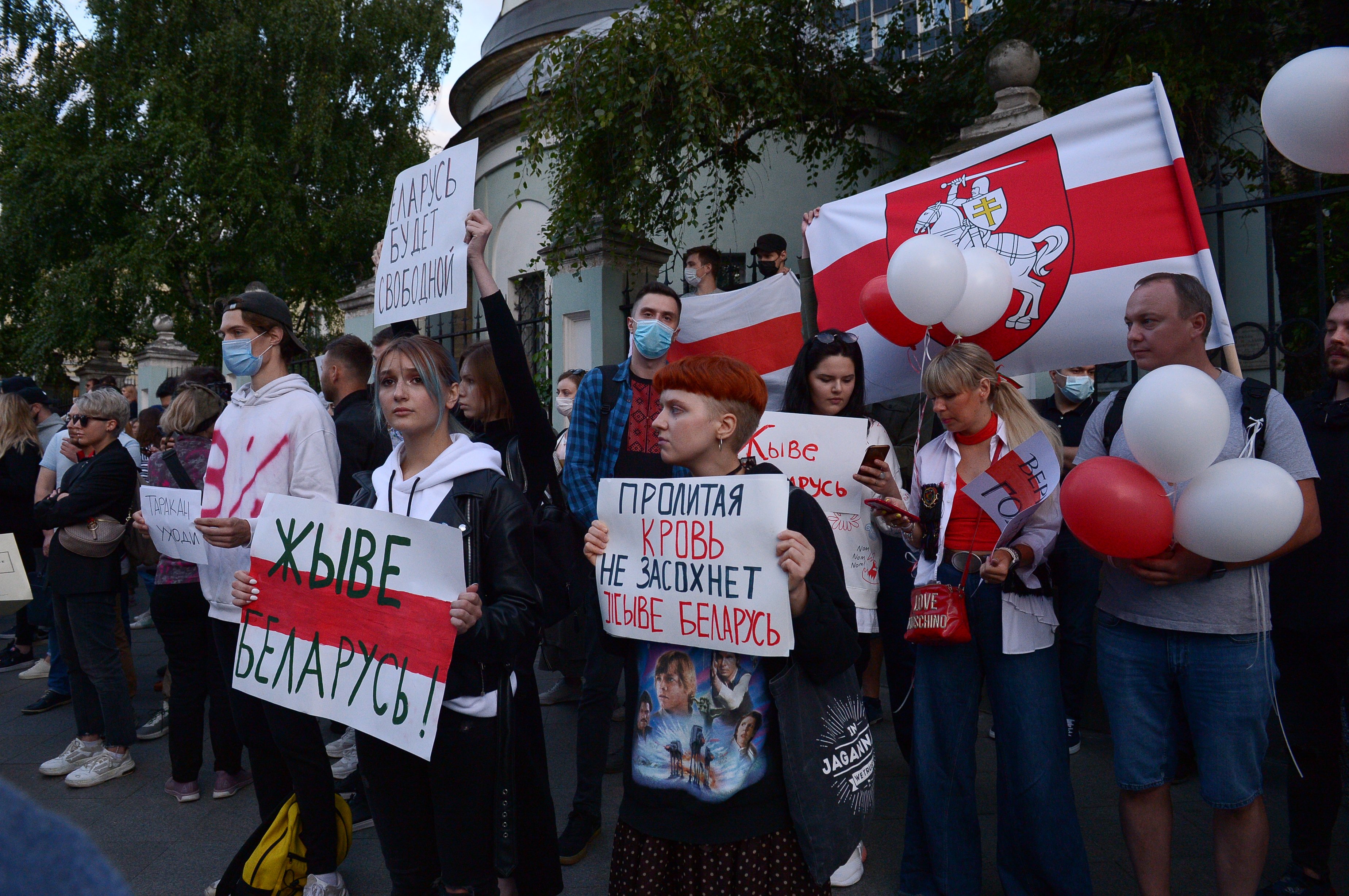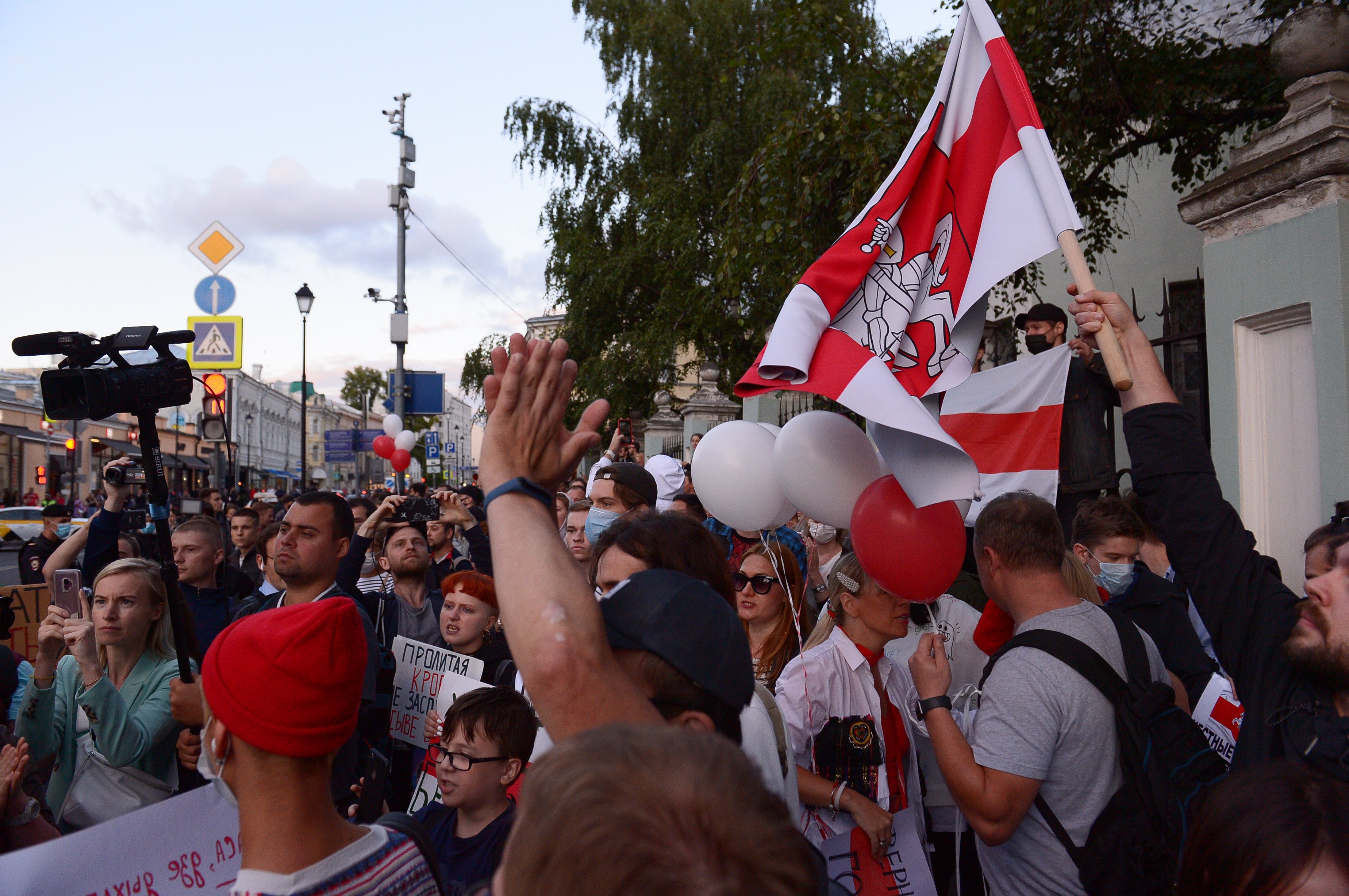 20:11 Belarusian realities. Clashes with the riot police in Brest.
20:09 In Minsk, protesters lay flowers not just around Pushkina Square, but in the center, on the traffic strip.
Yesterday a guy, who participated in the protests, was killed there.
Besides, people sit on a parapet near the hotel Orbita in the area of Pushkinskaya Square.
20:05 It is reported about a large column that heads from Serebryanka hood to the center.
20:03 Today, people have already turned the riot police's back in the area of Pushkinskaya, while law enforcers had to retreat to the applause and slogans of protesters.
19:58 People are gathering near the hotel Orbita on Pushkinskaya Street in Minsk, which became one of the epicentres of the protest on August 10. People act in a partisan way: riot police come - the protesters disperse, leave - the action continues.