On the Main Streets of Minsk, People Stood in Human Chains
11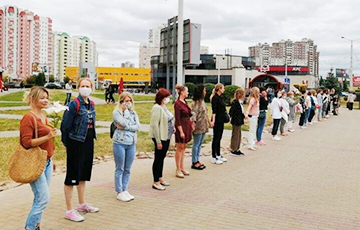 The actions are held simultaneously in dozens of locations.
In dozens of places in Minsk, women in white clothes stood in chains at the crossroads of the streets, holding hands. Cars honk to support them, as independent telegram-channels report.
People made a human chain near the metro station Kamennaya Horka, Prytyckaha 97.
A human chain was formed at the place of death of the demonstrator near Pushkinskaya metro station.
On Kamennaya Horka, there are about 50 people with flowers.
Human chains appeared in dozens of other places: in Uruchcha, on Surhanava, on Yakuba Kolasa, in Syerabranka, and so on.