"These Awful Authorities Killed My Son": Homel Resident Arrested by the Riot Police Died
132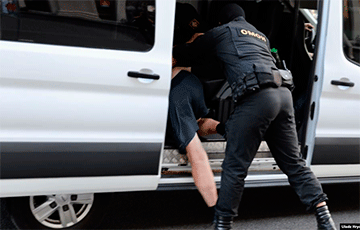 The mother of the 25-year-old deceased is refused to show the body.
Aliaksandr Vikhar, a 25-year-old resident of Homel, died at the hospital. He was taken there right from a police van on Sunday. In Homel, both the temporary detention facility and the pre-trial detention center miss places for detainees. Cars with the detainees are standing in the sun for hours in long lines, reports Radio Svaboda.
"Sasha was in one of the vans... He did not participate in the rally. He went to a girl's on Sunday. He was caught somewhere in the center when he was changing transport. He wrote to me that he was detained... That's it. I looked for him all these days. I had no information about him. Today they told that Sasha is in the morgue," his mother cries.
According to his mother, Aliaksandr had heart problems. When he spent much time in a closed car in line at the detention center, he felt sick.
"He was screaming, asking for help... The convoy found him inadequate and took him to a psychiatric hospital. The experienced doctor realised that the problem was different... They called an ambulance and took him to the nearest hospital, a TB hospital near the mental clinic... They tried to save Sasha there, but they failed. They say he was already taken to the hospital under clinical death," said his mother.
She did not see her son in the morgue.
"I think they refused to show him because he was severely beaten up. I ask the people, who were in the police van with him, to tell the truth! What happened to Sasha there? I just want people to know that these awful authorities killed my son," said his mother.