Five Belarusian Propagandists At Once Quit State Media
41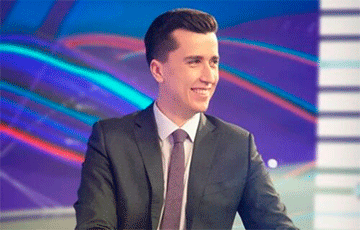 Among them are journalists from Belarus 1, STV, and the First Channel of the Belarusian Radio.
In the light of news about the mass protests that have been going on across the country for over three days, Belarusian propagandists are starting to leave state television and radio stations. Just yesterday and today, five employees quit their jobs, including journalists from Belarus 1, STV, and the First Channel of the Belarusian Radio. Some write about their departure on social networks, tut.by writes.
Yauhen Perlin, known as the host of the programs "Makayonka 9" and "Good Morning, Belarus!", as well as the voice of the Belarusian version of Eurovision, asked himself on Facebook the question: "What happened to my Belarus?". The answer to it was the decision to leave the TV channel "Belarus 1".
- I have been working on live television since 2009. News, "Good Morning, Belarus!", the Eurovision (both adult and children). And the project that many dream about is our own evening show, which we filmed for two seasons. 70 episodes. We invited cool stars and young Belarusians, gave them the opportunity to sing live, had fun in interactive activities. I also created "Makayonka, 9" together with our team only for the EMOTION of our viewer.
Nowadays none of the entertainment projects evokes the emotion for which they were made. I decided that my today's broadcast on "Belarus 1" was the last one. Nobody influenced this decision, I made it myself, " wrote Yauhen.
Yesterday, the ATN presenter Siarhei Kazlovich announced his dismissal. He claims it was an independent decision, and is ready to look for a new job.
- This [television] was a childhood dream, to which I dedicated ten years. Starting with video editing on ONT and ending with live broadcasts on Belarus 1. Working in the frame will always be a thrill for me. But yesterday [August 10] I sat in the ATN studio for the last time.
A day ago, the host of STV Tatsiana Barodkina wrote on her Facebook that neither she nor her children will be able to smile from the TV screen anymore. Together with her daughters, Tatsiana hosted a morning program on the state television channel.
- Let's congratulate our country on the "choice"! Even now, when the "choice" has already been made, I am not afraid, and you do not be afraid. Do not deprive our children of the future!
According to several sources of tut.by, today employees of the First Channel of the Belarusian radio applied for resignation. These are the presenter of the program "Radiofact" and others Aliaksandr Shuster, and the news worker Tatsiana Filipchanka.
Former ONT presenter Dzmitry Kakhno addressed with an open letter to his colleagues who are still working on the Belarusian television. The showman urges not to be afraid of those who "cannot sleep normally at night" and "to take a step, without scandals and loud statements," that is, to quit. Dzmitry promises that he will personally stand up for each of them.
- I know dozens of wonderful people on the Belarusian Television. You are amazing people. This is not why you have worked in television for decades. Even if you have already called black white, we will accept you, and thank you for your deed.
The presenter listed the addressees of his letter. These are "Yura Yaroshyk, Illia Konanau, Aliaksandr Srebranikau, Artsiom Rybakin, Anya Apsit, Diana Robertauna, Volya Bahatyrevich, Maryna Hrytsuk, Vera Karetnikava, Andrey Makayonak, Dasha Bihun, Sasha Kashtanava, Yura Tsarou, Siarhei Lapkouski, Yura Karpanau, Volha Ryzhykava, and even Yauhen Perlin."