Father Of Many Children About Detention And Beating Of His Son: When He Asked For Drink, They Offered Urine
15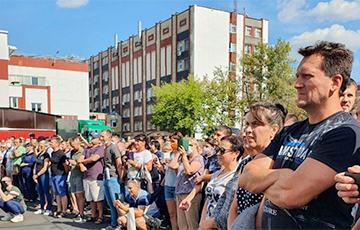 The minor son of Dzmitry Basatski was detained on the evening of August 11.
On Friday, August 14, at the Brestgazoapparat plant, a meeting of the company's employees with the management, authorities and the police took place. During it, father of many children Dzmitry Basatski spoke about the cruel treatment of his son, who is not yet 18, on the part of the police officers, writes Brestskaya Gazeta.
"On August 11 at 6.30, I lost touch with my minor son. All searches have led nowhere. In the evening, more precisely at night, they called me from the Leninski District Department of Internal Affairs and said: "Your son is here, come and take him." Realizing that only with me my child can be safe, I was forced to write a receipt that I have no complaints. However, at home, upon examination, my wife and I were simply shocked.
At the emergency room, I received a certificate that my child had numerous bruises: coccyx, thigh, head, abrasions, bruises, including on the face. We turned to a forensic medical examination, they refused me, referring to some orders. My child was detained on Masherau Avenue at about 6.20. He walked from the CUM Mall towards KFC. During his arrest and being in the Leninski District Department of Internal Affairs, he was beaten and humiliated. When he asked to give him a drink, they offered urine ... ", the man's story was interrupted by the indignant rumble of the crowd.
"When he asked to call a doctor, they threatened him with a pistol, they said that it would cure everything," he continued. "The children were kept on their knees in the garage, facing the ground. I have two questions for you: do you know that today in our city, on the territory of police departments, atrocities and beatings are taking place. And the second question is why?"
The factory workers hummed outrageously, started shouting "Why?" and "Fa-shi-st!"