Putin: Russia at the Request of Lukashenka Created a Reserve of Law Enforcement Officers to Help Belarus
247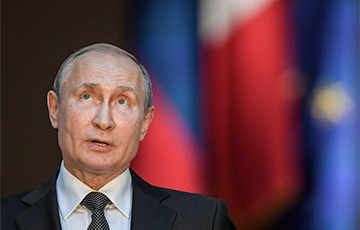 The head of the Kremlin said, in which case it will be involved.
Vladimir Putin said that Russia, at Lukashenka's request, has formed a reserve of law enforcement officers to help Belarus. The Russian president spoke about this in an interview with the Russia 24 TV channel.
- Aliaksandr Ryhoravich asked me to form a certain reserve of law enforcement officers. And I did it. But we also agreed that it will not be used until the situation gets out of control and when extremist - I want to emphasize this - elements ... until they are used, as long as extremist elements, not hiding behind political slogans, will cross certain boundaries and will simply start robbery, will start setting fire to cars, houses, banks, and try to seize administrative buildings and so on," Putin said.
According to him, he and Lukashenka came to the conclusion that there is no need to use this reserve now.
- And, I hope, there will not be, - added the President of Russia.
In his opinion, Russia in relation to the events in Belarus, behaves "more restrained and neutral than many other countries, European and American."
"But we are certainly not indifferent to what is happening there. This is a very close, maybe the closest country to us: ethnically the closest, both linguistically and culturally, spiritually - whatever. We have tens, hundreds of thousands, if not millions, of direct family ties. There is the closest cooperation in the industry. Suffice it to say that there is more than 90 percent of the total volume of agricultural imports to the Russian market, Putin said.
However, according to him, what is happening in the country is the Belarusian people's business. Putin also noted that he hopes that the parties will be able to find a way out of the situation "without extremes" and will not go beyond the framework of the current Constitution.
Putin said that "if people went out into the street, we must reckon with it, hear it, react."
- But, by the way, after all, Lukashenka said that he is ready to consider the possibility of constitutional reform, adoption of a new Constitution, holding new elections and parliament, and presidential elections on the basis of this new Constitution, but one cannot go beyond the framework of the current Constitution. And it's hard to disagree with that," he said.
As for the law enforcement agencies of Belarus, according to Putin, in the current situation "they behave quite restrainedly."
To the remark that in the first days from the information coming from Belarus, many were uncomfortable, he cited France as an example. He also said that "in some European countries, people died almost every day."
- Is it someone from those who now blame Belarus and the Belarusian leadership, Lukashenka, do they condemn these actions? I didn't see anything in this sense. Why such selectivity? This suggests that the point is not in what is happening in Belarus, but in the fact that someone wants something else to happen there. They want to influence these processes and achieve some decisions that correspond, as these people think, to their political interests," Putin said.
We will remind that earlier, Lukashenka asked for military assistance from Putin, the first President of Ukraine Leonid Kravchuk said. He noted that if this assistance is military and troops are brought in, then Belarus will cease to be an independent state and turn into occupied territory.