Even Old-Timers Don't Remember Such Rally In Biaroza
5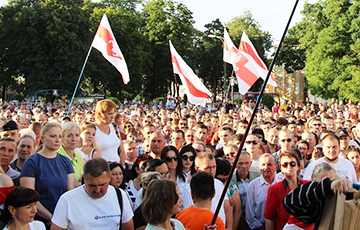 A couple of thousand people came to the rally in support of Sviatlana Tsikhanouskaya in Biaroza.
Even the oldest activists of the local opposition can't recall such a large rally of alternative candidates in this town.
Anatol Sakharusha, a veteran of the BPF, told Pershy Rehiyon about it during the broadcast - there were no such rallies in Biaroza even in the 90s.
It's hard to estimate the exact number of people who came, maybe the number will be announced by the organizers, people talked about about two thousand people at the peak of the rally.
The people were waiting for Sviatlana Tsikhanouskaya herself, the last two days there were contradictory rumors that she could come. Before the rally activists told Pershy Rehiyon that the presidential candidate would arrive in Biaroza on her way from Brest at about 18:30. The people were waiting, warming up with the speeches of other speakers. But eventually Zinaida Mikhniuk, Sviatlana Tsikhanouskaya's confidant, came to the microphone and the candidate addressed people on the speakerphone, explaining that she wouldn't be able to come, and that there were reasons for that - fear of provocations about which someone had warned her.
At the end of the appeal to people, Sviatlana Tsikhanouskaya promised to visit Biaroza first in case she is elected president. A lot of people greeted her apology with applause. After Tsikhanouskaya's speech on the phone, the protesters started to leave.
In general, there were no provocations in Biaroza, the perimeter of the rally was fenced, the police checked the bags at the entrance, and the officers did not interfere with the events.
There were speeches on various political topics, several times they mentioned political prisoners, chanted "Freedom!" to blogger from Biaroza Aliaksandr Kabanau, who is in jail. There were people with portraits of political prisoners Siarhei Tsikhanouski and Pavel Seviarynets.
There were a lot of strong guys in sailor's striped vests and blue berets - paratroopers came to the meeting with flags of their fighting arms. On August 2 - the Airborne Forces celebrate their 90th anniversary. Solidarity was often shown by motorists, who were honking as they drove along the rally - it was held at the central street of the town. However, there were complaints that the site was too small.
People were standing in chain even across the street watching what was happening. And in the house opposite, the residents were watching from their balconies, as if in the VIP boxes. Somebody even hung a white-red-white flag.
It is worth noting that there were many guests from the neighboring towns - Pruzhany, Ivatsevichy, Drahichyn, Kobryn.