Does Arrested Political Technologist Vital Shkliarau Have Diplomatic Passport Of USA?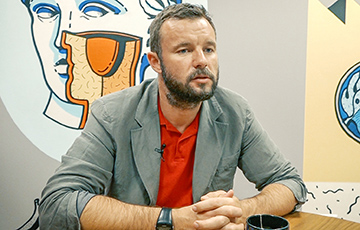 The political technologist will stay in custody for two months.
Political technologist Vital Shkliarau, detained in Homel on July 29, was sentenced to two months in custody on Friday. He is not charged - the investigation has ten days for that. His lawyer Anton Hashynski informed about it, tut.by writes.
There is no criminal case against Vital Shkliarau - he's a suspect in the case against Siarhei Tsikhanouski (he's charged under four articles, including Article 342 part. 1 - "Organization and preparation of actions that grossly violate public order, or active participation in them"). Initially Shkliarau was detained for 72 hours under Art. 108 of the Criminal Code.
Shkliarau's lawyer stated that he would appeal against the arrest of the defendant in court.
- Vital's family is very worried and hopes that this mistake will be corrected as soon as possible, - Hashynski said.
Shkliarau's wife is a U.S. citizen, she works at the embassy in Kiev. According to a source familiar with the situation, Shkliarau has an American diplomatic passport due to this. Therefore, now diplomatic circles are also involved in finding out the circumstances and reasons for his detention.
Lawyer Anton Hashynski has not confirmed or denied the information that the client has a diplomatic passport.
Vitaly Shkliarau positions himself as "an American, German, and Russian political consultant, political technologist, and campaign adviser to Barack Obama, Bernie Sanders, Angela Merkel, Ksenia Sobchak, and Dmitry Gudkov". He is 44 years old, he is a citizen of Belarus and comes from Homel, but has lived in the States.
In 2019, Vital took part in the Minsk Forum, actively commented on the political situation in Belarus, including for foreign media.