Libération: Unseen Since 1990s Mobilization Of People Takes Place In Belarus
8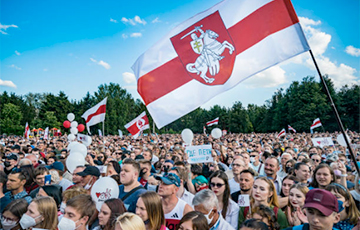 Sviatlana Tsikhanouskaya is a trump card for supporters of change in the country.
20,000 people are singing, applauding and waving the white-red flags, the symbol of independent Belarus, in the shadow of the pines of the Brest Warriors-Internationalist Park. All of them have gathered to listen to Sviatlana Tsikhanouskaya, who held one of her main rallies in this big city near the Polish border on Sunday, French newspaper Libération writes.
On August 9, 37-year-old mother of the family, a newcomer to politics, will be locked in a struggle for power with autocrat Lukashenka, who has been in power since 1994. The same rejoicing scenes have been repeated day by day, in every city and town, for several weeks now. Unseen mobilization in the country since the collapse of the USSR in the early 1990s is taking place.
That is, the young demonstrators i have not seen anything like this at all. 25-year-old Mikita knows no other president but Lukashenka and expects from Tsikhanouskaya "a better future for all Belarusians in all spheres, and above all, freedom. She wants the best for everyone!" "I think Sviatlana will become our new president," - 40-year-old Alesia adds. - I support her because she is a woman and a nice person. And I can no longer bear Lukashenka".
Transition period before the free elections
Tsikhanouskaya became a candidate by accident, after her husband was arrested. Now she is Lukashenka's most dangerous opponent. However, Sviatlana Tsikhanouskaya, who speaks together with Veranika Tsepkala (her husband has been deprived of the right to participate) and Maryja Kalesnikava (former head of Viktar Babaryka's election headquarters) have no program.
"She says at all the rallies that she does not want to be president," - her advisor Anton Radniankou explains. - The goal is to defeat Lukashenka, ensure a six-month transition period and organize free elections". This position allows attracting all opposition movements. In addition, a women team also plays a role: "Lukashenka tends to underestimate women, and the KGB doesn't know what to do with them at all."
A major setback on the social contract
In 2017, Lukashenka proposed a law to fight against "parasites," according to which the unemployed had to pay tax. This measure gave rise to large-scale demonstrations and was a major setback on the social contract with 10 million Belarusians. "Medicine, free education, low and not growing salaries ... In recent years, Lukashenka has abolished many provisions of the social contract, - Valeryja Kastsiuhova notes. - Under such conditions, it's hard to blame the West and the capitalism".
The development of new technologies with the spread of the Internet (the number of users has doubled in ten years) allowed people to get access to information and organize themselves. Memes about Lukashenka, who has bogged down in the Communist past, have become a living classic in Telegram, and today he is increasingly being challenged. Conducting polls is the state's privilege, which makes it difficult to assess the real ratings.
At the Sunday meeting in Brest, smiling Sviatlana Tsikhanouskaya promised the Belarusians that she can "change everything".
"For the first time, it is not the opposition that should defend, but Lukashenka. Our strategy is to strengthen the opposition and mobilize the public," - Anton Radniankou says.