Salihorsk Resident: We Will Take To Streets Again And Again Until We Fight Back Our Freedom
8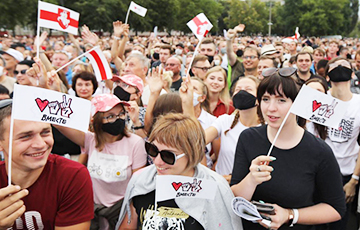 On the ninth, tenth, eleventh...
The "Basta!" telegram channel published a letter from a resident of Salihorsk:
"Yesterday I felt our strength more than ever, - the reader from Salihorsk writes. - We showed Luka and his henchmen that we pose a real danger to them, and they got really scared. In panic, they disrupted Sviatlana Tsikhanouskaya's picket in our town.
And it is important that we are no longer afraid. We stand shoulder to shoulder for our future, for the future of our children. For 26 years we have suffered, fussing over our poor salaries to feed our families, and finally we have understood: our men are working abroad, children are looking for any opportunity to leave this hell. I realized yesterday that with our unity, courage and bravery we can change everything. On the ninth, tenth, eleventh... We will take to the streets again and again until we take back what has been taken from us: freedom."
Download and install the Telegram messenger on your smartphone or computer, subscribe ("Join" button) to the Basta channel and create the history of free Belarus.