Donald Tusk: It Is Only Belarusians Who Can Decide In What Kind Of Country You Want To Live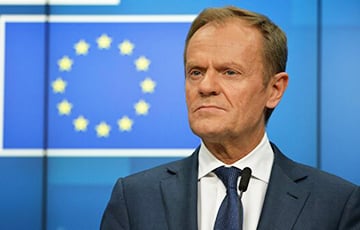 The Head of the European People's Party has addressed Belarusians.
Former President of the European Council (2014-2019) and current leader of the European People's Party Donald Tusk sent an open letter to the Belarusian people, in which he expressed support for presidential candidate Sviatlana Tsikhanouskaya and all those who are fighting for freedom, the rule of law, democracy, and dignity.
Radio Svaboda has published the text of the letter.
At the beginning of his speech, Donald Tusk expressed his admiration for the courage of the Belarusians:
"The entire world is turning their eyes towards your country: We admire your courage and your great determination. And we are very concerned, but first and foremost, we are very proud of you!"
According to the former President of the European Council, Belarus belongs to the European family of nations:
"Everybody who didn't believe that Belarus is a modern European society was wrong! In recent weeks and months, we have seen numerous activities from across society, your peaceful power and your strong will to mobilize and organize yourselves. We have seen the hopes and spirit of your country, expressed through the face of a young, modern woman."
As the leader of the European People's Party, Donald Tusk promised to support those in Belarus who stand for human rights and an independent Belarus:
"We stand by your side to work together and to support you. As European People´s Party, together with our partners, we extend our hand to everyone who respects and defends human rights, and refrains from violence in support of an independent, sovereign, free and peaceful Belarus in our common European neighborhood."
He added:
"We closely observe the campaign of the main democratic candidate Svetlana Tsikhanouskaya, who bravely entered this election campaign after the arrest of her husband. We are happy that our EPP partners in Belarus, the Christian Democracy Party and the United Civic Party, mobilized their support around the strongest democratic candidate, and together with her fight for a better future for your country."
Donald Tusk underlined:
"It is only you Belarusians who can decide in what kind of country you want to live! Don't be afraid to make your choice and to stand by your choice."
Referring to his Polish experience in the struggle for democracy, the former President of the European Council called on the following:
"From my Polish experience, I can tell you that it is crucial to build a society for everyone. Reach out to public servants and to police officers – in the streets, during protests, on social media. Many of them know: a democratic and prosperous Belarus will also benefit the future of their children! Some of them are still in doubt – like it was in Ukraine. You will be surprised by how many of them want nothing else than you do."
Donald Tusk also addressed Aliaksandr Lukashenka:
"I appeal to President Lukashenko and the Belarusian authorities to allow the people to choose their future, to support free and fair elections and to refrain from violence.
I call for an immediate release of all political prisoners and for stopping the pressure on independent journalists.
Dear Belarusians, Your future is in your hands!"
The text of the letter in English ends in Belarusian:
"Няхай жыве вольная і незалежная Беларусь!" ("Long Live Free and Independent Belarus!")