Sviatlana Tsikhanouskaya's Authorized Person: Our Victory Is Close, I Can See It!
3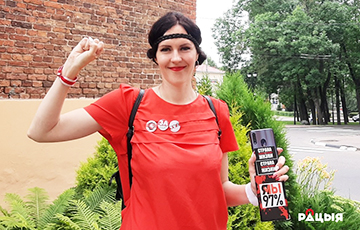 Belarusians are ready for changes.
Alena Radzkova comes from the generation of young people who grew up under Lukashenka. And the beginning of her biography seemed to guarantee a calm adult life with good earnings: she is a former athlete, a skier, graduated from the Navapolatsk school of the Olympic reserve, then the Belarusian State Agrarian Technical University with a degree in economics, Radio Racya reports.
But even in her youth it became clear to her that the wrong person was in charge of Belarus. "When I was 15, I watched the films by Yury Khashchavatski "The Ordinary President", and about the 2006 Square. Then it became clear to me that Lukashenka is not the person who should rule our country. But what can you do if you are 15 years old? When I was 19, and I studied at the university, I went to the Square-2010. First, I went there because I was just curious. And then, together with everyone, I went to the end, and it was a shame that everything ended that way. And I have been waiting for today for 10 years, until in fact there was an opportunity to change something," said Alena Radzkova.
Now Alena Radzkova is an authorized person of Sviatlana Tsikhanouskaya. Over the past two months, many events have happened in her life: she took part in the streams of Siarhei Tsikhanouski. The young woman believes that everything will work out in her life - but after Lukashenka leaves.
"People give me this faith. We traveled a lot to different regions, talked with people. They understand and know everything: both about white ribbons and about the Vote platform. I see that people are ready for changes, they are waiting for them. And I am waiting, I believe in our victory. It is already close, I can already see it! ", says Alena Radzkova.