Rally "Solidarity With Belarus" Held In Bialystok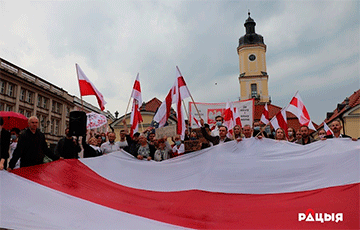 Representatives of the Belarusian diaspora and Bialystok residents came to Kastsiushka square.
Dozens of representatives of the Belarusian diaspora and residents of Bialystok gathered at Kastsiushka square to express solidarity with their compatriots and neighbors. The presidential campaign is underway in Belarus, accompanied by arrests, detentions and searches of Lukashenka's political opponents, Radio Racyja reports.
The rally in the town centre is a proof of solidarity with the Belarusian people and protest against the wave of repression and arrests, its organizer, deputy Robert Tyshkevich, said:
- Before the election, the Polish voice and the rally like today are very important!
- No one would object to this event. It means that Bialystok and Podlasie support democratic and independent Belarus.
- Solidarity with Belarus! Solidarity with Belarus!