Famous Georgian Artist Supports Belarusians
3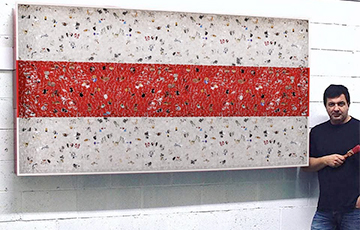 His new work is in the form of a white-red-white flag.
Georgian artist David Datuna, who lives in the United States, dedicated his new artwork to the struggle of Belarusians for freedom. He announced this on Facebook.
"At this important time for the whole world, I want to devote my next work to the people, who by their example show the whole world what the main value is, and what can be done for it. Only freedom to live for, freedom to die for. Freedom, in any of its manifestations," said artist David Datuna.
The new work is done in the form of a white-red-white flag.
"And you, the Great and Beautiful People of Belarus, believe that freedom will triumph, the good will defeat the evil, every secret is always revealed. It simply cannot be otherwise.
For freedom! For you! For your future, and therefore for ours! I am proud of you, I can hear you! The whole world hears you," he said.
David Datuna has been living and working in the United States since 1999. The artist became famous thanks to his unusual artworks of flags of different states, composed of optical lenses.
The artist is also known for eating a banana worth up to $ 150 thousand by the Italian artist Maurizio Cattelana, calling it his performance.