Hundreds of people have come to support Sviatlana Tsikhanouskaya at the voting station
13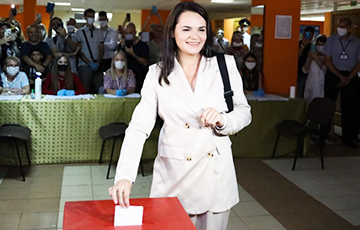 They supported the presidential candidate and chanted "Sveta!"
Euroradio has published the report on how presidential candidate of Belarus Sviatlana Tsikhanouskaya voted. Over 200 people have come to the voting station to support her. They chanted "Sveta!" and supported the presidential candidate in all possible ways. She has addressed to the members of the elections commissions:
- Count votes correctly, I know this is not about teachers, but let's ensure the election is held fairly.
When asked what her husband Siarhei Tsikhanouski thinks of the situation in Belarus, she replied:
- He supports me and believes new election will take place in Belarus.