Win
21
Iryna Khalip
11.09.2020, 10:46

47,642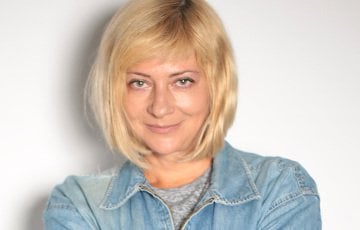 Even one person can move tectonic plates.
Earlier, when Nina Bahinskaja left home to walk around the city with a flag, no one was in a hurry to keep her company. Not that they considered her eccentric - they were just afraid of such walks and such a company. It was good for Nina, they thought, she was a pensioner, she had nothing to lose, but we had loans and a career, and the education of children had to be paid for, and, in general, it was somehow uncomfortable to wander around the city with a flag, even if you won't be beaten.
And now, as soon as Nina leaves the entrance, supporters gather around her - Minsk residents of all ages, with flags of different sizes, residents of different districts with different views. They just go for a walk together. And every time it becomes a bright, spectacular, cheerful protest action, at which no one is afraid. But before that happened, Nina walked alone with the flag for decades. How many white-red-white flags they have taken away from her cannot be counted. She lives on half of her pension because the authorities take the other half to pay the fines. And all the same, she goes out for a walk, does not accept help from anyone (how many times people tried to pay her fines - both human rights activists and simply sympathizers - no one succeeded), and does not even think about becoming a symbol of Belarusian resistance. She doesn't care - the main thing is that the flag does not disappear from her native city's streets.
Nina Bahinskaja is happy that there are so many flags in the country now - on the streets, on the facades of houses, in courtyards. Everyone now joined her walks. And this is the best illustration of the fact that the actions of one person can move tectonic plates. If he waits for millions to join him, nothing will move.
Our tectonic plates are already shaking, and the retired tyrant is balancing with the last of his forces on the edge of a huge crack in the crust. Only we no longer have those decades that it took to turn walks with the flag into a national tradition. Time is now compressed. It whistles in your ears like a rushing train. It seems as if only yesterday we stood in line to vote against Sasha three percent, and a whole month has passed.
During this month, we have won space for ourselves. We have the Square of Changes. We made new friends, we got to know our neighbors, now we do not seek out a like-minded person in the crowd, but plunge into the street, as in the sea. When you leave the house, you are no longer alone. This is a colossal achievement; this is the necessary part of the victory that we already have in our hands. Only we don't have as much time as before. More precisely, there is very little of it. So now everything depends on each of us.
Yesterday all Belarus admired the courageous, handsome, and brave miner Yury Korzun. I imagined how early in the morning, after the night shift, when the only desire is to get to the surface as soon as possible, breathe fresh air and go home, he handcuffed himself at a depth of 305 meters. And he was not going to rise to the surface until his demands were fulfilled: Lukashenka's resignation and an end to the reprisals against peaceful protesters. They took Yury out of the mine by force, sawed the handcuffs. During the day, his pass was already blocked. And what should a fired miner do in Salihorsk? Yeah, that what I'm talking about. So Yury understood perfectly well what the risk was. He is not a Nobel laureate; Western diplomats will not come to his mine. And still, he did this reckless and beautiful act. Like Nina Bahinskaja, a steadfast tin soldier who goes out in any weather. Like the firefighter who refused to take off the white-red-white flags. Like Pete Pavlov, who went out alone with a guitar straight to the line of punishers and sang "Three turtles."
Of course, in an ideal world, all the other miners would immediately join the hero, and the rotting dictatorship would crumble to dust that very day. However, no: in an ideal world, the dictatorship would have fallen still rosy-cheeked and well-fed, not having lived to the point of insanity and tremor. But in our real world, everything is completely different. Here the miners do not immediately rush to the aid of their comrade. But millions always start with ones.
First, one person picks up the flag. Or declares a strike. Or quits a job that requires lies. Or handcuffs himself. Or enters into battle with punishers who beat a person. Or, in the end, leaves the Belarusian Republican Youth Union or "Belaya Rus". Every bold action by one person ultimately triggers hundreds and thousands of similar actions throughout the country. So the individual plan for each is very simple.
Take the flag (or a guitar). Go to the square (or to the courtyard). Sing songs (you can just shout "Long live Belarus!"). And then everything is simple. Help the weak. Become even stronger. Do not be afraid of anything. Win.
Iryna Khalip, specially for Charter97.org