September 16 - Solidarity Day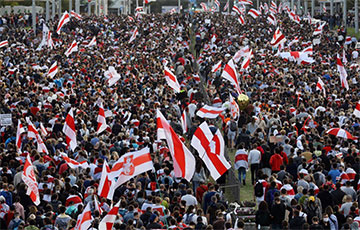 Let's show who is the power.
Let's show who is the power! September 16 is the day of solidarity. Do not go to work, support the strikers and express your disagreement.
Why and how to strike? You can find the answers in the video by Veranika Mishchanka.
"September 16 is a day of solidarity. Do not go to work, support the strikers and express your disagreement.
Frightened authorities are trying to delay the inevitable - their leaving. That is why they cowardly attack the demonstrators, detain the leaders of the workers' movement, organize provocations at peaceful marches. They do not understand one important thing: there are millions of us! And we will not silently look at what is happening.
The first days of protests showed that one of the most effective levers of pressure on the state is the strike. As soon as the main plants stopped working, they stopped beating people, and the ministers came to the workers to talk.
Now we communicate with workers of factories and enterprises of Belarus and know about what is happening there. 25 employees are not allowed to work, two are fired and four are in custody at Belaruskali. Four are arrested at MMZ, two more are waiting for trial. Numerous repressions have been launched against the workers of MTZ, BMZ, METZ and other enterprises.
We see that the authorities are afraid of the workers. We know that the strikers need support.
So we announce the next day of solidarity - September 16. We call on everyone to show solidarity and not to come to work under any pretext.
If you are a business owner ( a cafe, a store, a service sector, an enterprise), do not work on September 16th.
If you are an employee - take a vacation at your own expense. Talk to your bosses and do not go to work.
If you are a student, do not go to the university. If you are a schoolboy, skip classes at school, stay home.
If you work in a factory - join the strikers. Hold a meeting, hold a rally on site, talk to colleagues, and sabotage the work process. One day of lost profits is no big deal. It is scary to live in lawlessness and violence. Let us unite to stand up for our legitimate demands:
Release of Political Prisoners
Lukashenka's resignation
Let's show the authorities who is the power here!"