In Rechyca, a 79-Year-Old Woman Was Convicted for Participation in Peaceful Actions
8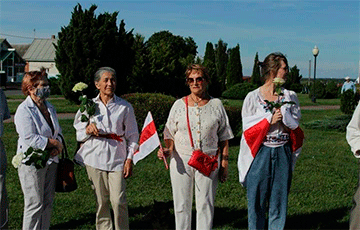 "I have already lived, I can afford it."
Zinaida Ivanauna Kryvickaja from Rechyca is 79 years old, and, today, on September 16, she had a trial on one of the most popular articles of the Administrative Code of this year - 23.34 (Violation of the order of organizing or holding mass events). "The judge happened to be very humane, - says Zinaida Ivanauna. "I was not given any fines, only a warning: if I go to the action again, they say the consequences could be worse," writes tut.by.
Despite the fact that today Zinaida Ivanauna had her first trial in her life, her mood is cheerful, and she seems to be a very positive person. She does not hide that she has been attending the rallies ever since people in Rechyca started gathering for them. During peaceful protests, she often got into the lenses of police cameras, apparently, for this reason, she suggests, people in uniform became interested in her.
- The police asked me why I attended the rallies. I replied that I had never voted for Lukashenka and, for the first time, decided to express my civic position, - Zinaida Ivanauna recalls the conversation here.
When asked why she decided to express her position right now, the interlocutor smiles: "Because of what is shown on TV."
"I'll tell you a story from the 1960s," she says unexpectedly. - When I worked at a garment factory, there were girls from the village in our workshop. One day they come to their shift and tell that their neighbor broke the radio. "Why did you break it?" - we ask. Because there they talked all the time about what people "fulfilled-exceeded." This is not true. He could not stand this receiver - to the floor. I laughed at this story: everywhere they lie. And this lie continues now.
The current TV picture, the woman continues, is not trustworthy. Zinaida Ivanauna is not very friendly with the Internet, so, she says, in order to receive truthful information, she subscribes to "Komsomolskaja Pravda." But for several weeks, the newspaper has not come to her.
- Apparently, it does not come because it honestly spoke about the events in Minsk - Zinaida Ivanauna shares her opinion and says that until 1996, when she retired, she worked in different organizations. - I saw this whole system of disrespect for a person. At the last enterprise where I worked, they posted information about those "who prevent us from working" - those who drank, violated discipline. But I concluded that it was officials who prevented us from doing our work normally. At the production site, we were told: "Go work there," "Tie a kerchief," "Take the flag - go to the demonstration." This all humiliates a person.
The employer, the interlocutor is sure, must respect the employee. This is just as important a rule as that the election results should be counted correctly. And Zinaida Ivanauna does not believe in fair counting in these elections. Therefore, I began to go out on peaceful actions.
- [...] We have a city of oil workers, and they may face dismissal for participating in actions, so they do not leave, - Zinaida Ivanauna describes the situation. - […] Young people more often go to actions in Homel. There are more people there. So there aren't many of us. The maximum was probably about a thousand.
According to the interlocutor, among those she met in Rechyca at peaceful protests, there were people of different ages. There were also residents of a respectable age, like her.
- A woman of my age survived the stroke and comes to protests - she lists. - There are younger women and an older man. His daughter lives in Brest. So she goes out there, and he goes with us.
How many times Zinaida Ivanauna herself attended the actions, we did not count. But for the first time, she was summoned to the police in September for an "educational conversation." She jokes that she didn't have to go far: her house and the building of the ROVD are next door.
- I was interrogated by our district inspector. We once met her because of my dog. The dog grabbed a passerby by the shorts, and he wrote a statement against us. The district police officer came to us, said: "How can I help you; I know that your dog is good," - says the interlocutor. - I explained to the district police officer that I go to the actions to express my civic position.
Then, Zinaida Ivanauna continues, she was sent to two police officers, who conducted an "educational conversation" with her.
- One turned out to be good, and the second was "zheuzhyk" - he jumped very much. I say to him: "You are probably making a career for yourself, young man. Don't get hurt. "And he told me: "You better don't get hurt." I replied that I had lived my life, and I could already [afford] it to get hurt," a participant in the action recalls that situation. - The conversation ended normally. I was released and then invited again. But already with a good policeman: he was different. We started talking […]. Everything was top notch. After all, every person has humanity. And it was felt then.
- And what educational moments did this conversation include?
- I was told not to go out anywhere. I answered: time will tell - should I go out or not.
On September 16, Zinaida Ivanauna had a trial. About ten people came to support her.
"Everything went well, the judge smiled," says Zinaida Ivanauna and smiles herself. - They gave a warning.
- What did your relatives say when they found out that you were being summoned to the police and to the court?
- They knew it all along. We all go to the rallies together.