The Head of the Office of the President of Ukraine: Lukashenka Is Not the Belarusian People
18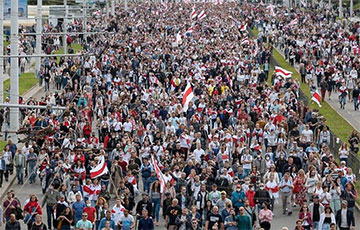 Ukraine supported the position of the European Union on non-recognition of the legality of the regime in Belarus.
Ukraine joined the European Union position on non-recognition of the official results of the presidential elections in Belarus.
"Lukashenka is not the Belarusian people. Therefore, we must always remember that there is the Belarusian people with whom Ukraine has friendly relations," said Andriy Yermak, Head of the Office of President of Ukraine Volodymyr Zelenskyy, in the "Freedom of Speech by Savik Shuster" program on the Ukraine TV channel.
It is in Ukraine's interests, like any other neighbor, for Belarus to be an independent state, where human rights are respected, said Andriy Yermak.
"The Ministry of Foreign Affairs of Ukraine clearly reacts to Belarusian politicians' statements - for example, as in the case of a search of our ambassador's car at the border, which is unacceptable. Whatever the Belarusian authorities' actions are, there is an immediate response from the Ukrainian authorities," said the head of the presidential office.
He confirmed that, when deciding on tough steps, official Kyiv is in coordination with European partners, because Ukraine has a clear pro-European vector. Andriy Yermak considers the position of Kyiv towards Belarus to be principled and aimed primarily at protecting Ukrainian interests.
"Today, any actions that can be interpreted as interference in the internal affairs of Belarus risk being used not only against Ukraine but also against the Belarusian people themselves. Therefore, the government must be wise and strong. Together with our partners, we stand in this position," summed up Andriy Yermak.