Ukraine's MPs Stand For Imposing Sanctions Against Lukashenka, His Accomplices
10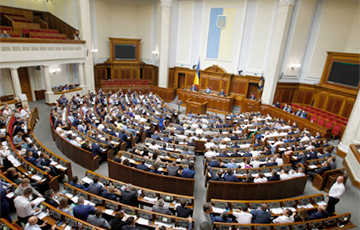 This is how the fraction leaders reacted to the secret "inauguration" of the Belarusian dictator.
The Golos party, which has its own fraction in the Verkhovna Rada of Ukraine (19 out of 423 deputies of the entire parliament), demands from the government to impose personal sanctions against Lukashenka, Radio Svaboda reports.
"Statements on non-recognition of the presidential elections in Belarus are no longer enough. Lukashenka's self-proclamation as president and his rapprochement with Putin is a direct military risk for Ukraine. Therefore, it is necessary to immediately convene the National Security and Defense Council, and impose personal sanctions against Lukashenka and his puppets responsible for rigging elections, as well as systematic and massive violations of fundamental human rights and freedoms," said the leader of the Golos party Kira Rudyk.
At the same time, the party appealed to the Cabinet of Ministers and the State Migration Service of Ukraine with a request to provide temporary protection to the citizens of Belarus forced to flee to Ukraine from political persecution.
Poroshenko and Tymoshenko parties stand for sanctions
The imposition of sanctions against citizens of Belarus who consider themselves to be in power is also supported by two more parliamentary fractions - Yulia Tymoshenko's Batkivshchyna party and Petro Poroshenko's European Solidarity party.
In particular, Deputy Chairman of the Batkivshchyna party Grigory Nemirov, at a meeting of the European People's Party and a group of like-minded people in the OSCE Parliamentary Assembly, which was held online on September 24, announced his support for the introduction of sanctions against those responsible for falsifying election results, and violence against protesters.
Iryna Herashchenko, one of the leaders of the European Solidarity faction, supported the statement of Minister of Foreign Affairs of Ukraine Dmytro Kuleba about the non-recognition of Lukashenka as the newly elected President of Belarus:
"For a month and a half I have been talking about the need to change the current Minsk site for the Trilateral Contact Group. Now you won't be able to drag time and turn a blind eye to this issue. After all, it is impossible not to recognize Lukashenka as president and at the same time use his platform for peace negotiations."