The Country Should Stop Until We Win!
47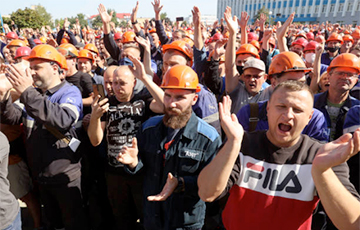 Stop being afraid, there is no way back.
The reader of Basta telegram channel gives an example of the anti-communist revolution, which won in Poland.
- I have been living in Poland for 25 years, and I know how it was here in the 80s. At one moment the whole country, all the enterprises, factories, factories, schools, kindergartens, hospitals, transport, and so on stopped here. No one went anywhere for more than two weeks, and the power gave in. It was a coup.
Today Poland is a very prosperous country. I am glad that I managed to establish my life here. But I am also a citizen of Belarus, I am proud of it.
My dear Belarusians, stop being afraid, there is no way back! The whole world stands with you! Stop the country, every branch of its life. The country must freeze! Only this will kill Luka (Lukashenka), he is in debt to the armpit.
Ignore jobs, go for a walk and dance in a round. It is high time for everyone not to walk around Minsk or other cities at 8 am, but to stand near their houses. Do not go to any job, school or kindergarten, but stand idle.
There are 8 million of you; they won't be able to jail everyone. Just do not go or drive anywhere but stay idle. Do not launch the production. The country should stop until we win! A week, two, as long as it is necessary. Then he will surely go crazy.