Sviatlana Tikhanouskaya Insists That Economic Sanctions Should Not Be Imposed on Lukashenka's Regime
142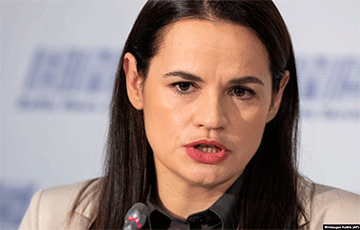 Press service statement.
The former presidential candidate of Belarus Sviatlana Tikhanouskaya said that she supports not sectoral, but targeted and personal sanctions. It was reported by her press service.
- I do not propose to introduce general, sectoral economic sanctions. I am worried that private companies and innocent people may be harmed. Therefore, I favor targeted individual sanctions against specific individuals and enterprises that support or finance Lukashenka's regime, says Tikhanouskaya.
Let us remind you that, in an interview with the Le Journal du Dimanche newspaper, Tikhanouskaya said that "possible economic sanctions by Western countries against Belarus are inappropriate, since they may turn out to be a heavy burden for the inhabitants of the republic."
Note that, recently, the editor-in-chief of the site Charter97.org, Natalya Radzina, announced that it is the economic sanctions that will force the Lukashenka regime to capitulate.
"In addition to renewing sanctions against Belarusian officials responsible for repression and political persecution, specific measures are necessary:
- introduction of economic sanctions, including a ban on the export of Belarusian oil products, potash fertilizers, and electricity;
- termination of any financial assistance to state bodies of Belarus;
- the termination of trade relations with Belarusian state enterprises, especially with enterprises where strike committees were destroyed and where workers participating in strikes were persecuted;
- maximum reduction and restriction of banking and financial transactions with government counterparties, a ban on the provision of loans from the International Monetary Fund, the European Investment Bank, the World Bank, the European Bank for Reconstruction and Development;
- taking measures to freeze negotiations with Belarus on issues of interest to the authorities.
The adoption of economic measures against the dictatorship will also not affect the well-being of the Belarusian people, who today are already suffering from poverty, lawlessness, repression, and political persecution of the gang that seized power. But it can force the regime to capitulate in a matter of weeks," said Natallia Radzina.