Aleh Biabenin Died Ten Years Ago
23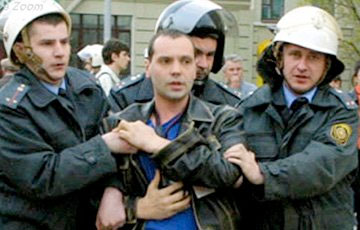 The journalist was found hanged on September 3, 2010, at a county house near Minsk.
Aleh Biabenin was born in 1974. He graduated from the Faculty of Journalism of the Belarusian State University. In the 1990s, he worked as the deputy editor-in-chief of the independent Belarusian newspaper "Name."
Since 1998, he has been the founder and CEO of Charter97.org. Aleh Biabenin is survived by his wife and two sons.
Law enforcement agencies were quick to report that it was suicide. However, the death of Aleh Biabenin raises many questions. Forensic experts are not clear even in the date of its occurrence. Aleh Biabenin left no note. Friends and colleagues of the journalist who were at the scene claim that there were traces of violence on his body.
The prosecutor's office stopped the "check" into the death of Aleh Biabenin a few months after it began, despite the demands of international organizations and human rights activists to conduct a proper investigation.
Representatives of the democratic community announced a political assassination. The death of Aleh Biabenin took place on the eve of the start of the 2010 presidential campaign, which ended in a brutal dispersal of the protests in a square in Minsk. The journalist was part of the team of one of Lukashenka's main competitors - the leader of the civil campaign "European Belarus" Andrei Sannikau.
"10 years ago, the founder of the website "Charter-97" Aleh Biabenin was killed. All these years, every day, we miss him. Today, when I see millions of Belarusians openly protesting against Lukashenka's dictatorship, I only regret one thing - that our heroes, such as Aleh Biabenin, who gave their lives to the struggle for freedom, do not see this. But we will never forget any of them. In free Belarus, the streets will be named after the heroes, the cases of their death will be investigated, and the guilty will be held accountable for everything," said Natallia Radzina, editor-in-chief of the Charter97.org website.