"Fasel Must Resign Immediately"
55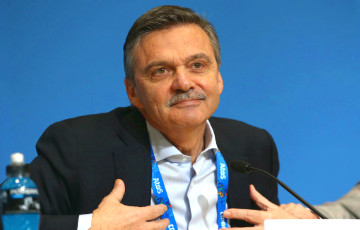 How the world reacted to the visit of the IIHF President to Minsk.
The meeting of the head of the International Ice Hockey Federation (IIHF), Rene Fasel, with Lukashenka became the main event in the hockey world. And if the news notes say mostly just about the fact of the meeting, then in personal accounts, journalists and politicians do not hide their emotions, tut.by writes.
The most discussed moment was a warm greeting of Lukashenka and Fasel: they hugged and tapped each other on the shoulder like old friends. According to many sports journalists, such familiarity was inappropriate in the current situation.
"Hugs with a man who acts tough with his people. What was the Swiss Rene Fasel thinking? And this is while a Swiss citizen is in prison for participating in a rally against Lukashenka," writes Swiss radio journalist Sandro Brotz on his Twitter account.
Brotz's bewilderment is supported by his other colleagues.
"Rene Fasel, the Swiss (!) President of the International Ice Hockey Federation, embraces the Belarusian dictator Lukashenka. And this happened not a few years ago, but in 2021," says journalist Markus Hefliger, surprised.
"If nothing is terrible for you, then you can become the president of the IIHF and embrace the last dictator in Europe, who sent tens of thousands of citizens to prison after the last (of many) election fraud. Isn't that right, Rene Fasel?" - wrote the Swiss journalist Jörg Vollmer.
"I can't say that Rene Fasel could still surprise me with something, but now there really is a 'Wow!' - a complete lack of morality," hockey columnist Luc Fischer said.
The head of the parliamentary group on sports of the Swiss parliament Matthias Aebischer also criticized the compatriot for his visit to Minsk and support for the World Cup.
"If you go now to a country where the dictator is imprisoning thousands of innocent people, then you are only strengthening the back of this regime. In this case, sport becomes politicized - and that should not be done," Aebischer said.
Canadian diplomat Chris Alexander did not hide his emotions when he decided to describe Rene Fasel's visit to Minsk.
"An idiotic and disgusting hug with a dictator is a challenge to core values, democratic legitimacy, and all hockey. IIHF should fire Fasel before the organization suffers serious reputational losses," wrote Alexander.
MEP Karin Karlsbro called Fasel's actions shameful and called on the Swedish Ice Hockey Federation to respond to them.
Another Swede, hockey journalist Philip Saxen, believes that after the visit of the IIHF president to Minsk and his hugs with Lukashenka, a corresponding reaction should follow.
"This is just disgusting! Disgusting and unacceptable. Rene Fasel is absolutely inappropriate for the leadership of hockey (or of anything at all) and must retire immediately. Hockey has once again demonstrated a lack of values, respect, and compassion," says Saxen.
Journalists did not omit the topic of coronavirus.
"In our world today, it is very rare to see a big hug. Of course, unless we are talking about the meeting of Rene Fasel with Aliaksandr Lukashenka," the journalist of the YLE website Petri Raivio joked.