Blogger Ihar Losik Has Been on Hunger Strike in a Pre-Trial Detention Center for a Month
5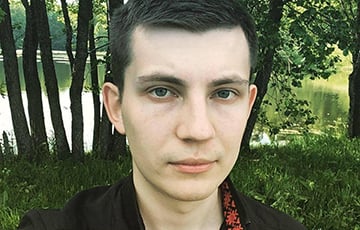 His wife spoke about the state of health of the founder of the telegram channel "Belarus Golovnogo Mozga."
The hunger strike of the founder of the telegram channel "Belarus Golovnogo Mozga," consultant of the Belarusian service Radio Liberty, Ihar Losik, has been going on for almost a month. On January 12, his letter appeared on the Telegram channel he founded, in which he urged his supporters not to dissuade him from continuing the hunger strike, which he announced on December 15.
Losik has been in custody since late June. He was charged under the article on group actions that grossly violate public order (part 1 of Article 342 of the Criminal Code). In December, a new charge was brought against him - of preparation for participation in mass riots (Article 13, Part 2, Article 293 of the Criminal Code), and his detention was extended until March 25.
Ihar Losik's wife Darja recently urged people to write him letters asking him to abandon the extreme form of protest. Daria Losik told Current Time what is known about the state of health of her husband.
- Darja, good afternoon. The first question: Please tell us, what do you know about Ihar's state of health?
- Yesterday, the lawyer was with Ihar. According to Ihar, he feels fine, but the lawyer said that he looks rather pale and very unhealthy. They measure the pressure, periodically weigh him - that's all they do with it to check the state of health.
- Recently, in an interview, you said that the prison doctor, after the examination, told him about the benefits of fasting. Do you think this is such a joke?
- I think that this is not a joke; it is, most likely, panic, covered with a mask of hypocrisy. Because a hunger strike, especially such a long one, in the Zhodzina prison conditions, is a huge emergency. They still will not show that they are worried - this is how they are probably trying to hide their concern.
- And what does the prison administration say? For example, are they going to introduce force-feeding?
- At the moment, I have not heard anything like that, but if I find out something, then, of course, I will definitely inform you about it.
- Please tell me if the support of Sviatlana Tsikhanouskaya is important to you, and do you feel the support of the Belarusian society in general?
- Yes, of course. Yesterday's conversation with Sviatlana motivated me a little, gave me strength because I am very worried, and every day is just a lot of stress. And, of course, huge support from those people who write to me on the social network that he needs to stop and that this will not be a weak act on his part: he has already done everything he wanted. Probably, at the moment, it is simply impossible to achieve more.
- Do you manage to convey the letters you write to Ihar Losik?
- On Monday, I was in Zhodzina and inquired about his location because we thought he was out. There I was told that there might be a delay and some kind of confusion with them.
- Do you often receive letters from Ihar? What does he write to you besides refusing to end the hunger strike?
- In December, letters went very badly: I received only 4 letters. Since December 31, I have not received a single letter. He asks not to worry so much about his health, try to stay calm, and look after his daughter. He said that he would not stop the hunger strike for now.