Fasel Got Into Big Mess, Ruined Finale Of His Career
43
Aliaksandr Klaskouski
13.01.2021, 16:09

17,730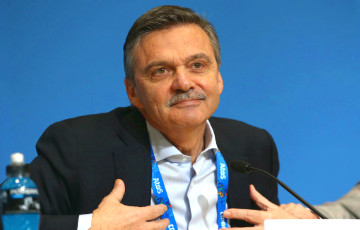 Hugging Lukashenka is a priori thankless job.
Returning from Minsk, President of the International Ice Hockey Federation (IIHF) Rene Fasel was forced to give explanations regarding his communication with the Belarusian authorities, and Dzmitry Baskau. Moreover, he still continues to make excuses.
Aliaksandr Lukashenka also reacted nervously to the criticism against Fasel:
"No sooner had the negotiations been over than our fugitives attacked our best friends. Not Belarusians, foreign friends who have always supported and support us.
- The old sports functionary Fasel has gone into a big mess, and already hopelessly ruined the finale of his career at the IIHF, regardless of where the 2021 World Cup will take place. If in Minsk - it would be a disgrace. If they move it somewhere, then Fasel will be pressed for long fruitless games with the Belarusian regime, which is why the costs of transferring the tournament have increased. In short, hugging Lukashenka is a priori a thankless job.
Aliaksandr Klaskouski, Telegram