Brest Paramedic Tells About Confrontation with Inadequate 'Yabatka'
16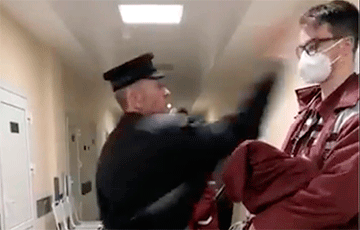 Doesn't the law protect Belarusian medics?
On January 5, an unpleasant incident occurred in Brest emergency hospital: 55-year-old Mikalai Vakulich, who was drunk, hit in the face and insulted the paramedic several times. The incident hit the Internet only on January 9. On terms of anonymity, Belsat talked to Brest paramedic. He described how the medical community reacted to the incident.
- Events in Brest emergency hospital have caused a negative reaction of all doctors. Unfortunately, it is not the first attack on us. Such cases are not widely covered. People do not apply to the police as our management proposes to deal with such cases on a private basis and file the complaint personally, not on behalf of the organization, says our interlocutor.
The problem is that in case of an administrative case for insulting an official on duty is initiated, and a criminal assault case, the law does not protect ambulance staff.
What's needed is done
- The situation is not yet completely resolved; we did everything on our part. As of today, the police conducts an investigation, and the doctor remains on sick leave. Unfortunately, such cases happen. You know what contingent we are dealing with: the mentally ill, and other unhealthy people. There are people, like the drunk, who hit our paramedic. They all behave inadequately," said chief doctor of Brest Emergency Medical Station Valentina Pashkevich in a conversation with Belsat.
The man who assaulted Brest paramedic was fired.
The man worked as a school bus driver in the village of Vystichy, Brest region. Now a new driver is wanted.
Officially, the school has not commented on the situation. However, the employees say the incident at the hospital was the reason for the dismissal.